trans*scribe illustration © rosa middleton, 2013
Hi. My name is Nika and I'm a wig addict. It's been four months since my last confection.
Waaaaaaaay back in high school an undisclosed number of years ago (let's just say that it's more than seventeen), I had long strawberry blonde hair. It was never thick or all that luxurious, but it sure looked pretty. It was my one 'socially acceptable' expression of femininity that was still in line with the masculine image I tried to present. It was my grunge period: Cobain locks, flannel shirts over band tees, stompy boots and jeans that were held together with elastic straps and hope.
There were still homophobes who called me 'fag' and other slurs despite the fact that I dated only girls. It didn't hurt so much as bewilder me. Still, I was glad that they didn't guess my shameful secret that I had mostly repressed (surprise! I'm transgender). They didn't know I was a girl. I was safe.
A few years later, I dreaded cleaning out the shower drain. Hair… and more hair. Sure, drain clogs suck, but… HAIR! My hair! I hated brushing it, always wondering if there was more hair on my head or on my brush. Hair, why you no stay on head? Stay! Bad dog! I took to wearing bandannas and keeping what was left of my hair up in a ponytail. Yeah, I was becoming that 'guy.' You know, the one with the long, lovely priestly tonsure. It drastically lowered the choices when deciding who to go to the Rocky Horror Picture Show as.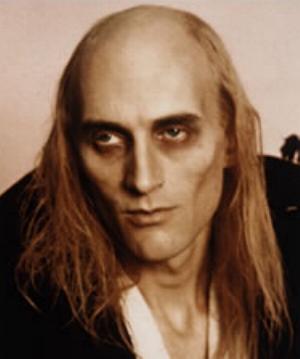 After about a year of this (I may have masochistic tendencies), I looked in the mirror as I was about to tie on my bandanna and thought, "Enough." Scissors? Check. Razors? Check. Shaving cream? Nope… Never mind, let's do this thing! That was the first time I shaved my head and I wept. If by now you think I may have been attached to my hair instead of the other way around, you're on the right track.
Fast forward through a dozen years of deep depression, self-imposed isolation and several hats and other head coverings. It wasn't all about the hair. I'm not quite that vain. Being bombarded during this time by images of beautiful women with long hair while having male pattern baldness certainly made it easier to repress being transgender. At work about four or five years ago, still presenting as male, I took my hat off and one of my coworkers burst out laughing. She hadn't known that I was bald on top. Ouch!
In an effort to accept the baldness, I took to taking my hat off now and then and gauging people's reactions. There's that masochism of mine stopping by to say hello again. Eventually, I got used to it. A pair of bears slaughtering 42 of my coworkers wasn't at all necessary, thankfully. That's unsanitary!
Having worked through a lot of things in the swamp gas between my ears, I finally came out in public on July 19, 2012, as a woman… wearing a wig: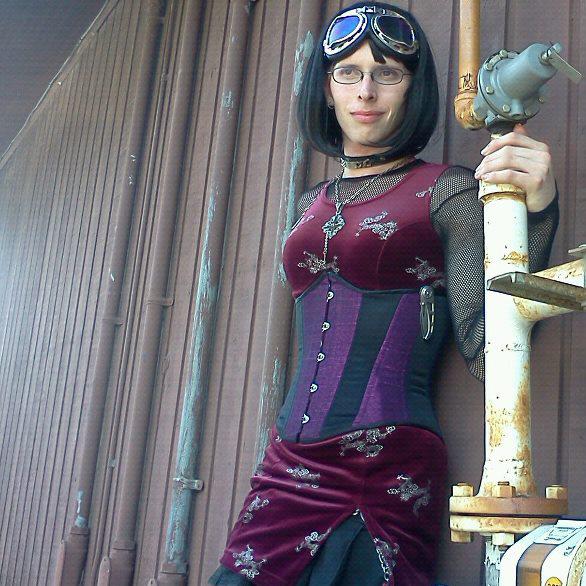 Shortly after, I was sporting a longer wig that suited me much better:
I was a card-carrying member of the gender binary and the western ideals of feminine beauty. Sure, I didn't dress like anyone else in town, but if you replaced the fun clothes with a pair of jeans and a t-shirt, I would have looked like most other girls in town. I wore a wig every day. It didn't matter if I was heading to work, going to a bar or even going for a bike ride; I wouldn't step outside my door without a wig on my head. I posted pictures on Facebook, Google+ and other social media sites while wearing these wigs. People loved the photos. I was pretty! People even complimented me in person. I was accepted!
I grew so dependent on wigs and the acceptance that I received while wearing them that I wouldn't even answer the door without putting one on. It was an idealized and overly feminized caricature of me that I would put on for acceptance. It wasn't really me. I was becoming a Monster High doll without the undeath or lycanthropy. A punk Barbie. After a few months of this, I had another 'enough' moment when I reached for a wig when my phone rang. Sad, innit?
I abandoned my wigs almost entirely. I did wear one as part of a Halloween costume, but that's a costume! No, I'm not rationalizing. It wasn't a relapse. Now, I shave my head every few days and I'm loving it. It's much more Sinead O'Connor than Dr. Evil and much, much more comfortable to live in.
I found my own beauty in baldness. I like me a lot more now. I'm expressing beauty much more consistently with my own internal image of myself. The hard part is remaining true to yourself. Pinnochina has gone from being a plastic doll to being a real girl. Wigging over and out!
---
About the author: Nika is a 35 year old trans*feminine androgyne or trans*androgynous woman depending on which way the wind is blowing and how many angels are currently dancing on the head of a pin. She's a punk omni equalist and polyamorous. Currently, she's in the process of relocating to the Philadelphia area.
Special Note: Autostraddle's "First Person" personal essays do not necessarily reflect the ideals of Autostraddle or its editors, nor do any First Person writers intend to speak on behalf of anyone other than themselves. First Person writers are simply speaking honestly from their own hearts.