Welcome to a hijacked installment of Make A Thing, where we make handmade gifts for people. Or ourselves. Who doesn't need something special in their life? Join in on the DIY fun and avoid the unnecessary consumerism of the world (and I promise you'll save a few dollars while you're at it).
Header by Rory Midhani
I spend way too much time trying to design The Perfect Gift. Whenever a birthday or an anniversary are coming up, I'll relentlessly plan and brainstorm all of the things I could do to show how much I care. But instead of actually executing them, I'll just continuously fine tune the plan. As surprising as this sounds, you can't wrap an unfinished idea. Given that my girlfriend is the biggest Scrabble lover I know, I meant to finish this Scrabble-inspired bag before the Holigays. Instead she got it for a Not So Festive Friday. If you have someone in your life that loves Scrabble, tote bags and handmade doodads, put this on your list. It's your call if you give it for a holiday or save it for a dreary Tuesday.
Scrabble Tote
Supplies Needed: 14″x14″ canvas tote bag (or larger), more masking tape than you know what to do with (1″ and 1/4″ widths), five colours of acrylic craft paint, acrylic fabric medium, narrow sponge brush, double ended marker, parchment (or other heat proof paper), an iron and patience.
Level of Difficulty: Memorizing all of the two letter words. While there's nothing inherently difficult about this craft, there's a lot of repetition.
I designed a 9×9 grid since I could neither find tape thin enough nor a bag large enough for the actual dimensions. If you want to do the 15×15 grid, just refer to the board.
0. Wash and dry your tote to  preshrink the fabric and remove the fabric sizer. Make sure to thoroughly iron out all of the wrinkles lest you cuss this craft to a PG or MA rating. Fold your bag in half and iron in a sharp vertical crease.
Note: I never wash my bags because I am simultaneously forgetful, impatient and daring. 
1. Lay your first strip of 1/4″ tape along the vertical center fold. Follow the fabric grain so the line ends up straighter than you are. Start in the middle and smooth outwards to ensure you get rid of the bubbles. Alternate strips of 1″ and 1/4″ masking tape to space the gridlines. Remove the 1″ tape.
Use the same process for your horizontal lines, but space them at 1 1/4″ intervals instead.  If you find 1 1/4″ masking tape, Congratulations! I am so happy for you! Everyone else will have to do double the work by laying down a strip of 1″ and 1/4″ masking tape. When you finish your grid, apply a wide masking tape border to protect any exposed fabric.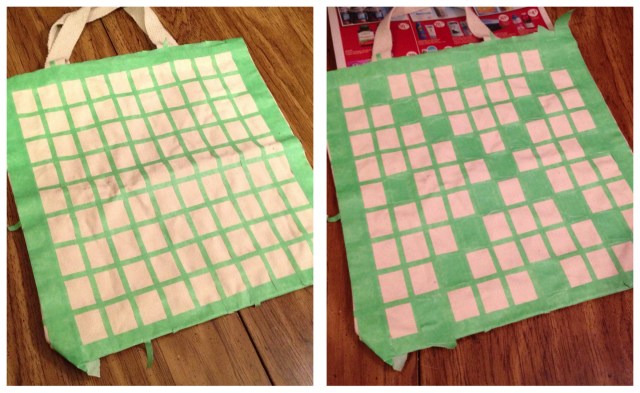 2. Insert newspaper or cardboard into your bag to absorb the excess paint. Block off all of your precious double and triple word and letter scores with masking tape. Mix your neutral paint with the fabric medium in a 2:1 ratio and apply with a sponge brush. You will probably need about two coats. Take a shower, have a nap, go to work, go for a run, stare longingly or whatever you like to do while paint dries.
3. Use more masking tape to frame each Premium Square (Does anyone actually call them that?) before you paint. You could follow the Scrabble board or use colours that your giftee loves. This'll be a great opportunity to discover if you know your friends' favourite colours or are simply projecting your own. I like to start with my Triple Word, Triple Letter, Double Word and finally my Double Letter to minimize on paint smudging. But who am I to criticize your Scrabble Strategy?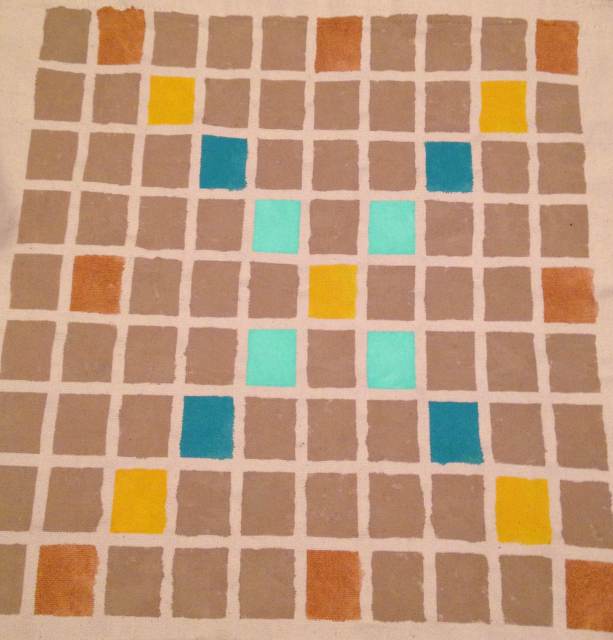 4. Removing the tape feels exactly like picking off a scab. You'll become giddy with anticipation about how great it'll be once you're rid of these crusty little things, ridiculously satisfied as you start to see the bare underbelly and immediately horrified with the results. Don't worry, we're gonna make it all better.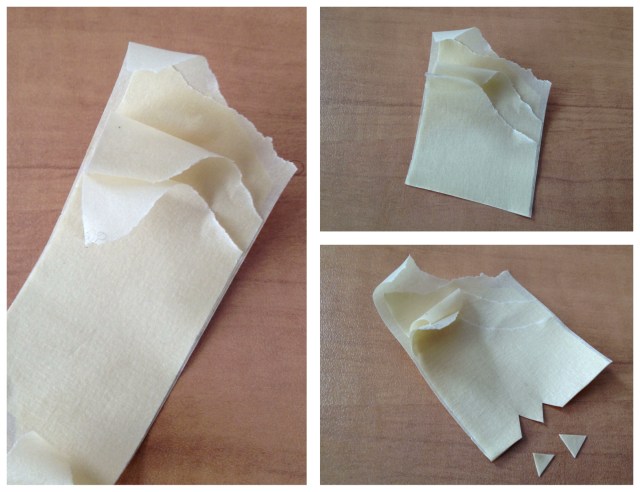 5. The only way to take this bag from kindergarten's Mondrian to recognizable Scrabble pattern  is with Premium Square Borders. This whole ordeal will go by a lot quicker if you cut out multiple stencils at once. If you're making this as a gift for your lady friend, chances are you don't have the fingernail length to separate perfectly aligned pieces of tape. To give yourself a grip, tear four pieces of 1″ masking tape and form a misaligned stack. Cut each stack in half and snip tiny equilateral triangles across the edge in twos or threes. Use the rough tape edges to gently pull the pieces apart. Before you thank me, remember that you have to do this ten more times.
6. Now's the time to hide all of your mistakes! Frame each side with a tape stencil, making sure you use two triangles for the doubles and three for the triples. If your rectangles bled, try to trap the paint drippings within the notches. Use thin coats of paint to fill in your frame, paying special attention to the triangle corners.
6. If your recipient has a nine-letter nickname, give yourself fifty points. Free handing letters is a lot less scary than you'd think. The Scrabble font is easy to duplicate since there aren't any tricky serifs or finnicky curlicues to mess with you. Use the thin side of your permanent marker to spell out your word, using the fabric grain to keep your lines straight. Retrace with the thick side and use the thin side to square off the edges. Just make sure to write the correct tile values lest you shame your giftee.
7. Cover with a piece of parchment paper and press on low heat to set the paint.
And you're done! Time to fill it with board games, chips, booze and anything else you'll need for board game night. And in case you're wondering, no, I will not be doing a Make A Thing for a Monopoly bag.