Welcome to Idol Worship, a biweekly devotional to whoever the fuck I'm into. This is a no-holds-barred lovefest for my favorite celebrities, rebels and biker chicks; women qualify for this column simply by changing my life and/or moving me deeply. This week I'm honoring Women's History Month with the lady who preserved the histories of queer woman almost singlehandedly.
Header by Rory Midhani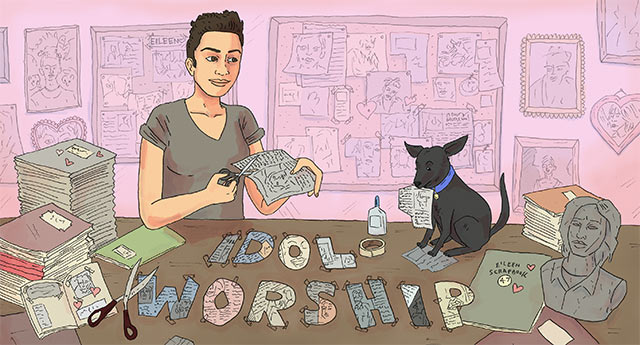 I wrote about Mabel Hampton once, but too briefly. She should be remembered at greater length, because Mabel Hampton is part of why we remember ourselves.
An avid collector of memorabilia, lesbo lit, and other homosexual necessities, Hampton gave an "invaluable" amount of materials to the Lesbian Herstory Archives upon its founding. She had worked, and continued to work until her death, on preserving the history of queer people through a unique voice – her own.
From the earliest days of the Archives, one night a week was devoted to volunteers working with the collection -groups of very different women spread out over the whole apartment filing, sorting, cataloguing, and opening mail. Many women came to volunteer nights just to hear Mabel tell her tales of drag balls in Harlem and her version of the wild parties of the Harlem Renaissance.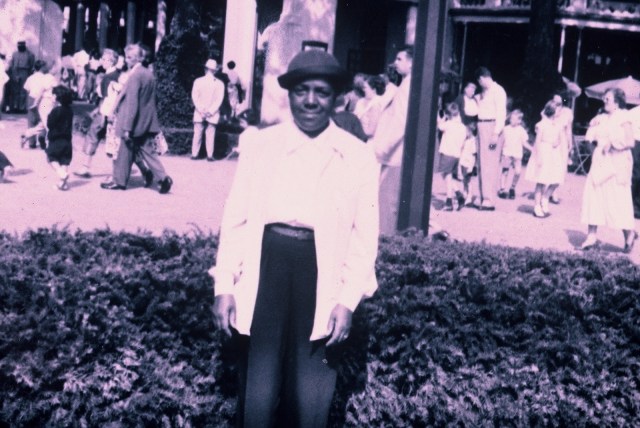 Mabel Hampton was born in 1902 in in Winston-Salem, North Carolina; her mother passed away just months after her birth and her grandmother passed after seven years of raising her in a safe, happy home. Her life in New York City, where she moved to live with her aunt and uncle, was defined by abuse. At eight, Hampton left and walked to New Jersey, where she lived until the age of 17 and became a dancer. Eventually, she became a housecleaner instead, working for white women when her passion for the chorus line faded. "I like to eat," she explained.
But at that point Hampton was well-embroiled in the city life, and that of Harlem in particular. A proud black lesbian, she immersed herself in a life of activism and philanthropy through the movements for black and gay liberation. A defining part of Hampton's life was her relationship with Lillian Foster, who she was with for 45 years, and they even sometimes worked together on work to preserve their communities' histories. Foster said in 1976, "Forty-four years ago I met Mabel. We was a wonderful pair. I'll never forget it. But she's a little tough. I met her in 1932, September twenty-second. And we haven't been separated since in our whole life. Death will separate us. Other than that I don't want it to end."
Hampton was a hoarder with purpose: she cut up newspapers, took and stashed photos, folded letters back into envelopes, and kept all of her gay books. She went to historical marches, including the first national gay and lesbian civil rights march on Washington, and watched as history happened before her very eyes. Afterward, she would make an effort to preserve it – and when the Lesbian Herstory Archives finally opened, they would be grateful for her generous donations as well as her time spent volunteering that helped the museum to define the experiences and lives of lesbians of her generation and time. In many ways, she herself was a historical figure: featured in various oral histories and the films Silent Pioneers and Before Stonewall, she was a walking / talking time machine, and even published articles. Always the perspective and central identifier was her identity as a black lesbian.
Hampton spoke eloquently and often about freedom and about pride. In her activism and philanthropy, she established for her life a framework in which she flourished. She lived on the front lines of lesbianism and then reported back. And she never stood down. When asked when she came out she replied, "I was never in!" In an era when many people didn't even acknowledge that homosexuality existed, Hampton was sharing stories of her romantic experiences with other girls as a teenager. And during a time period where most people were building communities – and keeping to themselves – she brought together various groups by simply celebrating them all at once. "I would like all my people to be free in this world, my gay people and my black people," she declared. And why should we settle for less?
This isn't to say that Hampton was all business. In fact, she seemed like a pretty fuckin' good time. Like, I think I would probably enjoy a sense of drunken camaraderie with her that would cause my heart to explode. Hampton watched the very first lesbian scenes develop, really – soaking it all up and being present for what most of us now can only mythologize and make legend of. She watched drag balls and partied with queers during the Harlem Renaissance. Mabel Hampton was proud enough to document our histories, and therefore our histories are inextricably linked with hers. And I think that's pretty badass.
At the core, Hampton preserved a history – a series of parallell histories, more accurately – that she found important. And she was right. Hampton reminded people of pride in a time when it wasn't a keyword, or even everyone's parade. "I … remembered carrying her out of the church on her body's final journey," Paula Grant once wrote, "and how the funeral director had told his employees to step back because 'the women will take her.'" If Hampton has one lasting legacy, it is just that: how much she motivated and, in turn, created us. She shaped the queer and black communities, and all the women in-between, to be full of dignity and hope. To be powerful.
In our modern world, it may not seem that gay history needs any particular preserving. After all, we exist now – and we're only getting more visible. But the more we remember, the richer our collective histories and experiences can be. When we sit down and talk to one another we're sharing in one big life and when we do that, we're making a community. Our shared experiences define us and our individual differences make us only more brilliant. When Hampton was preserving history, she was setting aside secrets and whispered stories in hopes one day the world would not hide them anymore.
I think she'd proud of all the history we've got to celebrate now.