Last week on NSFW Sunday we talked about what lesbians don't talk about when they talk about sex AND YOU ALL HAD A LOT OF FEELINGS.
A few days before the aforementioned post we'd started an 'anonymous google doc' wherein Autostraddle team members asked their own questions and gave their own answers so that we could 'determine' what people 'want to talk about.'
Last week y'all had a lot to say about orgasms and coincidentally OR NOT someone asked a similar question on our 'sex doc' and here that is, with the answers:
Do you feel like lesbian sex (maybe all sex) can be too orgasm-centric?
* Yes, but orgasms are nice.
* No. It's about feeling good. Maybe I've just been with really wonderful people who don't mind when I/they don't come.
* I'm super sex-positive and have been for years, and I'm generally more adventurous in bed than a lot of people I know, but I've never had an orgasm. I used to be really self-conscious about it, but i fucking love sex, so I'm kind of over worrying about it. My experience of sex is similarly intense to what people describe an orgasm as, and since i have mind-blowing sex i don't feel like I'm missing out.
* Until my last girlfriend, I'd never had an orgasm with another person. CHANGED MY LIFE, let me tell you.
* I've had orgasms but it's not easy. It annoys me when people are hung up on it, unless they're like super-orgasmers who come every time 'cause then it's not a hang up, it's a style.
* If both partners feel good and had a good time, isn't that enough?
* Lesbosexytimes is orgasm-centric for me because I am goal-oriented.
* It's nice I guess, but a huge turnoff when the person you're with gets orgasm tunnel vision and it's like you have to stay on the ride forever until you either come or fake it. I will say though that the first time I came with another person was actually pretty amazing/special/#feelings.
* Orgasms for me are few and far between. They're nice but I'm not too worried if they don't happen. I've been with girls who get hung up on it and it kinda kills the mood.

On a related tip… from Sex Doc:
How wet do you get?

* When she isn't, I feel strange and guilty. I feel like I'm CONSTANTLY WET and then sometimes maybe out of being nervous I won't be, in which case I expect she feels strange and guilty.
* The wetness, it happens very much.
* This used to be a problem for me with the first girl I slept with. I think it had more to do with me not being comfortable with my body/being with someone else. She used to be disappointed and I felt like something was wrong with me which made me more uptight and not wet.
* The process of getting someone wet is like the best thing ever and if you're partner's not getting wet, somethings up that you have to fix/work on. It's a good gauge, amiright?!
* I feel like I get wetter than any other human alive. It used to make me self-conscious and now I don't care. But really, it's a lot. A lot. And I take it personally when you don't get it.
* Because I'm a more masculine-presenting person, my current partner and I discuss it in different terms. She gets wet and I get hard.
*COME ALOONGG AND RIDE ON A FAAAAAAAANTASTIC SLIDE SLIDE SLIPPITY SLIDE
* I love getting wet, I love getting people wet– it's the most amazing feeling ever. before i started sleeping with women i didn't even realize this was a thing. how sad is that?! now i get wet like a pro. or a well-oiled machine. but i hope people aren't self-conscious if it doesn't come as naturally/they aren't blessed with mad wetness
* My partner and I sometimes talk about how ridiculously wet we get. We get really, really wet sometimes. Like if my vag. had a little white t-shirt you'd be able to see it's nipples…err what? Yeah. that wet.
* I don't get very wet, but I think it might be because my body is rarely in the mood for penetration. It wants sexytimes, just not always vag-centric sexytimes, you know?
* Wait, is this like that part of the vagina monologues? I don't really ever notice/care, which probs means i don't get super wet. but one time I hooked up with my friend's ex and realized I was wetter than I'd ever been, which made me feel like a terrible person.
*It does not take much for me to get wet and I enjoy it when other girls are the same, it's hot.

More on This:
You can think about this even more when you read about new research on how women can THINK their way to an orgasm or this Scarleteen "user's guide" to Sexual Response & Orgasm or Betty Dodson's ideas about how Women Think They Can't Orgasm because they are confused about what orgasm is from 'watching porn where professionals either fake an orgasm or they are skilled practitioners of all things sexual' or Greta Christina's experiences with Different Kinds of Orgasms or this thing about how your ability to orgasm is linked to body image. Marie Claire has more about fake orgasm scenes in movies.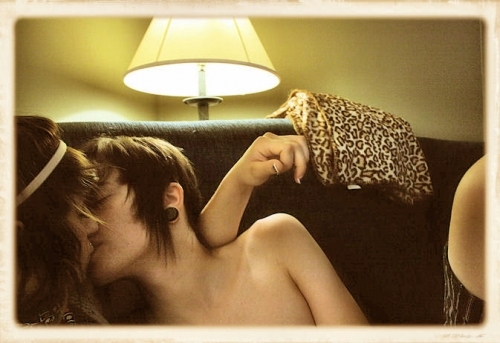 Also if you want to read more about getting wet than you could read Wet: True Lesbian Sex Stories. Also, a bunch of dudes ask does KY Intense really work? and say 'yes it does.' Try it if you want, or if you just want regular lube but one that's organic, you could buy this stuff.
Somebody thought, "it's weird it's not more of a 'thing' that people say/mention/joke around about. Especially since 'getting hard' or getting boners are things you usually can't go a day without hearing about." We wonder if that's got something to do with the censorship of female pleasure in mainstream media? Thoughts?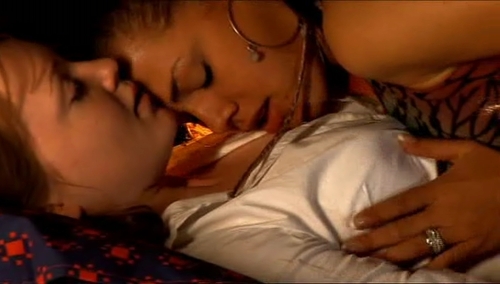 LESBOSEXY TUMBLR ALERT:
We are running low on these having provided you thus far I believe 52 sexy lesbian tumblrs, which is a lot of tumblrs. We thought we thought we'd have to make our own with kittens and Barbies, but then our very own BabyMorgan LittleDrinkFace (love!) said that she had a tumblr! And that it was sexy!! So we looked and guess what, Straddlepants, it is!
Animals Animals is the kind of tumblr that we really enjoy. It gave us a lot of feelings. Here, I'll share them:
Laneia: Would you describe this tumblr as 'ethereal' in nature?
Riese: It's like, black & white ethereal.
Greyscale.
Even when it's not greyscale, it's kinda greyscale.
Laneia: I feel like most of these women have escaped from a dilapidated home in Arkansas.
In a good way.
Riese: Agreed. Say that.
Laneia: They're like, what you want those women to look like. When you read Southern Gothic fiction. I really like it.
Riese: Mhm.