by riese & sarah
This story is about a lot of things: it seems to be, at its core, about racism and city politics. It's also about the inexcusable ignorance surrounding mental illness on the behalf of city employees entrusted with assessing the fitness of arrested citizens for public release. And it's about the power and the limitations of community activism and, hopefully, how far that activism can go to enable lasting change…
On the morning of Sept. 17, 2009, Latice Sutton made her second phone call in 12 hours to the Los Angeles County Sheriff's Department. She had called the night before to ask when she should pick up her daughter who had been arrested and was being held in custody far from home, and was without a wallet, car, or cell phone.
The officer in that first phone call told her that Mitrice would call her when she got to the station; he did not know when she would be released. Latice told him that she felt "safe with her being in custody — it's being released that I'm worried about." He told her that she did not have to worry about Mitrice's safety.
But Latice found out the next morning that Mitrice had been released at 12:30 a.m. And she hadn't come home.
Officer: Lost Hills Station…
Latice Sutton: Yes, hello, this is Latice Sutton, I called not too long ago about my daughter Mitrice Richardson. How long before a missing person's report can be filed — 24 or 48 hours?
Officer: Well, it depends on the circumstances, but, uh, I didn't take your call so I'm not familiar with it. Did she just not return home after going out?
Latice Sutton: She was arrested last night. This is the first time she's been arrested. She's in an unknown area she's never been in. She's without a vehicle, nobody can find her.
Officer: And where was this at? Where was she arrested at?
Latice Sutton: Your facility. Her name is Mitrice Richardson.
Officer: Do you know if she's here now, or was she released?
Latice Sutton: They said she was released.
Officer: And what time was she released?
Latice Sutton: Um, just shortly after 12 a.m.
Officer: Yeah normally I wouldn't recommend doing one that soon —
Latice Sutton: Right, what is the time frame.
Officer: You know, probably, I guess 24 hours would be reasonable. I mean, if there would be some mitigating factors, where, you know, you would suspect maybe something.
Latice Sutton: She doesn't know the area, she's never been in your area before [voice breaking], she is unfamiliar with that area…
Officer: Do you think she possibly could've gotten a bus home?
Latice Sutton: Listen, my child has never ridden a bus, no.
Officer: OK.
Latice Sutton: She would not know how to ride a bus.
Officer: I would probably wait until early this morning, and if she doesn't turn up you can certainly call. I don't suspect anything bad happened…
Latice Sutton: I am concerned because, well, first of all, I thought they were going to keep her overnight because she was highly intoxicated. Something is obviously going on with her…
Officer: Have you talked to the jailer?
Latice Sutton: Yes, yes, yes I have. He said he tried to get her to stay, but because she was an adult, they had to let her go. I believe that she is highly depressed, and she's in a depressive state. (sobbing)
Officer: You know it could be possible, I mean, maybe she… I mean there's a lot of options, a lot of possibilities, and I don't think a lot of them would be something dire. But I can certainly understand your fears, you know, being your daughter and all that.
Latice Sutton: Well, I think she's depressed. That's what has me worried…
Officer: That's what is worrying you more, ok.
Latice Sutton: That and she is in an area that she doesn't know where she's at.
Officer: Does she take medication at all?
Latice Sutton: No! I believe that the state that she's in right… because of the weird activity that has been going on…
Officer: What's her name?
Latice Sutton: Her name is… her name is Mitrice Richardson. [sobbing]
Officer: OK, and your name ma'am?
Latice Sutton: Latice.
Officer: OK Latice, here's what I want you to do. Why don't you wait a couple hours and give us some time, and I'll go back to talk to the jailer and try and get a timeline of when she was released, and you know, make sure she's not asleep in our lobby or anything like that, and then why don't you give us a call back in a couple hours if she hasn't shown up or made contact with you, and maybe we can do something for you.
While this conversation was happening, Mitrice Richardson was most likely wandering around Malibu Canyon near Monte Nido. The sheriff's department had received two phone calls that morning with reports of a thin black woman wandering through the neighborhood.
She was not found until last week, when her remains were identified during a search of the canyon.
When we initially posted about Mitrice, there wasn't much reaction. I suppose there's not much to say about this kind of thing besides "how horrible," and comments are often a poor barometer of relevance or interest, but the only comments on the post were contentions with our highlighting of her homosexuality in the headline. But we've kept following the case and honored Jasmyne Cannick in our 2009 Autostraddle Icons for her work mobilizing the search for Mitrice. Also, she wrote this post recently called "I Have More Faith in This List of People to Find Out What Really Happened to Mitrice Than I Do in the L.A. Sheriff's Dept.," and it's pretty amazing.
Richardson's mother and father are now suing the Los Angeles Sheriff's Department in a multimillion-dollar case alleging negligence and wrongful death. And the Rev. Al Sharpton is now asking for a federal investigation into Richardson's disappearance and death, saying it could be a test case about racial profiling in missing persons cases.
The story has only gotten more strange, complicated and sad the longer we have been following it, but it's one you need to know about. Here's our best account of what happened.
The Disappearance
At 7:40 p.m. on Sept. 16, 2009, an employee at Geoffery's Restaurant made a 911 call to the Malibu Sheriff's Office, claiming a patron was unable to pay her $89.51 bill and was "acting crazy." Officers arrived and took Mitrice Richardson into custody. Her receipt indicated she'd had only one drink with her meal. She had no prior criminal record. She was arrested and booked for defrauding an innkeeper & possession of marijuana after the police found less than an ounce of marijuana in her car, despite the fact that in California, personal use marijuana is an offense that usually does not result in an arrest. Her car, with her cell phone and ID inside, was impounded. Mitrice's mother Latice called the sheriff's station when she found out that Mitrice was arrested — before Mitrice had even arrived at the station. Latice asked if her daughter would be released that evening, saying "the only way I will come and get her tonight is if you guys are going to release her tonight." She expressed concern that it was dark, that Mitrice did not know the area, had no place to go around there, and that this behavior was "so out of character" for Mitrice.
She later told the officer she was concerned about what would happen if her daughter was released, joking "I would hate to wake up to a morning report of a girl with her head chopped off!"
At 12:38 a.m. on Sept. 17, Mitrice was released from the Malibu Lost Hills Sheriff's Department — 50 miles from home, in an unfamiliar area, and without a car, cell-phone or wallet. Latice found out about her release the next morning.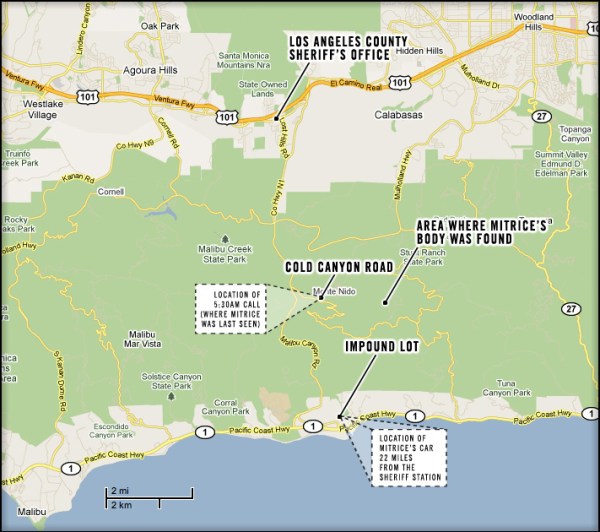 At 5:30 a.m., the department received a phone call from a man who lived in that neighborhood about a thin black woman who had been asleep on his lawn when he woke up. When the man asked if she was okay, she said that she was just relaxing. He didn't see where she'd gone, but seemed concerned about her health and safety. She was gone by the time the Sherriffs arrived. Police received another report of a black woman walking around the area at 7:30 a.m.
After that, there were no further signs of Mitrice, except a few reports of random sightings in downtown Los Angeles and Las Vegas. Police in LA and Las Vegas began exploring theories that Richardson was working as a prostitute in Nevada or was "under the influence of someone keeping her isolated."
One such report even came from her father, though he contends that the police didn't take it seriously until another man reported something similar. He said in a recent interview with CNN:
I was in Las Vegas in January of this year. I reported a sighting of my daughter not just based on the way she looked but this girl had a similar walk and body movement to the point I jumped out of a car on a busy street almost getting hit.
When I turned that information in to the Sheriffs who are investigating they didn't really follow up on it. Six months later they then decided to take this young man's — and I'm glad they did — information and follow up on it.
In light of the recent uncovering of her body, those reports seem to have been misidentifcations. Coroners say Mitrice's body had been in the canyon for anywhere between six months to a year, and she was found within 20 miles of the station.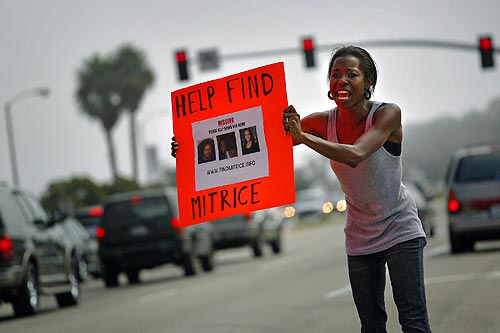 A Slow Response
According to bringmitricehome.com, a site that appears to be run by Mitrice's family to raise awareness about her case, Michael Richardson attempted to contact Malibu Mayor Andy Stern about the search for Mitrice. But when he approached the mayor to ask, he was rebuffed. According to the timeline on the site:
The Mayor tells Mr. Richardson that he's on his way to a meeting and doesn't have time to stop and speak with him. Mr. Richardson then calls the Mayor's real estate business cell phone posing as a Black football star interested in one of the Mayor's $2.2 million homes. The Mayor offers to cancel his previously scheduled meeting and meet him right away at the property for a showing. When the Mayor realizes that he's speaking to Mr. Richardson, who he just said he didn't have time for, the Mayor is embarrassed.
In October, Richardson called Stern to talk about the case, but Stern hung up on him because he said Richardson "had become abusive." Richardson then left voicemails threatening to protest outside the mayor's office. Stern reported Richardson to the Sheriff's Department because of the voicemails.

Stern said Richardson wanted him, and the city, to do something about his missing daughter, but the mayor said, "We don't the have the authority and ability and know how to tell emergency people what to do."
In November, the City of Malibu put out a $15,000 reward for information leading to the whereabouts of Mitrice Richardson.
In December, Congresswoman Maxine Waters requested an FBI probe into the disappearance of Mitrice Richardson. The County of Los Angeles Sheriff's Department and the City of Los Angeles Police Department joined forces searching in the greater Lost Hills/Malibu Canyon area in January.
Mitrice Richardson Likely Suffered from Bipolar Disorder
The American Psychiatric Assocation's Diagnostic and Statistical Manual and the World Health Organization's International Classification of Diseases classify bipolar disorder as an "adult onset disorder."
Mitrice was 24.
Based on witness testimony, it's likely Mitrice was experiencing a manic episode, possibly her first.
The Geoffery's employee who called the Sheriff's Department told them "she sounds really crazy" and suggested that maybe she was on drugs. She'd racked up a bill she couldn't pay and was surprised when a social group she'd attached herself to didn't pay for her meal. (Sufferers of mania experience impaired judgment and may go on spending sprees or engage in behavior that is abnormal for them.)
"She seemed a little euphoric — a little odd," said restaurant owner Jeff Peterson… Richardson said "she was from Mars and started speaking in a made-up language . . . she did tell my valet at one point that she was here to avenge Michael Jackson's death." (Persons experiencing a manic episode will experience psychosis or a break with reality while others are euphoric and grandiose.)
According to a restaurant employee, heaps of alcohol was found in Mitrice's car (not reported by the police) and according to the police, marijuana was found on Mitrice and in her car. (Manic persons may indulge in substance abuse, particularly alcohol or other depressants.)
The restaurant employee also told Mitrice's father that his (male) friend said Mitrice had been flirtatious with him, which was highly out of character for Mitrice, who was comfortable with her sexuality and had been out for some time. (Manic episodes are often characterized by hypersexual drive.)
Following her disappearance, Mitrice's journal was "probed for clues" by mental health professionals. They found that Mitrice had gone without sleep for up to five nights prior to her arrest and spent the last five days calling and texting strange things to her friends, making entries on her MySpace and Facebook pages and "writing in her journals around the clock.". (Mania is characterized by a decreased need for sleep.) They say she may have been suffering from severe bipolar disorder.
Colleagues at the Mercantile Freight Office in Santa Fe Springs saw her at work the day of her arrest and reported she was "giddy, really giggly. Out of the ordinary."
"It appeared she had been living out of her car — there were clothes that weren't folded, makeup, books, several purses, these journals," Knolls said. "It looked like she was homeless — even though she wasn't. Her friends said it wasn't unusual for her to stay in her car for several days."
After seeing her booking photo, Mitrice's father said, "She looked like a demon had come inside her. That was not my daughter. It ran chills up my spine. I've never seen my daughter look like that." If you've ever seen a loved one in a manic state, you know exactly what he's talking about — this is why sufferers were often dismissed as being "possessed by demons" before psychology defined and described bipolar disorder.
Although it is procedure to evaluate the mentally incapacitated, deputies did not do so, despite the fact that Mitrice wanted to leave the station at 1 a.m. in an unfamiliar area with no way to get home, and the fact that she'd told restaurant patrons she was from Mars. Their excuse? She passed a "field sobriety test" and wanted to be released. Of course she did. The fact that she said she'd like to be released is crazy in and of itself — what sane person would want to walk out into an unfamiliar area with no money, phone, car or ride in the middle of the night?
The Friends Group of Pasadena wrote a letter to the Sheriff to "[request] a copy of the Department's nighttime release protocols" and request "that the protocols used for nighttime releases be made public and be re-examined."
Now, I've [this is Riese here] been to jail to pick up a manic (lesbian) person (of color) to find she'd already been released because "she was fine," despite being covered in self-inflicted bruises and having been drunk on arrival. She'd been arrested for "disturbing the peace" after spending a night yelling at her neighbors in Godspeak. "She was chatting everybody up!" said the clerk, as if that meant she was okay. Fantastic.  I literally had to find her by walking around a town I'd never been to, praying for a signal from G-d to lead me in her direction, which might sound crazy to most of you, but I didn't have many options. (see: #1 in this blog post).
Basically, people are busy and overworked and if someone appears to present no harm to themselves or others, it's easiest to just let them out. It's a complicated issue: anti-psychiatry advocates argue that adults should be treated as such and the controversies around detaining an inmate based on suspected mental health issues are murky — subjective judgments of sanity by non-medical professionals can be misinformed, misguided or prejudiced.
But Mitrice's mother had called – isn't that enough? The LAPD's guidelines think so. Mitrice's mother may not have diagnosed her daughter or testified to a family history of mental illness, but how could she really know? It's late onset, that's why it's so scary sometimes — you can't always tell if someone is growing up, going crazy, or if you're just getting to know them better. Most people think mental illness pops up early and don't realize that someone could have their first episode in their 20s. Furthermore, the shame around mental illness is crippling, and it's very difficult for parents to readily admit their child could be ill. These circumstances need to be considered by law enforcement officers – that's their job.
Would this have happened to a white girl?
Why did somebody let a 24-year-old woman out into the night with no ride, no ID, no money and no cell-phone, hours after the nearest bus had stopped running? Why wasn't she at least taken to where her car had been impounded? Why would anyone think you could do such a thing to another human being and not be held accountable for it? Mitrice's father has noted that he doesn't think this would've happened to a "Spears or Lohan." But really would the LAPD have let an attractive, well-educated white girl with no prior arrest record out into an unfamiliar area at 12:40 a.m. without fearing recourse?
When 17-year-old Chelsea King was found, Jasmyne wrote: "Apparently, it seems that in order to get the FBI involved in a missing person's case you need to be the following: white, female, and from a privileged background. Something that 24-year-old Mitrice Richardson isn't."
+ASdsadsaf
The Gay Thing

We first read about Mitrice when she made the cover of People magazine in November 2009. I'd remembered her story particularly because, I admit, it had shades of Anne Heche – before she disappeared, she was speaking in tongues, wandering the hills of California. That's why it was interesting to find out, via The Advocate the next week, what People Magazine left out — her sexuality.
SheWired reported: "This missing woman case didn't gain much traction in the media during the first few weeks after her disappearance. She's young and pretty, but she's also black, a lesbian, and works part-time as a dancer at a gay nightclub."
Mitrice's father has been outspoken about the LAPD's failures in this case, but is "highly grateful to the gay and lesbian community." When supposed friends told Michael that "the Bible says [Mitrice] is going to hell for this; this is God's way of showing her," he defended her: "My daughter taught me not to pass judgment. One of the quickest ways to lose Mitrice [as a friend] is to act self-righteous."
Jane Velez-Mitchell, HLN anchorwoman (and out lesbian), has been one of the few on-air reporters on top of this story. Last week, she had Mitrice's mother on her show with a call-in from the family lawyer:
Jasmyne Cannick, a blogger and community organizer who has spearheaded efforts to find Mitrice and hold the LAPD accountable for their mishandling of the case, had this to say when the remains were identified:
From the beginning, the Sheriff's Department has never been forthright and honest about their handling of Mitrice Richardson. You will probably never read about it in the newspaper or see it in the television reports, but I lived it, every day for the past 11 months with her family.
I saw the paperwork that was altered. I met with Sheriff Lee Baca and his henchman in Monterey Park when they finally agreed to meet with her father Michael Richardson.
And yes—I was there today when they announced that the remains found in Malibu on Monday were in fact Mitrice… You don't notify someone that their daughter is dead via answering machine. You hold off on the press conference until you reach them first.
And in typical fashion, Baca defended his deputies actions and placed the blame on Geoffrey's for making a citizen's arrest of Mitrice.
Yes, Geoffrey's is to blame, but ultimately, the blame belongs to the Sheriff's Department.
And no, you do not blame the victim. You do not blame the victim. Mental issues or not, you do not blame the victim.
The LAPD obviously says that there is no foul play:
The Office of Independent Review, which oversees the Sheriff's Department, found that the department "properly and legally" released Richardson, according to a 58-page draft report. The report says that the station personnel "were not negligent in determining that Ms. Richardson did not demonstrate any symptoms of an existing mental health illness."
++++
The Friends Group of Pasadena is currently working to raise awareness on the issue of Custodial Night Time Release: "Persons in the custody of local law enforcement agencies are frequently released between midnight and 3:00 a.m. without money, transportation or a way to call someone to pick them up. This practice fails to ensure the safety of persons who have been released. We refer to this practice as "Custodial Night Time Release." Read their website for more information.
You can also sign the petition to make Sherrif Lee Baca take a lie detector test about Mitrice's case.
What happened to Mitrice Richardson cannot be undone, but hopefully attention to her case, and pressure on the people involved, will prevent this from ever happening to someone else.