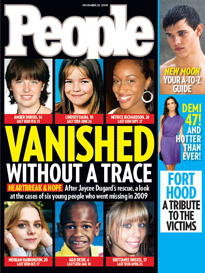 MISSING: I saw this story originally in People Magazine and remember it because the circumstances were so unique — Mitrice vanished after telling people she was from Mars and had no prior diagnosis of mental illness. I thought of Anne Heche, I admit, which is why it's especially interesting to see what People left out: Mitrice's sexuality. The gay community is turning out to be big advocates pushing the LAPD to find Mitrice.
From SheWired's  "Where's Metrice? The Search for a Young Lesbian Missing Since September":
This missing woman case didn't gain much traction in the media during the first few weeks after her disappearance. She's young and pretty, but she's also black, a lesbian, and works part-time as a dancer at a gay nightclub. Nancy Grace et al typically glom onto kidnapping victims of a certain demographic — young, straight, privileged white women. Flipping that script, Richardson's brilliant smile graced the cover of People on Thursday, along with five other young Americans who disappeared without a trace (though the two-paragraph People piece had no mention of Richardson being gay or dancing at a lesbian club).
Richardson's father has complained that the LAPD and press have ignored the case and the new clues because his daughter is black. But he commends the gay & lesbian community for being the only ones willing to step up, follow up and pressure authorities and news agencies to find Mitrice. Richardson gets backlash from people who should be helping, telling him that "the Bible says [Mitrice] is going to hell for this; this is God's way of showing her. My daughter taught me not to pass judgment. One of the quickest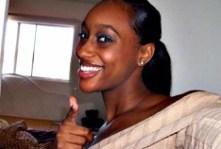 ways to lose Mitrice [as a friend] is to act self-righteous."
Blogger Jasmyne Cannack has brought excellent attention to the case, which has now caught The Advocate's eye as well.
Mitrice's girlfriend of two years is quoted as saying: "Everybody was attracted to her. She's a very open individual who loves life and fun. She's very goal-oriented. She wanted to do big things."
[If you have any information on the disappearance of Mitrice Richardson, contact Det. Chuck Knolls of the Los Angeles Police Department at (213) 485-2531 or click on www.bringmitricehome.org.]
Also look at how cute Mitrice and her girlfriend are:
Other Headlines:

+ National Gay and Lesbian Task Force condemns dismemberment slaying of gay teen in Puerto Rico, and Video from Puerto Rico of Suspect Arrested This Morning. (@tips-q) (@phb).
+ Orthodox Jews are furious anyone thinks they Ok'ed gay marriage. (@queerty)
+ Washington Blade and Southern Voice closure 'whodunit.' (@phb)
+ GLAD Files Motion Challenging Govt Motion to Dismiss "Gill", DOMA Section 3 (@phb)
+ For Gay Couples, 'Traditional' Divorce Isn't Always an Option. (@nytimes)
+ Why the Gay Marriage Message is Misfiring. (@huffpo)
+ The University of North Texas Student Government Association is allowing students to decide if a new rule allowing same sex couples to represent the university as homecoming king and queen needs to be in the bylaws. (@txcn.com)