Window Media, the nation's largest publisher of LGBTQ media, shut its doors for good over the weekend. Staff members of publications including the Southern Voice and the Washington Blade showed up for work on Monday morning to find a note on the office door informing them that they're out of a job. The staff was not warned or prepared, as The Washington Blade's editor Kevin Nass explained; "The bottom line was they filed for Chapter 7, which means liquidation," Nass said. "I think a lot of us expected a Chapter 11 reorganization … but they didn't go that route and I guess the creditors wanted out."
This is an all too common occurrence these days, and the recession has been the final nail in the coffin for a host of LGBTQ and other niche & alternative publications. Some are firing staffers, some are shutting down altogether, and some are making The Advocate into a 20-page Out Magazine insert. I'll be graduating from journalism school this May and our favorite running joke is that the job we're going to school for just doesn't exist anymore. Except it really isn't a joke. A writer or journalist's life has never been an easy path which is why those who choose it really need a ton of passion. But the reality is that passion is not a sandwich and people like me have to apply to law school.
Journalism is a field in flux, and those growing pains have a high rate of attrition. I'm confident that journalism will find its feet eventually, but I'm worried that we're losing too much in the meantime that we won't be able to get back. While the media is still searching for that new business model to save the industry, some of our best publications are dying off before they have a chance to even try and adapt.
The Washington Blade has been the gay paper of record in the US for 40 years. No other paper can or will cover American gay issues the way the Blade did. Yes, The Advocate still exists in an adapted format (for now), but it doesn't have the same focus or depth as the Blade. We're a niche market, and we need niche publications not only to provide coverage that bigger publications cut back on during poor economic times but also to be an outlet for advertisers to target the exclusive LGBTQ market.
Without newspapers or magazines to cover the gay community, we're left with blogs. The debate over whether bloggers are journalists has been raging in the industry for years. The answer depends on who you ask, but one thing is for sure: bloggers don't have the resources of traditional journalists. Granted, they don't have the huge costs of creating a print product. Online publishing is cheap. But good reporting is not. Take, for example, the New York Times' coverage of a hospital after Hurricane Katrina. That story came with a $400,000 price tag. Blogs can't bankroll reporting efforts anywhere close to that. And bloggers don't have 40 hours a week to spend uncovering scandals at military hospitals, either — unless advertisers begin investing in blogs and online magazines like they invested in papers.
Gay media will need to find a way to make the online model work — and fast. And the Washington Blade's outsed staff might be the ones to lead the way —  Kevin Naff, the Blade's editor, told Politico yesterday that the staff would be going out on their own venture, proving that passion is one thing we'll always have going for us.
"The Blade staff is united and ready to continue the paper's long-standing mission," Naff said. According to the Washington City Paper, "the [Blade] staff began forming plans to start a new publication within 'about five minutes,'" of hearing the paper was dead. Tomorrow, they will have their first meeting to plan the future publication (unnamed for now). If they can get a hybrid model going (the low costs of blogs, but the reporting depth of newspapers), the Blade staff might just make it work.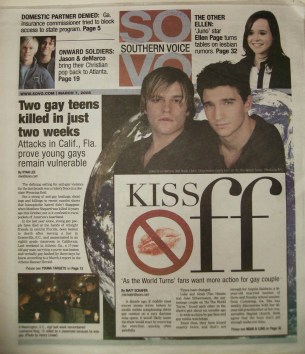 So yes, the Internet has exponentially increased the number of voices that can be heard. Anyone can be a publisher now. But the death of traditional media means a decrease in in-depth reporting.
That won't happen overnight, though; they're going to need some support. Passion doesn't pay the bills, and these people couldn't be facing a tougher market for a journalistic venture. The question is, can they wait it out? Can this new paper make it until either the economy is better or journalism gets its shit together?
One of Autostraddle's main values is encouraging cooperation, not competition, among gay media outlets. We all, as gay consumers of news, owe it to these dedicated staffers to support them in any way possible. We need news outlets like the Blade to keep covering our community and to keep pushing the issues. Pay attention to advertisers that support gay media, donate to your favorite publications, buy the t-shirt, spread the word, and keep an eye out for the new incarnation of the Blade — we will be.