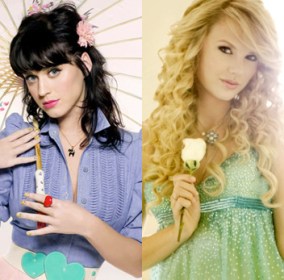 This month, both Taylor Swift and Katy Perry debuted new videos for their new hit singles, "Mine" and "Teenage Dream" respectively. A disclaimer: while it might seem that we are less than qualified to talk about these artistic achievements as we have demonstrated our distaste for both these womens' music in the past – in particular, that we feel Taylor Swift to be an enemy of feminism and Katy Perry to be an enemy of bisexuals everywhere – I would like to preface this post by saying that I pretty much like both of these songs, so much so that I was surprised and a little dismayed with myself when I learned who sang them.
Now that that's out of the way, the point: there are some, like this man with glasses in this video about the video who I imagine hates his job at MTV, who argues that Swift and Perry's new singles and videos are at odds with each other, and are in fact "opposites."
The idea is that Swift's song, "Mine," deals with a kind of emotionally pure and diamond-jewelry-commercial style long-term commitment, while Perry's "Teenage Dream" chronicles a sweat-soaked, basically physical relationship where the most you learn about each other is which method of birth control you prefer. He even goes so far as to suggest that these two videos represent different philosophies of feminism, which, HOO BOY, if there's one thing we've learned it's that you shouldn't try to talk to people about Taylor Swift and feminism. You want to put that idea down and back away slowly, boy.
Anyways, we disagree strongly with his argument, but before we tell you why you should probably watch these videos. Do that and get back to me.
+++
Okay, first, I'm going to say that posing these videos as "opposites" doesn't make sense because they just have too much in common as far as themes go, both in the videos and the song. I get that Swift's song is about the emotional development of two people who grow into adulthood together, and that Perry's is about, like, being a teenager. But a) what is being a teenager but growing into adulthood together? and b) have you listened to Katy Perry's song? I have, which is saying something. It's true that there are lyrics about "skintight jeans," but other selections include: "You think I'm pretty without any makeup on/You think I'm funny when I tell the punchline wrong." "No regrets, just love." "My heart stops when you look at me." I'm sorry, but these are both (endearingly!) sappy love songs, with slight contextual differences. In fact, two of their lines are almost identical: Perry's "I know you get me, so I let my walls come down." and Swift's "You learn my secrets and you figure out why I'm guarded." I mean, come on. These are not the same song, but they are definitely not the opposite of each other.
The opposite of a Taylor Swift song is not a Katy Perry song, it is The Naked and the Dead.
The opposite of a Katy Perry song is not a Taylor Swift song, it's Alix Olson.
More importantly, though, I'd like to disagree with his assertion that these are two different kinds of feminism – one that's about togetherness or holding hands or having babies or whatever it is Swift is doing in that video, and one that's about unzipping your jeans on a hotel bed so an unshaven man can give you carpet burn on your inner thighs. Have I read too many anthologies on third-wave feminism, or are those two things not mutually exclusive? At all? Far from coming from two completely different places philosophically, I would say that anyone who's ever been in a successful relationship has integrated both those things. That's what a relationship is – someone that you want to roll around on a bed in a motel with and also walk on the beach with, and also make out on a beach with, and also unpack boxes with in your small-but-charming post-college apartment. That's how life is, and how love is.
And as far as feminism goes, do we really still think that you need to pursue emotional OR sexual fulfillment? I really don't think that even the pubescent fans of Swift and Perry still think that's true. I think most feminists are fully aware that they can have sparkly, shiny, vignetted sex and also someone who puts their arm around them by the edge of the water; in fact, I think most feminists know that they're entitled to both those things. Frankly, it seems like a patronizing underestimation of female pop music fans that they would be so simplistic and shallow-minded that they could only process one of these things at a time. So fans of top 40 music that often seems to us to have a slightly less-than-progressive message: rejoice! There is no need to limit yourself to only one of these summer anthems. In fact, they could go on the same mix cd. I know, that was a great idea. You're welcome. Bespectacled and probably underpaid male VJs: feel free to use your lunch break and look up what "opposite" and "feminism" means.