I don't have to make a choice
I like girls and I like boys.
-Peaches
Some days the line i walk
turns out to be straight
other days the line tends to deviate
i've got no criteria for sex or race
i just want to hear your voice
i just want to see your face
-Ani DiFranco
So have you heard? About the dawning of a new hetero-flexible generation? Perhaps you have heard about The Bisexuals, perhaps on this very website. Perhaps you saw a television show during sweeps, or read things on the internet sometimes. It's true, there are approx a billion bisexuals in the world now, yet many feel regularly dismissed, disregarded, ignored and disrespected.
Well, you'll be happy to know that in 2008, new research found that bisexuality is not a transitional phase among women:
"Bisexuality in women appears to be a distinctive sexual orientation and not an experimental or transitional stage that some women adopt "on their way" to lesbianism, according to new research published by the American Psychological Association. The study of 79 non-heterosexual women over 10 years found that bisexual women maintained a stable pattern of attraction to both sexes. In addition, the research appears to have debunked the stereotype that bisexual women are uninterested in or unable to commit to long-term monogamous relationships."
+
A 2007 Cornell University study, which sampled more than 20,000 individuals in 80 communities across the U.S., found 14.4% of females surveyed were either lesbian or bisexual. In September 2005, the National Center for Health Statistics' newest comprehensive study revealed that 14% of women between 18-29 have had at least once homosexual experience. Ten percent of women reported same-sex attraction, reflecting a three-percent jump from the Center's 1992 study. Go back over a decade to a 1999 Institute for the Advanced Study of Human Sexuality study attributed 18-20% of it's female subjects as having "been sexually intimate with someone of the same sex." These numbers, of course, are dependent on what women will admit to doing or feeling, but compulsory heterosexuality is increasingly against the norm.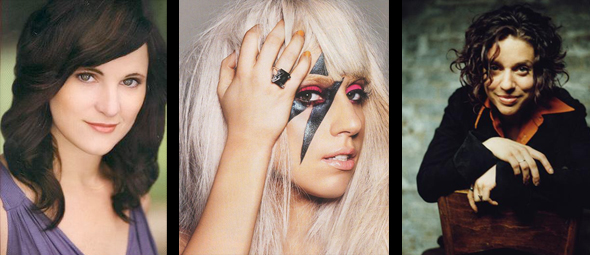 THESE PEOPLE ARE BISEXUAL, DOES THAT MAKE YOU FEEL BETTER
+
In 2006, I was doing preliminary research for a non-fiction book project that aimed to make some sort of statement about this new generation of bisexual women. The book's thesis was, roughly, that this time around, it's gonna be different than it was with the first wave of so-called "bisexual chic," which swept the nation in the mid-90's. As much as we'd like to say it's always been just about the heart and not the anatomy, and as politically correct and queer-friendly as it is to say so, let's get real — people choose life partners based on a lot of factors that have nothing to do with the heart, like what your family wants and how much money a person makes. This time, with changing expectations in society, I predicted that more and more bisexual women would feel that they truly had the option to "follow the heart, not the anatomy." As stigma and homophobia breaks down and women's rights advance, bisexual women will be more and more visible in queer communities and will be open about their identity and proud.
'ANYTHING THAT MOVES' IS A BISEXUAL MAGAZINE THAT USED TO EXIST
++
So, in the fall of 2006, I conducted a sort of highly unscientific, absurdly misspelled and statstically ignorant, yet massive, "survey" on the internet. Over 3,000 self-identified bisexuals filled out at least part of the survey and about 500 did the whole thing (it was lengthy). I spelled "marriage" wrong twice and used "it's" instead of "its."
806 respondents indicated where they identified on The Kinsey Scale":
(1) – 7% – Heterosexual, only incidentally homosexual
(2) – 30% – Predominantly heterosexual, but more than incidentally homosexual
(3) – 32% – Equally homosexual and heterosexual.
(4) 19% –  Predominantly homosexual, but more than incidentally heterosexual
(5) 11% –  Predominantly homosexual, only incidentally heterosexual.
(6) 3% –  Homosexual, only incidentally heterosexual.
Other interesting findings [ETA: At 4pm on Saturday I added more statistics and clarified some of these statements due to the fact that some commenters were, much to my surprise honestly, reacting strongly/negatively to what I thought were not only encouraging results, but also, as aforementioned, irrelevant results as this study was not statistically sound or conducted by a professional body. Late adds are all in italics.]
+ 47% of respondents had been in serious relationships with both men and women and 35% with men only.
+ Regarding sexual experiences, 22% reported past hookups with bisexual women, 18% with gay women, 14% with straight women and 3% with transgendered persons. 53% said the majority of their sexual experiences had been with straight men.
+ 43% believe that sexual orientation is more fluid for a woman than for a man and 35% are unsure.
+ 20% said their current choice of partner was affected by laws against gay marriage.
+ 19% agreed to some degree with the statement "I'd prefer to be with a man to avoid homophobia and discrimination," including 1.8% who strongly agreed. 74.4% of respondents disagreed, including 47.3% reporting that they strongly disagreed.
+ 59% of respondents disagreed with the statement "My family doesn't care if I am with a man or a woman; they just want me to be happy."
+ 59% agreed with the statement "lesbians don't want to date bisexuals" and 11.4% agreed with the statement "men don't want to date bisexual girls."
A lot of the stereotypes about bisexuals stem from the incidental fact that most homosexuals identify as bisexual before coming out as 100% Fo'sho Homo for Reals, therefore boosting the rate of those who know a homo who used to identify as bi.
HAY WE'RE BISEXUAL WEIRDO
+
55% agreed to some degree with the statement "I feel ostracized from both the straight and the lesbian worlds for my bisexuality." It brings up an interesting paradox — many sense that straight culture and gay culture are distinctly different entities. Do you feel like you have to navigate between worlds, or that you have no choice, or that it's all integrated where you're from? What do you love/hate about being bisexual? What about that word? Bisexuality reinforces the idea of a gender binary and we're kinda over that whole thang. Queer feels more inclusive (especially of transpeople) but the word doesn't inspire universal affection? Do you have a bisexual girlfriend who you think is gonna cheat on you because she's bisexual? Because if so bitch I will cut you.
GIVE US ALL THE GORY BISEXUAL DETAILS!