SMACKDOWN: You know how sometimes we read an article and want to punch someone in the mouth? This happens regularly enough that we've decided to create an entire 'category' just for smackdowns, called Automatic Smackdowns. We're still deciding how to apply this label retroactively, stay tuned.



We've been known to practice a bit of journalistic medicine around here; suggesting diagnoses for Brittany Murphy, Tila Tequila and Lindsay Lohan, among others. We're all about breaking down the stigma around mental illness and the smack talk that haunts young women in the public eye, where it's easier to talk shit than to address real issues at work (case in point: Britney Spears!) to a truly heartbreaking degree.
We know that we're not doctors, and should probs stop, but we're often related to doctors or perhaps visit doctors regularly (and some of us are, invariably, experiential experts with mental health topics TRUST ME there are a lot of orange bottles at our family picnics), but you know who's really not a doctor?
ROZ ZURKO.
Who's Roz Zurko, you may ask? Is that like another Dr.Phil person? Not it is not. It is just a bitter human talking crazy about Our Mother of Jesus Savior of the Hemptemple Haus of Eternal Sexytime Loveface Ticklecorn LADY MOTHERFUCKING GAGA.
According to The Zurk, Lady Gaga is "exhibiting text-book symptoms of Bi-Polar Manic Phase."

Gaga often displays manic traits in her claims and actions; she may very well be bi-polar and cycling through manic stages at times. We have seen this in other statements she has made. In her interview with Vanity Fair, she went on about her "vagina being the heart of all her creation." She also said that "she did not like to have sex because she fears the person will steal her creativity through her vagina."
Oh god, really? You mean Lady Gaga is crazy? Lady Gaga says crazy things? GET OUT! OMG.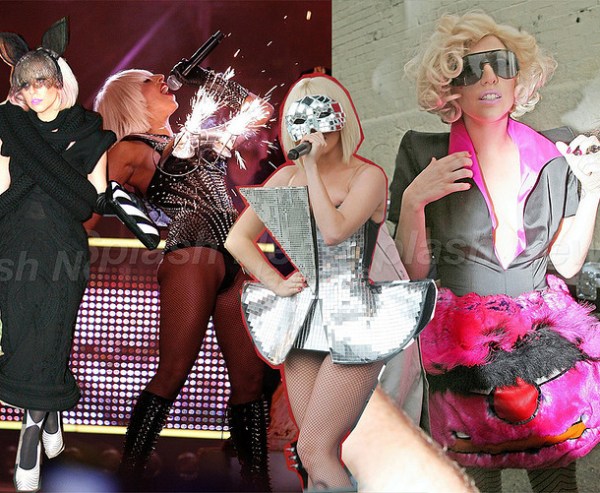 Sure, I appreciate the insightful diagnosis and it's brave for the author to assign the oh-so-popular "bipolar" label to Lady Gaga's eccentric personality traits, as her behavior occasionally does match the information about bipolar disorder available on Wikipedia.
But that's about all I can say for this article, which seems more like a reason to state homophobic opinions and umm… really, what was the point of this again?
Let's address these gems first:
"Lady Gaga goes gaga again with a few of her new claims. She is taking an online course to become an ordained minister so she can perform same-sex marriages for her fans on-stage. This somehow does not seem fair to all her fans who are not gay.

It is too bad Gaga wasn't taking each and every couple in love into consideration. Gaga has been adamantly against California's Proposition 8, which rules against same sex marriage. Maybe this is just her way of celebrating its banishment."
Ugh, GOD I HATE PEOPLE WHO CELEBRATE GETTING EQUAL RIGHTS. Like come on, I just killed two rabbits with one paintball gun, where the fuck is my party.
Anyhow Duh! Of course, that's exactly what she's doing, and that's ok!
But you know what? I've had enough of Justin Timberlake bringing a random audience girl on stage to serenade her at their concerts. What about a little bit of love for the gay men in the audience who want to be close to JT? That just seems awfully discriminatory.
The entire world celebrates straight couples getting married, can't we have one overpriced pop tour all to ourselves? Don't we deserve it?
I'm surprised that the author even knows about Prop 8 and what it means for history/civil rights considering the amount of ignorance spewed from every sentence in the first two paragraphs.
Also I thought we removed "loves gay people" from the DSM? Is this the new thing now — since homosexuality isn't its own mental illness, you'll assign mental illness diagnoses to everyone who happens to be queer or support them?
Onto the diagnonsense:
"All of these traits she exhibits could very well fall under a bi-polar diagnosis. A few months back, Gaga needed to cancel a few nights of concerts due to shear exhaustion. When people who are manic crash, shear exhaustion is what they will feel, along with feeling depressed."
I don't think the author even believes what they are saying at this point. It's fun to diagnose mental illnesses! Pssshaw that's a Saturday night in for us. I did it to myself in high school – I had borderline personality disorder. Sure, why not. There are websites for that.
No but really, often the internet is a useful tool for friends & family seeking to understand what's happening with a loved one, but in this case I think we can safely assume that Gaga was "shearly exhausted" because she was working a really exhausting tour schedule. The only thing crazy about that situation is that she'd booked such an exhausting tour to begin with and planned a high-energy stage show every night.
Here's my problem: I'd like to think that Gaga's level of crazy is way more interesting and complex than a mental illness which, for most people, eventually leads to medical treatment lest it become unmanagable and destroy one's life. There's nothing wrong with being bipolar (the Autostraddle team collectively sports an impressive roster of mental health issues, for example), but Zurko seems to be using this as a way to write Lady Gaga off. Calling her "bipolar" is just a distraction.
Because to some degree, you have to be completely bat shit crazy to be a pop star in this world. And if you're not crazy, you're going to start acting crazy, because the reason so many delusional manic people claim to be Jesus or Bruce Springsteen is because manic behavior IS rock-star behavior or prophet behavior.
"According to the DSM-IV, the criteria for a Bi-Polar manic stage include inflated self-esteem or grandiosity, flight of ideas, increase of goal-directed activity, along with many other symptoms that could fit Gaga's behaviors."
You know who else fits that criteria? Me, and I'm 100% stone-cold sane. Except you can omit the "inflated grandiosity" part… which is fine cause Gaga is, in fact, the biggest pop star of the moment and therefore her inflated self-esteem or grandiosity is not at all a delusion but actually completely justified. I wish people would write about real stuff, not just play doctor with WebMD.
All I know is Lady Gaga makes me wanna get married.