DANI CAMPBELL: Even if the overall arc of A Shot at Love With Tila Tequila seemed to push gay visibility into retrograde, it did break one barrier by introducing the world to Dani Campbell. After Tila declared she just didn't "get" or even like "masculine" girls (which was actually precisely the moment that I decided I couldn't take one more minute of the show and turned it off, which I realize was like five minutes into the first episode of the first season), she ended up falling for one. Dani became mainstream TV's first genuine "butch" heart-throb.
Today Dani weighs in on the Tila debacle on her myspace blog: "For the last week or so, I've been getting inundated with calls from the press about Tila Tequila. It's been bringing back memories, and making me think back to my time on the show. I guess the only thing I really want to say is that when I met Tila, she was sweet and down to earth – but since the day I left the set of 'A Shot at Love' I've been wondering how sincere our interactions really were… When I met her, she seemed so kind and real. I would hate to think that she's now resorting to publicity stunts to keep herself in the public eye." (read the rest at Dani's myspace blog: @myspace obvs)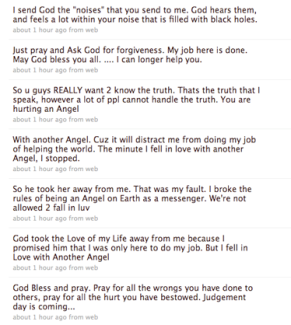 TILA TEQUILA: Yes, yes! We're still talking about it. Look I just want to say something that I don't think enough people are saying. I felt this way when Britney Spears had her public meltdown as well, which in its way was not so different, although Brit is smarter and had more supervision. (This is a great Op-Ed on the Britney situation) You also may recall that like Tila, Britney as a young girl felt comfortable with a kind of aggressive sexual com-modification that most teenagers don't — I'm not shaming her for being sexually expressive, and I don't believe in shaming women for anything they choose to do with their own body. But none of us know how it feels to be that sexualized to that many people at that age. It must feel very strange. And often this kind of exhibitionism is indicative of an emotional instability or budding mental illness that the public fails to notice, as the voices of the Fans (Britney is hot!) and the voices of the Puritans (She should be ashamed of herself! Women should hide their bodies! Sex is bad!) drown the moderate liberal pro-sex feminist voice that wonders if there's something else at work emotionally.
Many famous artists & entertainers are bipolar or have experienced mania — often it's mistaken for a show business or crazy artist mentality. Which is all well and good, until the "benefits" of the illness outweigh the danger — a.k.a., when the mind snaps from hypomania to Mania or Psychosis.
This stuff always upsets me; the way the media eats & spits out these people. So I guess since we are a part of the media now, we have a chance to provide an alternative voice. I didn't want to because I don't ever want to be seen as a "gossip blog" (yes, to us, that is a dirty word), but well, if you can't tell the difference between analysis of pop culture & opinion on mishandled mainstream issues and "gossip," then you probably won't like this site anyhow.
Here is what we have to say about Tila Tequila, regarding her publicist dropping her, and her recent twitter activity and interviews:
Hypomania (literally, below mania): is a mood state characterized by persistent and pervasive elevated or irritable mood, and thoughts and behaviors that are consistent with such a mood state. Persons in a hypomanic state may feel like they are speeding through well-crafted thoughts and can't slow their mind down, a decreased need for sleep, a flood of ideas, an increased desire/drive for success, pressured speech/rapid talking, inflated self-esteem or grandiosity, easy distractability and attention-deficit, obsessive behavior, poor judgment, impulsivity, can be happy but may quickly become unpleasant if they can't get what they want, and heedless involvement in pleasurable activities (like being on tv, for tila) with a high potential for negative psycho-social or physical consequences while thinking themselves above said potential consequences.
Hypomanic people are generally fully functioning and the person knows what is real. However they can overestimate their capabilities and fail to see the risks involved in their ventures. For example, someone may suddenly decide to expand their business in a way that is not really practical or set up schemes for which they are ill prepared.
Hypomania is a feature of two mood disorders: bipolar II disorder and cyclothymia, but can also occur in schizoaffective disorder.
If left untreated, hypomania can slip deeper and deeper into mania (and sometimes psychosis), in which case, Bipolar I Disorder is often diagnosed.
Which brings us to last night …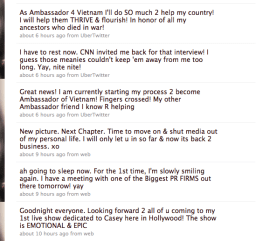 Mania: Characteristics of mania include rapid speech, racing thoughts, decreased need for sleep, hypersexuality, euphoria, impulsiveness, grandiosity, obsessive behavior, an uncontrollably intense interest in goal-directed activities, hyper-religiosity, absentmindedness where one is unable to be aware of anything besides the flow of thoughts, talkativeness, irritability, delusions (of grandeur, potential, or otherwise), an internal pressure to keep talking (over-explanation), grandiose ideas or plans, abnormal social interaction, highly vocal arguments, and denying anything is wrong with them.
Grandiosity leads a person to have inflated self-esteem, believe they have special powers, spiritual connections, or religious relationships.
Because mania encourages high energy and decreased perception of ability to or need to sleep, within a few days of a manic cycle, sleep-deprived psychosis may appear.
Bipolar Disorder, schizophrenia, sleep deprivation, severe clinical depression and stress is known to contribute to and trigger psychotic states. A history of psychologically traumatic events, and the recent experience of a stressful event, can both contribute to the development of psychosis.
I hope someone in Tila's life is getting her some treatment, but it seems like everyone is either attacking her on Twitter or in the media, or just abandoning her altogether. If any of her enemies really want this behavior to stop, there is a guaranteed solution: therapy, perhaps Lithium, Seroquel, Ativan, Effexor… and the professional care provided at a mental hospital. I don't expect the Johnsons to selflessly care about Tila's well-being at this point, but it blows my mind that the people who are looking out for their own self-interest by seeking legal and media protection from Tila aren't pursuing the logical solution — get her to a doctor. If you truly want her to stop talking about you, Jasmine L'modelgirlhateveryournameis, this is the way to do it. The fact that you aren't seeking this path is suspicious to me.
And; pleasant side-effect — perhaps Tila will finally get the care & help she needs and get some counseling during a trying time. She's a human being, and in this psychological state she will not seek help herself or admit she has a problem (that's part of the illness), and she needs rest. Otherwise she will likely become a physical danger to herself and others very, very, very soon.
That's all. Thanks for listening.
ADAM LAMBERT: "Whataya Want From Me" video! It's here, it's now, get excitant!
+
DANCE: Hey New Yorkers! Autostraddle's favorite party-starter, DJ Carlytron, is spinning tonight at RF Lounge in the West Village (531 Hudson St) from 10p – 4a AND you get a complimentary RF shot. HOT! We're all fans of DJ Carlytron, ARE YOU?
GOLDEN GLOBES: The Golden Globe awards are coming up! Here are 20 vivid moments from the golden globes to keep you entertained while you wait.
ART CONQUERS: Twelve lesbians seeking asylum in Britain express themselves through art. "Sometimes I wonder how I got into the position of a 'refugee'; being pitied, given handouts, being a second class citizen, labeled and displayed."
GLEE: 'Glee' star signs with UMG: Matthew Morrison, the actor-vocalist who plays Will Schuester on Glee, is getting a record contract! Way to go, Mr. Scheu.
TEGAN AND SARA: New video for "Feel It In My Bones" by Tiesto featuring Tegs and Sez! (©Crystal) HOLLA GET SOME.