It was another busy week over here in Autoland. The Prop 8 Trial is in full swing and from what we hear, our lawyers are kicking ass. Hopefully this means the Lawless Netherworld of gay relationships that Riese talked about will soon be a thing of the past. Taylor and her techies brought us three perspectives on Avatar and kept us updated on new toys and developments in the world of computers, robots, and video games. Jess and Becca Katz want the world to know you're gay and Becky wants you to get your thrift shopping on. But wait, there's more good news: Crystal brought us the very first installment of her weekly music fixes and Skyler James–you remember her–won her appeal! We can't say enough about all the love you poured out [and drowned the Internet] in response to the State of the Autostraddle Union so let's just kick it off with some true words from BLM:
---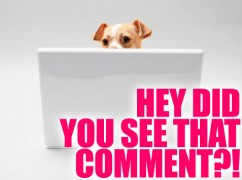 The Yes Yes and Triple Yes Award to BLM on State of the Autostraddle Union: "I feel there are a lot of readers who don't comment much because they get too busy reading all the other fab comments. That said: Thank you!!"
The Gold Medal of Coming OUt Courage to Paper on Want Lesbian TV? Try the BBC.: "I did it. I came out to my parents and my sister this morning over breakfast. I almost started crying, so they hugged me, told me they love me, that they'll support me no matter what, that I'm a great girl and they thanked me for telling them.
They're not the first people to know (although I think they already did), but they're the first people I've ever told out loud. It scared the shit out of my and I could barely walk to school, but after three years, I did it. I fucking did it."
The Canadian Instinct Award to geneva. on The Lawless Netherworlds of Gay Marriage in the Ballad of Tila Tequila: "Marriage really is not as much of a thing in Canada as it is in the US. Obviously, Canada being a much more liberal nation plays a role. And our only real nation-wide tradition is hockey (which, total side note, I am freaking out about right now because I cannot find a bar in Manila, where I live, that will agree to play the olympic gold medal hockey game for me and I HAVE NEVER MISSED WATCHING A GOLD MEDAL HOCKEY GAME)."

The You Gotta Fight For Your Right Award to Sarah on The Lawless Netherworlds of Gay Marriage in the Ballad of Tila Tequila: "I'll fight to the death for any of you to have a legally sanctioned fucked up relationship."
The THIS Award to DemiArianna Read the full content in all its glory on The Lawless Netherworlds of Gay Marriage in the Ballad of Tila Tequila, but we'll just tell you it ends like this: "…In the respected words of Bette and Tina's coaching, projected by Alice:
Step off, bitch."
The A;ex Award to christinethat on Thrift Store Shopping 101: "that bird hat is pretty solid. And I don't know why "that" has been added to my name. Perhaps it's because I'm shmammered."
The #-Spot Award to Julia on Curve Magazine's Full of Lesbian Sex This Month: "Yeah i feel like there is a vagina alphabet being created slowly, but surely."
The bcw Award for bcw to bcw on Glee Gets Early Second-Season Pick Up, Will Harvest Earnest Youths To Join Cast:
The Note to Self Award to Liz on Glee Gets Early Second-Season Pick Up, Will Harvest Earnest Youths To Join Cast: "Dear Liz, Always refresh the page after taking your sweet ass time reading the articles. You may end up commenting and looking like a douche. XO Me. Also- buy toothpaste"
The Little Bear Award to Bren on State of the Autostraddle Union: "My 6th grade teacher used to read us The Indian in the Cupboard everyday after recess. She's quite possibly the first woman I ever loved."
The Nonchalantly Speaking Cute British Award to BioGal on Want Lesbian TV? Try the BBC.: "The period-costume ladies snogging in the woods was from 'The Secret Diaries of Miss Anne Lister'."
The Family Love Michael Award to Debs on Want Lesbian TV? Try the BBC.: "i love the arrested development chicken dance. i hate when people who never watched the show don't know what i'm talking about, and then look at me really strange when i demonstrate it."
The You Can Have Whatever You Like Award to aaannie on Atlanta is the Gayest City in the USA, Sorry WeHo!: "I'm glad Chicago didn't make the list because it DOESN'T DESERVE TO. Just the homogeny of the lesbian population upsets me. I mean, is it so much to ask for a dyke in skinny jeans? COME ON."
The Special Mariska Unit Award to Luna on The Lure of Hating on "The Lure of Dating an Ex-Lesbian: "A smidge? Honey, I was flaming! Forget Alex and Olivia, I joined her Joyful Heart Foundation and even got an email from her in mailbox. I used to sit in front of the t.v 15 minutes earlier to prepare myself. It's a shame. My mother, my poor mother. She thinks I'm pining after Elliot (Chris Meloni). As if?"
The Hypothesis Award to Spaz on CES 2010 Highlights: "We watched gay fruit fly porn during the first lecture of my genetics class at MIT! Is it weird that I've been addicted to AS since the beginning but I only just now registered so I could post this comment?"
---
Before you go!
It takes funding to keep this publication by and for queer women and trans people of all genders running every day. And A+ members keep the majority of our site free for everyone.
Still, 99.9% of our readers are not members.
A+ membership starts at just $4/month.
If you're able to, will you join A+ and keep Autostraddle here and working for everyone?
Join A+