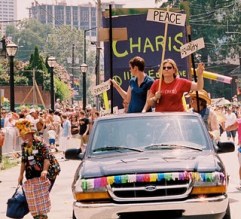 GAYEST CITIES IN AMERICA: Over at The Advocate, "Intrepid amateur sociologist Mike Albo searches for America's 15 gayest burgs—based on a finely tuned (if totally arbitrary) calculus."
This list of the list of the 15th Gayest Cities in America has been compiled based on a point system of same sex households per capita, statewide marriage equality, gay elected officials, gay bars per capita and gay films in Netflix favorites. Liberal college towns have favorable ratings; like Madison, WI; Iowa City; Austin, TX; Burlington, VT and Bloomington, Indiana. (Riese Sidenote: growing up in Ann Arbor, Michigan I don't remember ever not being aware of gay people, they were just a fact of life, we never learned anything anti-gay in school and I didn't know anyone who had — though of course the social attitudes amongst kids about gay people was as bad as it is anywhere else where kids like to be asshats to other kids).
Spoiler alert! Interestingly, the number 1 honor doesn't go to New York OR Los Angeles (in fact, those two cities don't even rank!) … it's Atlanta:
Georgia isn't the most gay-friendly state, but Atlanta is undoubtedly our gayest city—with 29 gay bars here, there's a reason it's dubbed Hotlanta. Atlanta's several queer events include one of the nation's largest Prides in October (returning to Piedmont Park this year), and MondoHomo, a May event celebrating art, drag, burlesque, film, and BBQ. The gay epicenter is Midtown, anchored by Outwrite Books, a giant gay bookstore bucking the national trend—by staying in business! Atlanta guys are hunky, the ladies are gracious, the gay sports leagues are seriously well organized, and its housewives (and their gay BFFs, complete with handbags and heels) are now camp icons. And who doesn't love the sweet lilt of a Georgia accent on a knockout guy or gal?
I wonder about the Netflix rentals as a factor — in NYC and LA, gay people can go see gay films in theaters, or rent them at local video stores, or buy them in video stores, whereas in other cities Netflix is often the only option for viewing these films. Might not be the best barometer.
For more on the history of Atlanta's gay community, check this out.
GENDER: South Africa's controversial world 800m champion Caster Semenya could return to competition next month despite an ongoing gender test investigation. (@bbc)
HAITI RELIEF EFFORTS: Olivia Wilde has launched a Twitter campaign to raise money for the survivors of the Haiti earthquake. Shortly after the news broke, she has pledged to send digital thanky ou messages to each and every fan who makes a generous donation to Artists for Peace and Justice's Project Haiti campaign.  In a series Tweets she writes:
"Its worse every minute guys, so we are raising the stakes. Those who give $200 or more will get a personal thank you video… THANK YOU for your donation, OF ANY AMOUNT. they are all crucial. I swear to you that every dollar is going directly to the Haitians who need it most. THANK YOU."
Please view a list of organizations you can donate to to help the relief effort in Haiti.
TRANSGENDER LESBIAN FILMMAKER: We are used to tales of transgender people who, trapped in the wrong body, are loners, even outcasts. Paul Reed was different: not just the high school quarterback, but a popular boy who was also his class's valedictorian. Reed's demons were kept well-hidden, to put it mildly – which is why the story of his returning to that Montana high school for a reunion as "Kimberly," as recorded in her documentary Prodigal Sons, is so noteworthy. As Reed tells Details, "I spent the first third of my life pretending not to be a girl, and the second third of my life pretending not to have been a boy." (@details)
MARTIN LUTHER KING: SheWired ponders whether Martin Luther King would have spoken out for LGBT rights:
King understood the interconnections of struggles. And an example of that understanding is when Martin Luther King said, "The revolution for human rights is opening up unhealthy areas in American life and permitting a new and wholesome healing to take place. Eventually the civil rights movement will have contributed infinitely more to the nation than the eradication of racial justice."  King's now deceased wife says yes. In 1998, Coretta Scott King addressed the LGBT group Lambda Legal in Chicago. In her speech, she said queer rights and civil rights were the same. "I appeal to everyone who believes in Martin Luther King's dream to make room at the table of brother and sisterhood for lesbian and gay people," she said. (@shewired)
FAG HAGS: Oprah imparts her words of wisdom for feeling beautiful: "Recent research shows that our social networks have a profound effect on our behaviors and attitudes—including how we perceive our appearance. "It's hard to feel good about your looks if you're surrounded by people who criticize their own," says Etcoff. "Spend time around people who are confident in their bodies, and you'll find yourself following suit." And if you don't already have a few gay men in your circle of friends, you might want to add some: A study published last year in the journal Body Image found that friendships with gay men can elevate women's body esteem." That is, until they bust out with "honey, maybe it's time to put down the cupcakes." (@oprah)
DOGS VS. CATS: Gay people usually view their pets as children, so how are "dog people" different from "cat people"? The results of a study show that "dog people" scored significantly higher on extraversion, agreeableness and conscientiousness measures, and lower on neuroticism and openness than "cat people."  The effect persisted regardless of gender of the respondent. (@cnn)