GIRLS ON THE BBC: The BBC released its Spring/Winter 2010 Drama Highlights yesterday, and it seems that the country currently bringing you Skins is about to bring you even more hot girls making out! We told you about Lip Service, "a bold new drama about the sex lives and love affairs of twenty-something lesbians living in contemporary Glasgow," a few months ago but were unawares that said program would appear in the BBC Winter/Spring 2010 trailer I was watching. Lip Service gets about three seconds of the trailer, but during those three seconds, I thought I saw Shane again…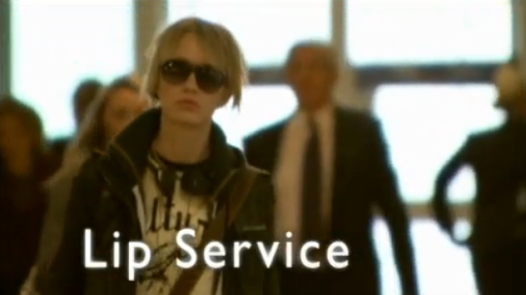 Hello you remind me of a girl that I once knew. Ruta Gedmintas (The Tudors, Spooks) plays Frankie, "an irreverent and provocative photographer who avoids commitment at all turns."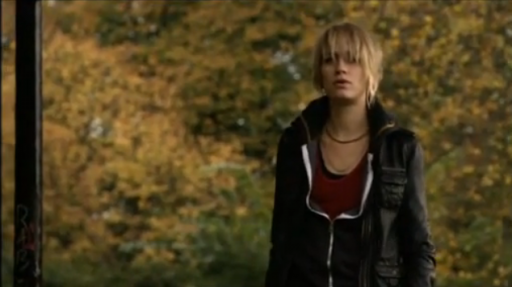 Tangent: 25% of you will know what I'm talking about when I ask you if you remember how you felt the first time you had a feeling about Shane. The other 75% of you are either rolling your eyes and preparing to unleash a screed about her bony ass or groaning "Why are you still taking about The L Word if you hated it so much?" (Answer: 'cause it's funny to keep talking about it! It's our running gag! Like the chicken dance on Arrested Development, but less funny!) All I'm saying is before I even realized there was a lesbian show in the BBC's Winter/Spring 2010 trailer, this girl did a gesture like she'd just accidentally broken someone's heart and my heart skipped a tiny beat! What surprise/obvs I felt seeing that this girl was from a new lesbian show!
Sidenote: More lesbians! Obvs there were two ladies in period outfits making out in that trailer, I did not overlook that, though I'm not sure what show that's from. Anyone? BBC is also producing Lindsay Lohan In India, in which Lindsay Lohan "travels across India to meet the people involved in child trafficking."
Anyhoo, back to Lip Service. Creator Harriet Braun who also wrote Mistresses (which had a hot lesbo storyline too), said, "I loved The L Word but it's high time we saw some contemporary British lesbians, with all the bad weather, trips to the pub and repressed emotions that go with that. It will be as funny as it is pathos filled, because in my experience that's how life is."
The cast also includes Laura Fraser as Cat ("Frankie's former lover, who may not be as immune to Frankie's charms as she professes to be"), Fiona Button as Tess ("Cat's best friend and flatmate who has an uncanny knack of attracting all the wrong sorts of women") and Roxanne McKee as Lou.
According to The Daily Record, "[Lip Service] is going to make Glasgow look amazing. It's set in the Merchant City and it makes the city look as cool as New York. But it's not gratuitous. It's not going to show lesbians in a bad light. It's not all about bed-hopping sex antics."
UK's Throng isn't as pumped: "it sounds dreadful doesn't it? If it wasn't for the promise of some nude women, I don't think many would even think about tuning in. I can't even tell you if it will contain nude women. As it's on BBC Three, I think it's fair to assume that this will be like Sugar Rush, only with fisting."
According to a source at the Daily Star: "There's a lot of lesbian sex and girl-on-girl stuff. It's definitely one of the must-see shows of 2010."
There's a Lip Service trailer on the BBC website I can't watch in America, which hurts, so I went to my dear friend EurOut and found indeed they've somehow unearthed a scene.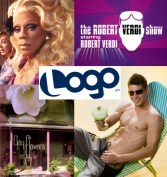 BOYS ON LOGO: Logo has greenlit four new series including a spin-off of RuPaul's Drag Race called "RuPaul's Drag U," which will see everyday women competing in tasks to become a diva, under the instructions of a team of drag queens and will debut in July. Other series include "The Arrangement," which will pit talented floral designers against each other, "The Robert Verdi Show" Starring Robert Verdi which we are 95% sure is about Robert Verdi who is apparently a "larger-than-life" (THAT'S REALLY BIG) celebrity-stylist-turned-entrepreneur, and eight-part doc "Kept" which will look into the lives of privileged real gay homemakers in New York, who live life only to be 'kept' by their partners. Winners keepers kids! We'll maybe secretly like that.
In news related to our favorite ladies Julie Goldman, Kate McKinnon, Nicol Paone and Michelle Paradise, Logo has also ordered new episodes of some of BBC series Beautiful People, lesbian drama Exes & Ohs, documentary series Real Momentum and more of The Big Gay Sketch Show!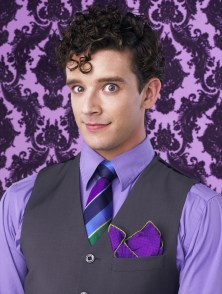 UGLY BETTY: Michael Urie who plays fashionista Marc in Ugly Betty has played gay many times (most recently in the Off Broadway play, The Tempermentals), but he never officially announced his sexual orientation, until now:
"I've never been in. I've never said I was straight, and I'm not saying I'm gay now. I never lie, and I've never shied away from the topic. I've certainly chosen through my work to do things that promote the rights of LGBTQ people.  I've been in a relationship for a while now, and if you just met the two of us together we'd be 'gay.' But that somehow means anything that happened before [we met] didn't count—and I don't feel that way. I know that some people feel that way. They were with women, but it always felt wrong. But it didn't for me. It felt right at the time. It didn't work out, but it also didn't work out with other men—many times. That's why 'gay' never seemed right." (@advocate)
LADY GAGA: Gaga is hosting the Hands Up for Marriage Equality benefit this Saturday, January 16th in Atlantic City.
KRISTIN CHENOWITH: Autofave Kristin Chenowith & Kerry Washington are ready to make out for an upcoming Dusty Springfield biopic: You see, back in April, Chenoweth told E!, "I want Kerry Washington to play my girlfriend, Dusty had a relationship with an African-American woman and she was supposedly very attractive. Kerry is a great actress and I think we'd be amazing together." NOW, in a new interview with E!, Washington recalled running into Chenoweth in Los Angeles after reading the interview: "I was like, 'I would love to be your lesbian lover!'" Washington said. "It's very exciting. I feel like I've been waiting to make out with her forever." (@eonline)
OPRAH: DVR Alert!  Lady Gaga, Adam Lambert and Rosie O'Donnell will all be on Oprah within the next week! Check ye local listings (or Autostraddle the day after).
CASEY JOHNSON: Before she died, Casey Johnson candidly talks about personal failures in her final interview: "It's been a total nightmare for me. I really have tried to be a success…and it's all gone nowhere. I'm a mess over it." She also spoke of her jealously of longtime friend Paris Hilton, telling Star: "She's my best friend, and I love her. But I hate that she has everything and everything has gone her way." (@starmagazine)
TILA TEQUILA: Tila Tequila is opening up about her 1 month relationship with Casey: "Lesbians tend to move very fast. They call us U-haul lesbians and that's what we did. She U-hauled herself into my house the next day," says Tequila. "She brought all her dogs. Racks of clothes. I have two bedrooms and she filled up the entire bedroom and guest bedroom with all her shoes and clothes. I came home and the bathroom is filled with all her stuff. Makeup, picture frames of her daughter Ava everywhere. I was like this is hilarious. I said I feel like we'd been married five years." After presenting Tequila with the 17-carat diamond, the Casey reportedly said, "'Will you please wear this? I want you to be my wife.' " Tequila recalls. "We started laughing and crying." (@people) She also describes visions of Casey in her dreams. (@extratv)
OUTRAGE: Isn't it strange that GLAAD nominated every movie and TV show with gay characters, appeal and punchlines EXCEPT the phenomenal documentary, Outrage?