GLAAD: The nominees for the 21st Annual GLAAD Awards were announced yesterday. Cynthia Nixon will be specially honored because seriously, if you aren't a Miranda, then WHO THE HELL DO YOU THINK YOU ARE? No really, Cynthia is gonna get the Vito Russo Award, named after a founding member of GLAAD and presented to an openly LGBT media professional who has made a significant difference in promoting equal rights for the community.
Last year Carlytron & Robin went in NYC and had a gay old time, and in Los Angeles our secret source attended and Ilene Chaiken wore Jenny's garbage bag dress deflated and talked for a long time.
This year the award ceremonies will be held on March 13 in New York, April 17 in Los Angeles and June 5 in San Francisco.
A lot of things we like have been nominated including:
Ellen Degeneres for Outstanding Talk Show Episode ("Sirdeaner Walker Interview") and also Oprah has been nominated in the same category for the day she had Ellen & Portia on! ("Ellen DeGeneres and Her Wife Portia De Rossi")
The Outstanding Musical Artist Category should all get together and go on a big tour, they could call it True Colors or something, participants as follows: Brandi Carlile, Lady Gaga, Gossip, Adam Lambert and Otep.
For the teevee; Outstanding Drama Series includes Mad Men, Skins, True Blood, Grey's Anatomy and Brothers and Sisters and nominated Comedies include Glee, Greek, Modern Family, United States of Tara and Beautiful People.
U People is up for Outstanding Documentary, Precious for Outstanding Film (also "I Love You, Man" — someone explain to me why this is?), Kathy Griffin: MY Life on the D-List and RuPaul's Drag Race for Outstanding Reality Program.
Although this list is a big ol' reminder that we've not let anyone entertain us this year besides Adam Lambert, we have indeed read/seen/DISCUSSED ON AUTOSTRADDLE almost all the nominees for for Outstanding TV Journalism, Magazine and News Articles, such as "Kept From a Dying Partner's Bedside" (The New York Times), Uganda Be Kidding Me (Rachel Maddow), Total Transformation: Why Chaz Bono Decided to Change (Good Morning America) and Coming Out in Middle School (The New York Times Magazine).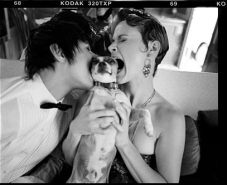 THE L WORD: Jennifer Beals did an interview with SheWired to discuss her upcoming L Word book, which features photos she took behind-the-scenes as well as cast interviews. From the interview:
What I started to then was interview people as I showed them the photos because the photos from the first rehearsal ever brought up a discussion about how the show began and what our relationships were like when we first started and how we imagined things would be. And then you have a photograph of Mia Kirshner's last day on the show and that elicits another conversation of how the show ended and how people felt about the way the show ended and what our relationships were like by that time. And certainly by that time we were like a family — functional and dysfunctional. Everybody had an opportunity talk about their journey. So I transcribed those interviews and put them in the book as well for us to have — for everybody to have.
The book will be available on February 1st from ColorCentric via LWordBook.com. All proceeds will go to charity. (@shewired)
RIHANNA: Rihanna is on the cover of W Magazine with a hawt photoshoot on the inside. (@ontd)
TILA TEQUILA: Tila Tequila has given an exclusive interview to Radar Online about Casey Johnson, and when she found out that Casey had died. She cries a lot and it's pretty sad. Also I'd like to point out that we can not embed this video, so Radar Online way to go I bet you are gonna make a lot of money today!
Speaking of Radar Online, did any of y'all read RADAR magazine (in print) during any of its various incarnations? It was this cool Spy Magazine-ish effort with a ton of talent behind it that re-launched three times but went under every time despite its clear superiority over the rest of the universe.
In 2008, AMI purchased RadarOnline as the print version folded for the last time. Within a few months, Gawker began referring to the new website as "Zombie Radar Online," and it bore no resemblance whatsoever to its intellectual/snarky predecessor besides the name. OH AMERICA. (@radaronline)
HISTORY OF TILA: Gawker also has a pretty compelling piece about what Tila Tequila's life was like before all this — honestly, it's interesting. (@gawker)
TABLOIDS: If you ever bought In Touch Magazine before, you should probs never buy it again. Here's why: "In Touch, the magazine known for stories like "Brad Moves Out," "Brad's Moving Out," and "Brad Feels Trapped," changed directions this week: The cover features Sarah and Bristol Palin, holding babies, with the cover line: "We're Glad We Chose Life." (@jezebel)
BADDER ROMANCE: I know you thought nothing could be as awesome as Alex & Stef's Bad Romance, but this is pretty awesome: