Hello little monsters! Alex here! As you know, Lady Gaga's sophomore album "The Fame Monster" was released today, and obviously we need to discuss/obsess. I've recruited Gaga Specialist Stef to collaborate with me on this track-by-track breakdown. You can see Stef here with Gaga, who is tattooing Stef's arm (JK but she should've seriously got that tattooed!) during the release party for 'The Fame" in October '08. Photo by Robin Roemer!
You see, Miss Stef Schwartz is the reason I knew anything of Gaga when in April of 2008 she sent me an innocent song called "Just Dance" and told me I'd love it and that this pop singer/songwriter was going to be the next big thing. (Actually, I didn't give it much attention or thought, cause everyone's gonna be the NEXT BIG THING, you know? Obviously a regret — we could've talked to this crazy character at the first NewNowNext Awards if I payed any mind to the song.) Stef had the pleasure of booking shows for young Lady Gaga in downtown NYC before she was suddenly whisked away to record some album or something. Stef even first heard 'Paparazzi' when she performed it at the Knitting Factory to an audience of 30.
Basically, I'm very jealous and Stef is the perfect person to share her feelings about "The Fame Monster". Me? I just like The Dance, and the terrible/AWESOME (we both do!)
So enough of that… Ready? We wanna hear your comments about the album too!
Let's dance!
1. Bad Romance
STEF: Oh hey, have you heard this? Has Autostraddle mentioned this song? Is this new?  Did me and A;ex really make this video interpreting it via ukelele? When "Just Dance" and "Pokerface" were tremendous hits, certain critics proclaimed Gaga to be a flash in the pan who would be memorable for a hit or two and then disappear just as quickly as she'd arrived. This song proves without a doubt that A) bitch can write, B) bitch can sing and C) bitch is going nowhere.
ALEX: Nothing to add here. Arguably her best single yet. Period.
2. Alejandro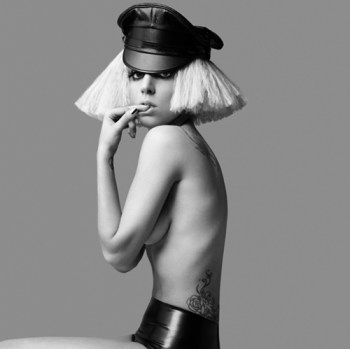 ALEX: If Ace of Base wrote "La Isla Bonita" (or "Fernando" perhaps) you'd get something like this. I really like this one and it's not just because my name in high school Spanish class was Alejandra (true story). You know how I know Lady Gaga's amazing? She doesn't put any spanish guitar on this track. (Save it for the next Spice Girls reunion album, obvs.)
STEF: It's important to remember that Our Lady of Perpetual Terrible/AWESOME, Ms. Stefani Joanne Angelina Germanotta, was born in 1986. When bad 90s pop acts like Ace of Base were the toast of every 8th grade social, little baby Gaga was probably only just beginning to pay attention to the stuff on the radio. "Alejandro" owes more than a little bit to my absolute favourite Ace of Base hit, "Don't Turn Around," which HAD to be on purpose. "Alejandro" doesn't shy away from over-the-top cheesiness, between Gaga's affected accent on the spoken word segments ("I know that we are young, and I know that you may love me, but I just can't be with you like this anymore… Alejandro!") and the super-catchy 'Ale-Alejandro' hook. If this was the 90's, this song would be dripping with melodramatic, over-the-top Spanish guitar solos. Gaga would never do this to us, and for that I am forever grateful.
ALEX: I love how we have the same feelings about spanish guitar solos.
STEF: Sidenote: this totally reminds me of "Infatuation," my favourite song on Christina Aguilera's 2002 album Stripped, in which she is constantly tempted by her Puerto Rican lover (Christina and Gaga have a lot in common, including having a body that says "let's go" while their hearts are sayin' "no."). Nobody ever writes songs about being unable to resist skinny white guys.
3. Monster
ALEX: Only on the second listen-through and I was already singing along. DAMN YOU GAGA. If you aren't diggin' it at the first or second listen, then you're a weirdo. But also: keep listening — this one will totally grow on you and you'll love it just as much as I do cause you cannot resist The Gaga no matter how hard you try.
For example, I don't even like boys but I can totally get behind "That boy is a MONSTERRRRRR". It will probably (and hopefully) be her second or third released single. In my opinion, "Monster" epitomizes this entire album. So there.
STEF: When I listened to this song for the first time, I fully LOLed on the subway and looked like a crazy person. Oh, Gaga. OF COURSE you did. Between the vocoder-heavy "He ate my heart, he a-a-ate my heart," phase-y synth stabs and hugely catchy chorus, this is easily my favourite track on the record. It's just too weird not to love.
Every time Gaga, Space Cowboy and RedOne get together, they stick to a pretty specific dance pop formula, and this song is no different. This is definitely a track for the gay boys on the dance floor. This song would get Brian Kinney laid for sure.
4. Speechless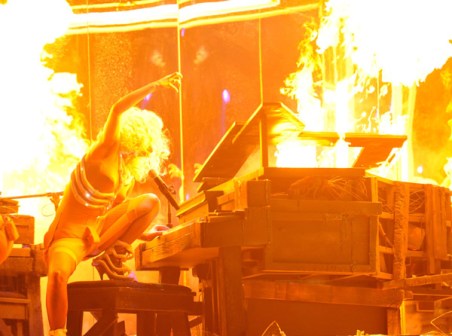 STEF: Hey Gaga, do you like Queen? I can't tell. We've all seen those YouTube videos of the Stefani Germanotta Band playing at various holes in the wall all over the Lower East Side, so you guys are pretty familiar with how this woman wrote songs before she discovered drum machines and disco sticks, yeah? Songs like this just seem more real to me, like she just cranked them out in her bedroom and threw a few string players in there for good measure. "Speechless" isn't the greatest song she's ever written (I think it's "Again, Again" – sorry Alex), but it's a solid ballad that proves her merit as a songwriter.
ALEX: "Speechless" is like the "Again Again" of The Fame Monster. Lucky for Stef that means she likes this song and I definitely do not and will declare it my least favorite of the eight and I just wanna dance you know?
5. Dance in the Dark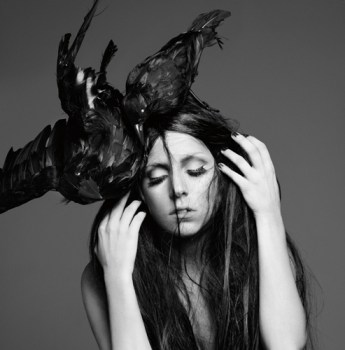 STEF: Gaga's sort of the Quentin Tarantino of pop music, in that whenever she references something that's been done before, it's definitely an intentional homage that she draws from to create her own vision. Where Tarantino draws from spaghetti westerns and kung fu movies, Gaga draws from performance art and pop music. This song owes everything to 80s synthpop bands like Yaz and Depeche Mode, but the bridge is obviously cribbed from "Vogue" – which ought to make Madonna a little nervous. She name-checks a host of famously unhappy women, everyone from Sylvia Plath to JonBenet Ramsey to Princess Diana, and then instructs the listener to "find your Jesus, find your Kubrick." This isn't my favourite track on the record by a long shot, but only because I feel so strongly about the standout songs. I give this song a B+.
ALEX: My lord, that JonBenet Ramsey lyric/shout-out is cray cray.
Why do I like this song so much?! The 80s and Depeche Mode-ness and haunting synth chords with this heavy industrial-like beat satisfies the dark emo soul inside me who hungers for the dance (we all have one of those, right?) I think it's really well done. Yeah, so let's take a look at the "Vogue"-like spoken word in the bridge Stef mentioned:
Marilyn,
Judy,
Sylvia,
Tell 'em how you feel girls.
Work your blonde
'Benet Ramsey will haunt like Liberace.
Find your freedom in the music,
find your Jesus,
find your Kubrick.
Pages: 1 2See entire article on one page