Boob(s On Your) Tube is your twice-weekly check-in with all the queer happenings on TV!
---
Boxed In
On Friday I told you about IFC's new queer webseries, Boxed In, and now that I've had a chance to watch all six episodes I want to tell you another thing: You're going to love it. It's like Portlandia for lesbians. By which I mean it's sketch comedy full of lovingly crafted inside jokes about living, laughing, loving, breathing, etc. in a very specific community. Each episode is between three and ten minutes long and tackles questions about queer identity. Is a button-down butch or is a button-down femm-y? What kind of people actually thrive at online daying? What are the different categories of lesbians? There's the SuperStylized Lesbian (which includes Brittani Nichols!), the Old School Lesbian, the MVP Lesbian (who isn't butch, really; she's just sporty), the Jew Artsy Lesbian, and, of course, the Trash Lesbians. Boxed in will make you laugh and cringe, but mostly it will make you feel known. That's no small feat for TV!
---
Grey's Anatomy
Thursdays on ABC at 8:00 p.m.
Written by Aja
This episode starts out all bouncy with Meredith Grey wearing the chillest tomboyish outfit ever (low-waisted baggy boyfriend jeans, cuffed, a loose but crisply tailored white button-down half undone, what looks like a classic brown Everlane belt and shiny black patent loafers), braiding Zola's hair over a bathroom sink. Zola is so grown-up and beautiful! Getting all these kiddos ready for the day is a full-on Haus of Sister Lady Chiefs drill, with Maggie and Amelia each tending to a little one. It's all very cute until Zola is like, "Mama, why did Auntie Maggie stop having S-E-X with DeLuca?" Oops, turns out the girl can spell. (She is presumably in like the first or second grade, after all.) After the slightest of hesitations, Meredith answers, "Because he just couldn't handle that she was his B-O-S-S. Do not ever date a man who can't handle your P-O-W-E-R." "Okay!" Zola chirps back. Such good advice!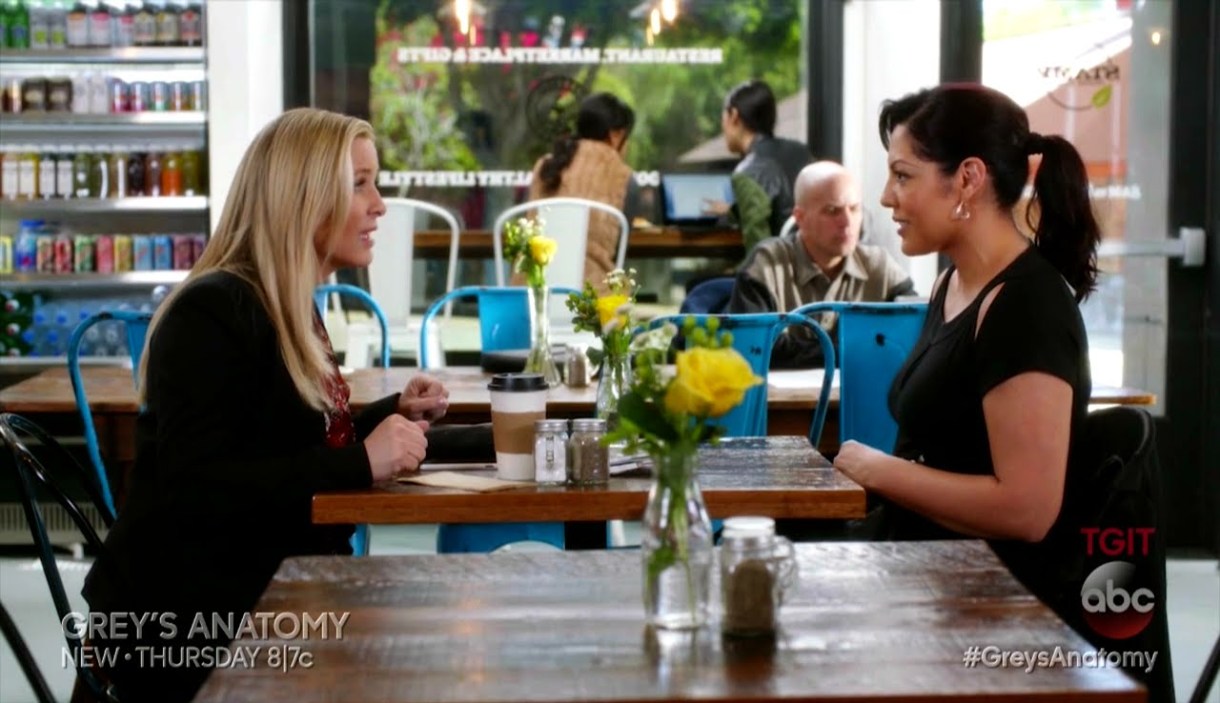 Callie and Arizona meet up in some hipster coffee house. BUCKLE IN, LESBIANS. "We found a place in Preminger!" beams Callie, waving her little arms like a tiny dino cheerleader. "Is it small?" Arizona asks, doing that half I'm-so-happy-for-you, half You're-so-gross-right-now smile/grimace thing. Also Callie has brochures for schools. (That was fast.) It is now that shit gets real, for Arizona's face betrays the emotional girding of a person who is sitting face-to-face with Worst Case Scenario #1, full of dread and on the precipice of custody nastiness. "Somewhere sometime you heard me say yes to this, you heard me say, 'Yes, Callie, please take my daughter across the country,' but I never said that." This moment of potential conflict with someone you love or care for kind of defines people, doesn't it? As Meredith will later narrate, once someone fires the first shot, it's up to us whether or not to fire back. Speaking of…
At Grey Sloan, Kepnar's in the ER fielding two frantic moms who believe their sons might be there. One of the boys is definitely a gunshot wound victim, but nobody has any details about how the boy was shot, or by whom. Fair warning: This episode is part of a public awareness dialogue around gun control. This is grim stuff. Children in the US are 16x more likely to be killed in unintentional shootings than those in other high-income countries, and some 70% of unintentional shooting deaths of children could have been prevented if the firearm had been stored locked and unloaded. Everyone at the hospital is visibly shaken by the shooting; the bullet tore through the boy's abdomen and hit his spinal cord. When the kids' babysitter arrives, it becomes clear that the shooting occurred after the boy found his mother's gun (there's a father, too, so I wonder why the emphasis is on it being the mom's gun and not "their" gun or something) and the boys both began to play with it. The other mom had no idea she was sending her kid to play where the parents kept a gun in their house; it's her kid, who is safe, who accidentally shot his friend.
As Callie and Arizona make their way into work, Arizona argues that Callie doesn't get to make these kinds of decisions for Sofia unilaterally, and Callie responds with both backpedaling and bargaining. When Callie finds Penny to give her an update on how things are going with Arizona, Penny's response is "Yeah, I'm gonna need to sit this one out" (duh) and "Sorry, that sucks." Helpful! When Arizona confides in Webber about the whole thing, his response is that everyone needs to slow the hell down and not overreact. Helpful! Guess what we forgot all about in this emotional vortex? J-O-B-S. Turns out Callie's got an offer from NYU and Columbia is also nipping at her heels, but it's still shocking to watch her tell Bailey she's leaving Grey Sloan, and Bailey's response? "You're a chief. She's a resident. So you're giving up your career to chase tail across the country?" Yeah, that's…less than helpful.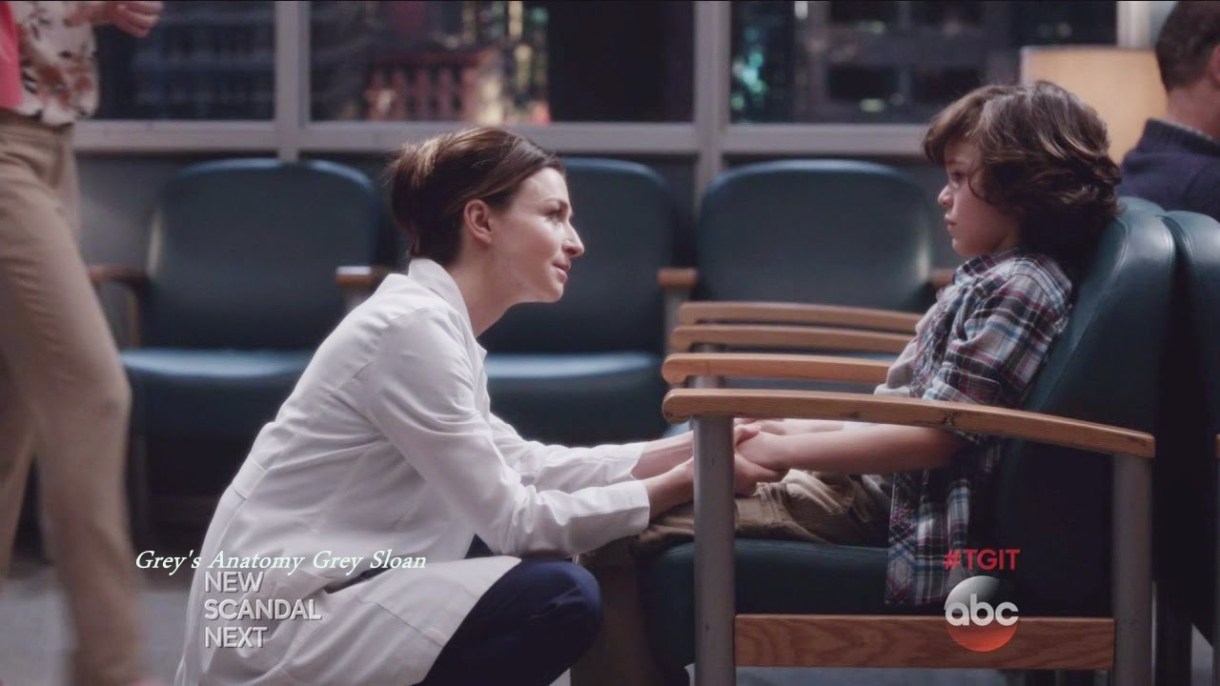 Moving on! Hunt's in the OR alongside Karev, Shepherd and Wilson. It's tense, and it doesn't look good for the kid. Everyone has an opinion about guns, that a kid ends up every day in someone's ER with a gunshot wound, whether the mom should be locked up or not, who owns guns and who doesn't — oops, turns out Wilson does. Karev, who's been shot before, wants to focus on the surgery, especially since there's such a high risk of paralysis, but eventually he tells Wilson he doesn't want a gun around, and especially not "in a box under the bed." The boy makes it out of surgery, but it's very unlikely he'll ever walk again.
Amelia shone throughout this whole episode, switching from an airy ebullience at the start to her familiar, well-oiled instinct to spring into action when trauma strikes, and then finally tempering things with that grave tenderness we've come to rely on in the show's more profound moments. She's so lovely lately, I'm a fan! When Karev gets home, Wilson's sitting on the bed with her gun in her lap. She gives him a speech about how she doesn't need it anymore but, like, she's still sitting there fondling a gun in front of a shooting victim, and then she puts it in the box and they cuddle like it's not sitting a foot away from them. Odd. Meanwhile, the thing that hit Maggie hardest about the boy was how it refracted how much she's come to love her nieces and nephews, it's crippling, almost unbearable for her. It's so new and overwhelming and she doesn't know how Meredith, as a mother, lives with it day in and day out. There's a strong thread of motherhood woven throughout this episode. How do we move through the relentless of incapacitating terror or the vast black scavenging wings of uncertainty blotting out the sun? Forward. That's it. Forward and through.
Guys, what if I have a crush on Meredith? She just shooed a catfish guy out of a patient's room so effectively without touching him at all and I was, like, so impressed and then flustered by it all.
The episode ends with Callie visiting Arizona in the NICU, apology in hand. "I jumped the gun, I'm so sorry. I was carried away when I first told you and I've done everything wrong since." It's the perfect thing to say, or it would have been if Callie hadn't already submitted a school application for Sofia, and if that school hadn't called Arizona earlier that day. She tries to play it down, but Arizona's got something in hand as well: her lawyer's business card. "Now who's jumping the gun?" Callie says coldly. Off they go. The next episode looks a drama-packed lesbian courtroom bonanza that forces everyone to pick a side, and I'm dreading it.
Other stuff: Ben tried to get back in the anesthesiology game but Bailey made it clear he'd be sleeping alone if he followed through on skirting his punishment. Grey made Edwards go on a date with that salacious guitarist ex-patient. We find out that Hunt is the one who told his sister to get on the chopper; he's been lashing out at himself as much as he has at Riggs. As the final gesture of their cease fire, Kepnar invited Jackson to her ultrasound appointment.