Welcome to the News Fix, where every Tuesday and Thursday we bring you news from around the country and the world that are relevant to your interests!
---
North Carolina Democrats File To Repeal HB2
+ A group of House Democrats filed to repeal North Carolina's anti-LGBT HB2 in its entirety Monday morning. Rep. Darren Jackson, the primary sponsor of House Bill 946, and his co-sponsors Grier Martin, Graig Meyer, Ed Hanes, Rosa Gill, Yvonne Holley and Chris Sgro currently have no Republican support — who currently control both chambers — and also have not talked to chamber leader's about getting their bill to a committee meeting during this short session.
"It is never too late to do the right thing,wp_postsJackson said. "It is time for the governor and the General Assembly to make it clear that we are focused on creating jobs."
The News & Observer reports HB 946 "includes a noncontroversial budget appropriation for the Human Relations Commission in order to meet the short session's eligibility rules, which require bills to be budget-related." It seems without support from more legislators during this budget-related short session, which is expected to end on July 4th, the repeal of HB2 won't be happening this time around.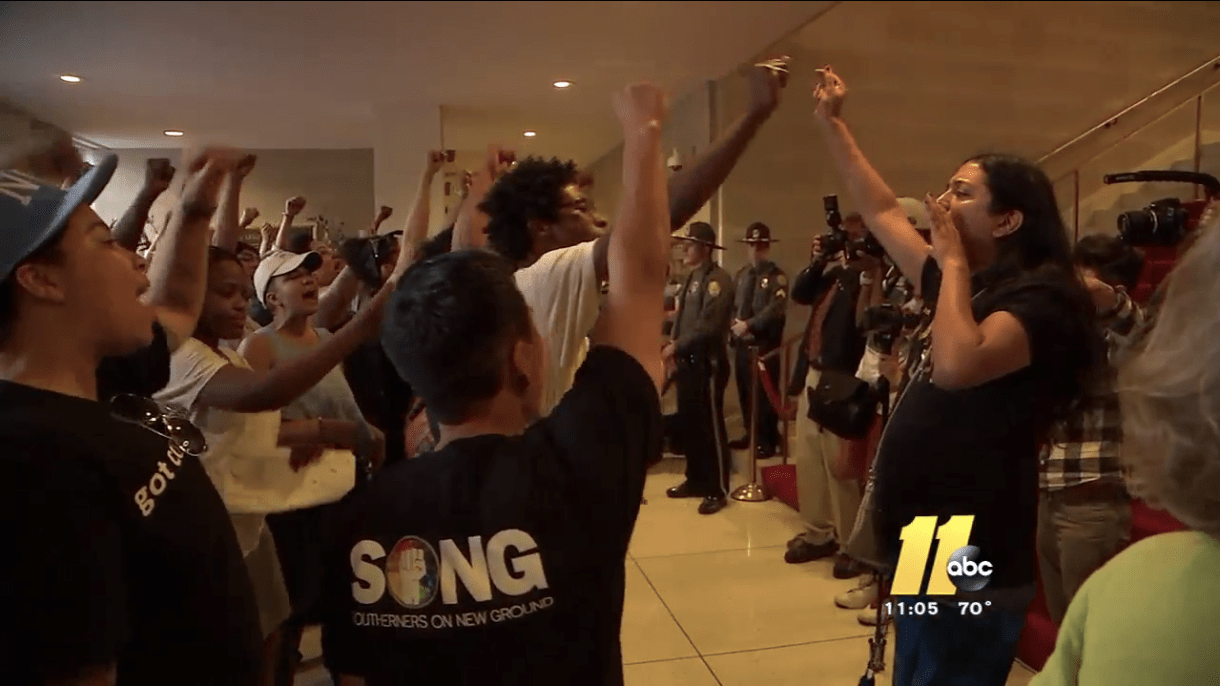 But there's plenty of time to raise hell and demand the law be changed. On Monday night, a total of 54 protestors were arrested for trespassing, violating fire code and refusing to leave the building in an effort to get lawmakers to repeal HB 2 and as part of the Moral Monday movement. Unfortunately, there were also thousands of HB2 supporters who rallied in front of the capital building earlier in the day.
Anti-LGBT Hate Times Infinity
+ Xulhaz Mannan, an LGBT activist and an editor at Roopbaan, Bangladesh's first and only LGBT magazine and his friend Tanay Mojumdar, an openly gay man were hacked to death in an apartment in the country's capital, Dhaka. CNN reports Ansar al-Islam, an al Qaeda affiliate in the Indian subcontinent, claimed responsibility for the murders. Their deaths come a day after an English professor 58-year-old Rezaul Karim Siddique was also hacked to death by a university student, which ISIS claimed responsibility for. Since 2013, extremists have targeted secular writers and bloggers in Bangladesh, which they've deemed "enemies of Islam."
+ A group of anti-LGBT protestors showed up outside of the Santee Education Complex near downtown Los Angeles to protest the school's new gender-neutral restroom facilities that feature 15 individual stalls and is open to all students. The hate group shouted homophobic slurs and provoked the students which led to a fight between students and protestors and chaos that spilled into the street. The protestors fled the scene before the police showed up. Nobody was arrested.
+ Melissa Langford overheard a New Orleans Family Dollar cashier say homophobic statements to another customer so she outed herself and told the cashier to stop because she was offended. The cashier then denied Langford service. Langford recorded the whole incident and posted it on social media. Nothing was done about the situation from the part of the store's manager or from the company.
Planned Parenthood and Abortion Laws
+ People seeking an abortion in Florida will no longer be required to get in-person counseling from a provider a full 24 hours before getting an abortion, at least for now. The Florida Supreme Court placed an injunction on the law that was signed by the state's Republican governor last summer. Bread and Roses Women's Health Center and the American Civil Liberties Union of Florida sued the state, claiming that the law violates privacy and places an undue burden on the person seeking an abortion. The law has yet to be heard in any of the state's courts and much of the legality of the law has been given injunctions which has prevented the law from going into effect, thank goodness. This Supreme Court ruling will remain in effect until the justices decided whether or not to hear the challenge.
+ The Oklahoma Senate somehow managed to pass a bill that would revoke the medical licenses of doctors who perform abortions. SB1552 is now on Gov. Mary Fallin's desk waiting on her decision. Reproductive justice advocates say the bill is unconstitutional because, I mean, that would mean banning a doctor from performing a medical procedure that is legal (which nowadays seems very contested.)
+ Attacks from legislators around the country has threatened to cut access to Planned Parenthood for half a million people. The Obama administration sent a letter to each state's Medicaid director warning that attempts to defund Planned Parenthood is probably illegal.
+ State senators in Missouri tried holding Mary Kogut, the CEO of Planned Parenthood of the St. Louis Region, in contempt of court for refusing to turn in confidential medical information of patients but decided against it since it would probably be questionably legal.
Police Accountability?
+ Three black teenage girls drowned in a stolen car after they crashed into a murky pond in St. Petersburg, Florida. After watching dashcam video of the night they died, the girls' families say the police didn't do much to save them while they were alive in the car. Around 4 a.m. police saw a stolen 1998 Honda Accord being driven without its headlights on and while the driver was trying to evade police they took a sharp turn and ended up going into the pond. According to reports, police thought the girls escaped and ran away as the car sank in 15 feet of water. After realizing there were still people inside the car, police say they attempted to save them but noticed that their feet sank once they entered the pond so the police deemed the rescue too risky. The 16-year-old and two 15-year-olds in the car had been arrested before for vehicle thefts. Family members say police didn't attempt to rescue the girls and spread a "smear campaign" because of the girls' records. Pinellas County Sheriff's Office refuted the narrative and released more dashcam video to prove officers on the scene took off their uniforms and gun belts in an attempt to go in the water to save the girls.
+ Six San Francisco residents have been on a hunger strike since Thursday, April 21st in an effort to fire police chief Greg Suhr. Under Suhr's leadership, there've been a number of police shootings targeted at men of color including Mario Woods, Alex Nieto, and Amilcar Perez-Lopez as well as homophobic and racist text messages between officers have been made public in the last year and last month. The activists protesting believe Suhr should be held accountable for the actions of the department and for routinely not disciplining the offending officers.
+ The family of Tamir Rice, the 12-year-old boy who was killed by Cleveland police for playing with a toy gun, will receive a $6 million settlement from the city, just like other black families who received large sums of money for the state sanctioned death of a loved one like Freddie Gray ($6.4 million) and Eric Garner ($5.9 million) in order to avoid more legal costs and being accountable for their deaths. The New York Times reports:
Lawyers for Tamir's estate said Monday that "no amount of money can adequately compensatewp_poststhe boy's relatives for their grief.
"In a situation like this, there's no such thing as closure or justice,wp_poststhe lawyers, Jonathan S. Abady and Earl S. Ward, said in a statement. "Nothing will bring Tamir back. His unnecessary and premature death leaves a gaping hole for those who knew and loved him that can never be filled."
Law & Order
+ Maryland legislators passed a bill this month that would eliminate "subminimum wage" for people with disabilities. It would do away with special wage certificates that allow employers to pay people with disabilities by their productivity and not by hours worked.
+ Texas Democrats filed a Federal Election Commission complaint against Ted Cruz saying his campaign violated federal election law at a December fundraiser in Dallas. Texas Tribune reports:
Announced Monday, the complaint asks the FEC to investigate an incident in which a Cruz fundraiser reportedly suggested at a campaign-hosted event that supporters give unlimited donations to a super PAC. Under federal election law, campaigns and their agents cannot solicit contributions above the federal limit of $5,000.
+ Kansas Gov. Sam Brownback talked about his policies at the conservative American Enterprise Institute where he "justified his policy of forcing people off of food stamps if they can't find a job by likening low-income and jobless people to lazy college students." He implemented a requirement that forces food stamp recipients to work at least 20-hours-per-week to receive food stamps. Brownback says food stamp applicants who apply to jobs and go to job training classes are eligible to receive food stamps but that's not true under his new policy which resulted in 15,000 people suddenly dropped off SNAP rolls in January 2014 when it was implemented.
+ Colorado's Supreme Court announced they wouldn't hear an appeal case brought by a man who refused to sell a wedding cake to a same-sex couple, so a lower court ruling was upheld that said the baker's decision was in violation of the state's sexual orientation nondiscrimination protections. Jack Phillips of Masterpiece Cakeshop argued by refusing service to the same-sex couple he was exercising his "religious freedom."
+ The arrest of James Thomas Shoemaker, a Pennsylvania man caught taking photos of a 10-year-old girl in a public women's restroom, is new ammunition for conservative media saying the incident proves why anti-transgender bathroom bills are necessary. Obviously, they are wrong and this man's arrest has nothing to do with transgender people because he isn't trans and also it's just plain illegal to take photos of children or adults in public bathrooms.
Grab Bag
+  Merriam-Webster announced they added "cisgender" and "genderqueer" to their dictionary. 
+ A 16-year-old girl died April 21st, after a fight in the girls' bathroom at her Delaware high school. Her cause of death is unknown but several girls were involved in the fight, which might have been over a boy.
+ Eight family members were shot execution-style in four different homes in Pike County, Ohio. Ohio's Attorney General said "marijuana grow operations" were found in three of those homes. All victims were part of the Rhoden family, including a 16 year old and 19 year old and a mother of a four-day old baby.
+ Obama told a group of young leaders in London that it was his teenage daughters along with LGBT activists who helped him change his views on same-sex marriage. "People I loved who were in monogamous same-sex relationships explained to me what I should have understood earlier,wp_postsObama said. "Which is it was not simply about legal rights but about a sense of stigma. If you're calling it something different it means that somehow it means less in the eyes of society."