There's so much queer TV to explore about this week, including a new web series starring Brittani Nichols, another exemplary episode of Orphan Black, and Raven-Symone's triumphant return to Black-ish as Dre's lesbian sister. But first, we sure do need to talk about this season five Person of Interest trailer.
I cannot believe I am seeing what I am seeing. I cannot believe my eyeballs are looking at such a thing. THIS thing.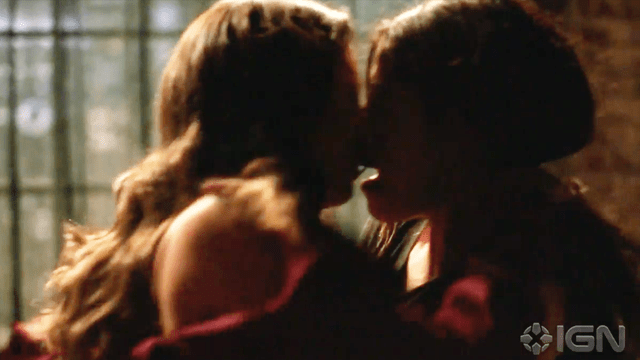 Long live, maintext! Come quickly, May 3rd!
---
Empire
Wednesdays on Fox at 9:00 p.m.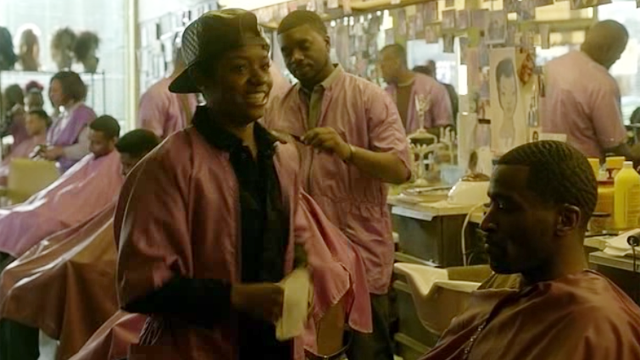 I am in shock. Empire is on a roll! They toned down all the over-the-top antics and misplaced guest appearances and are sticking to providing good drama. I can't believe I just said that. Although they did bring in one of their best guest appearances at the end of this episode.
This week begins all the way in St. Louis where creepy ass Thursty continues being, well, creepy and approaches a little girl in the park. I was afraid he was going to kidnap her. Instead he plucks a big chunk of hair from her head. It was commissioned by Lucious and carried out by Thursty, so it's totally in character. The two of them together are both tacky and tasteless.
Rhonda is still staying with Anika and filling her in on what's going on with her and Andre. He shows up at the door so they can talk about getting back together. As they are discussing getting a place together, we hear Anika in the bathroom throwing up. When they get to the bathroom and ask her what is wrong, sweet, innocent Anika doesn't want to tell them. Not after what they have gone through. She doesn't want to tell them, but she must! She's pregnant and it's Hakeem baby. What in the world will they all do? (Yes, that was in my sarcastic voice.)
Lucious is having a part for all of the big money shareholders in Empire. It's a group Cookie aptly describes as "old white folks" that are so excited to see Lucious' "gritty and raw" video for Boom, Boom, Boom. When that lady actually said "gritty and raw," I almost spit up. She just as well have said, "It's just the right amount of ghetto." But again I can't be mad. This is how decisions about hip-hop music are made every single day. Cookie hems Lucious up to find out if he is planning to pull something at Hakeem's shareholder meeting because she claims she is trying to pull the family back together. She also lets him know that she found out that Frank Gathers is Freda's father. Lucious promises that Freda is not a problem, but Cookie isn't convinced and doesn't want her hanging around the boys.
Which is exactly what she's doing. Jamal is visiting her at the barbershop where she cuts hair and apparently spits random bars with Jamal. Even the tracks that Timbaland has been giving Jamal have been better since they started including Freda. As Jamal leaves the shop, another dude walks in and sits in the memorial chair they have for Frank Gathers. So disrespectful. Number one, you don't just randomly sit in a chair in the barbershop unless you have been called for service, and this chair was a memorial for Freda's dad. Dude ran his mouth for a minute but soon had it closed as Freda pistol-whipped him right there in the shop. If she did that for a guy sitting in her dad's chair, what's she going to do when she finds out Lucious had him killed?
Jamal plays his new track with Freda for Cookie and the A&R team and everyone is feeling it, except Cookie. She tries to convince Jamal that it's not good enough to take people's attention off of Lucious' video. Jamal is in shock and goes to battle for his song. Cookie relents but she already has a plan in motion.
Hakeem and Jamal are meeting with the execs of the label as they prepare for the shareholders meeting. Andre joins the brothers to talk strategy with Hakeem. Among the most important pieces of information is that Lucious is going to be a problem. Hakeem doesn't want him there but all shareholders have the right to attend. Hakeem will have to be on point with all of his numbers so that he can impress the shareholders who all view Lucious as the face of the company. While the boys are talking strategy, Thursty is playing chauffeur to a group a guys who run up on the Empire warehouse and steal all the Antony and Cleopatra designer clothes. Hakeem rushes to Lucious and confronts him about the heist but he has even bigger problems on his hands. Laura calls Hakeem to tell him that the road crew for the tour was stopped by the police and they found drugs in the truck. All of the gear for the tour was confiscated. Lucious doesn't confirm that he had the drugs planted but you think he didn't when you know he did?
Cookie made a deal with a Nicki Minaj lookalike name Stacy Run-Run. That's a terrible stage name by the way. Stacy Run-Run will appear on the album as well as promote to her millions of social media followers. The only problem is that Ms. Run-Run has an exclusivity clause that says no other female rappers can be on a project with her. This is exactly how we ice ourselves out of the game. This was no accident though; Cookie is too smart for that. This is her methodical way of making Jamal boot Freda from the album.
Later that day, Hakeem and Cookie are having one last exec meeting before the shareholder meeting but there are literally no numbers to report because of Lucious' exploits. Most importantly Hakeem keeps pouting like a baby when problems arise instead of coming up with solutions. Cookie tells him he needs to get a handle on his temper instead of exploding like a child in meetings.
Andre and Rhonda call the family to Lucious' house so that Anika can announce her pregnancy. This time even Cookie wants Lucious to hurry up and pull out his checkbook to get rid of her. Notice how they are all quick to ask Lucious to do deceitful things for them when they need help. I guess that almost makes sense. They just wish he would stop doing deceitful stuff to his own family!
Anyway, Anika says she doesn't want his money. The only thing she wants is for her child to have a real family. She wants the child to be treated like a real heir to Empire. Jamal insists that if there is going to be an heir that they need to find Lola. Remember Lucious has already found Lola and he tells Jamal he is not the father. Anika says she recognizes the role she played in the dysfunctional nature of the family and she wants to make amends so they can all be a family. So is she taking responsibility for pushing Rhonda down the stairs too, or nah?
Time for the shareholders meeting. Tiana got her hair all pressed out to perform her million-seller hit. Cookie introduces CEO Hakeem to the shareholders and he starts giving his speech. Meanwhile, over at Anika's house, she walks in to find Lucious waiting for her. He offers to take care of her prenatal care and then give her ten million dollars to give the baby to Hakeem. Anika isn't interested because she has already told him that she wants a family for the baby. He says she couldn't want a family the way she betrayed him by sleeping with Hakeem. She is insistent that "He has made me believe in myself again.!" She knows that, "he," means everything to Lucious. She says that after living with him for five years, she has information that the FBI might be interested to hear. Lucious isn't worried. "Some women don't survive child birth."
Back at the shareholders meeting Hakeem is just wrapping up his speech before the shareholders when Lucious appears like magic. He heckles Hakeem by using the shareholders against him, eventually leading with a shareholder revolt calling for Lucious to return to Empire. Cookie finally takes over the meeting calling them both men willing to kill each other for Empire and make it successful. All the while Hakeem stands there pouting with his lip almost on the floor. Honestly, I wouldn't want him as my CEO either with his spoiled ass. Then something I knew was coming happened. Someone yells out that what Empire needs is Cookie. I KNEW IT. I have always believed that if Cookie hadn't gone to prison she would have been CEO from the beginning. Although the episode ends without the board appointing a new CEO. Although it ends with everyone assuming that Lucious will be reappointed to the throne. I truly believe that Cookie is the one they will appoint next week.
It's time for Jamal to record his latest song with Stacy Run-Run but she isn't there. Instead she sent her recorded track from Tokyo. Cookie assures Jamal that artists record in separate places all the time. This is absolutely true but Jamal isn't feeling it. He misses the organic magic that he made with Freda and walks out of the session. He returns to Freda's shop to beg her forgiveness and ask her back to the project. Freda says that she will think about it.
Thursty has another trick up his sleeve. He's visiting a convalescent home where he drops a huge package of money on the nurse's desk. The nurse asks if he wants to see Ms. W and he says no, he just wanted to make sure that everything is copacetic. Yes, Lucious' mother is alive. Not only is she alive, but she is being played by effing Leslie Uggams! I told you Empire had a huge guest star at the end of the episode! Leslie Uggams, though?! If you don't know Leslie Uggams, you need to take a day off of work and watch Roots! That's Kizzie from Roots! Okay, I am done losing my shit over all that Black Girl Magic. Needless to say I can't wait until next week's episode!
---
Black-ish
Wednesdays on ABC at 8:00 p.m.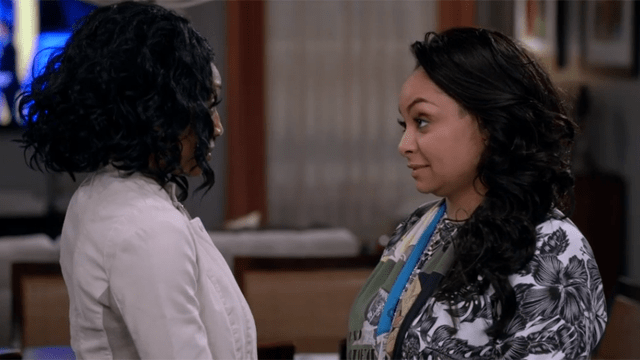 Raven-Symone's appearance as Dre's lesbian sister Rhonda on last season's "Don't Ask, Don't Tell" was one of my favorite lesbian sitcom plots in history. Lesbian guest appearances on half-hour comedies are usually centered on male characters' misunderstandings about/reverence for women who sleep with other women, but Black-ish rolled out a wonderful, nuanced episode about Rhonda having to super overtly come out to her family because they wouldn't just realize she's gay, choosing instead to believe that she lives with her "lady mechanic" with whom she shares a cat named "Kitty Lang."
Dre and Rhonda's mom, Ruby, finally came to terms with Rhonda being gay last season, and this week, when Rhonda and Sharon come over to Dre's for a family dinner to talk about their wedding, Ruby wants to be prepared.
Ruby: Listen, I know lesbians like saltines, but how do they feel about a Triscuit?
Dre: Mama, what are you doing?
Ruby: I'm just trying to make the lesbians feel more comfortable when they get here. Maybe crackers are all wrong. Maybe they're more tuna on toast people.
When they arrive, Ryby hugs Rhonda and pats Sharon gruffly and says, "I'm not going to ask which one of you drove, or if it was in a midsize sport utility vehicle — because it doesn't matter." And later, at dinner: "Martina Navratilova. Billie Jean King. Oh, are those lesbians? I had no idea. Ellen DeGeneres." What gets her, though, is when she hears Rhonda calling Sharon's mother "Mama D." Ruby has asked Sharon to call her "Deaconess," but softens and tells Sharon to call her, "Ms. Ruby Johnson." (And ultimately just "Mama Johnson.")
The episode also hints at the trouble with white feminism, but doesn't dive in there too deeply. It's a good half-hour of comedy, and one of the very few depictions of black lesbians on television. Even if you don't watch the show, you should watch the episode!
---
Orphan Black
Thursdays on BBC America at 10:00 p.m.
All I wanted last season on Orphan Black was for the show to slow down and zoom in on the Leda clones and their relationships with each other. I mean, that's basically all I want for any show. Character development over plot, times infinity' a world of glacially-paced episodes like a smorgasbord of Carols. But Orphan Black wanted to do the opposite thing: zoom out as far as possible — how far and wide does this clone conspiracy even go?! — and move at the speed of lightening so no one would have a chance to think through their questions about that sci-fi science. This season, though, dearest, my dreams are coming true. After last week's deep dive into Beth's pre-suicidal psyche, "Transgressive Border Crossing" picks up where the core clones left off and takes a long moment to check in with all of them and their emotions, while inching the plot along like a sleepy little Glo Worm.
Speaking of which squiggly, crawly things, Sarah's got one of those Neolution maggots in her cheek. Dyad planted it in there when they had her, I guess, which is both terrifying and disgusting. Even Ms. S, who has seen everything and done everything and always has enough gasoline on hand to burn down an entire house on a moment's notice, is yucked out about it.
Leading up to that, we find out that Helena is posing as Alison for the free insurance and with the blessing of Donny. And she's having twins! Wonderful! She loves sisters more than anything! Alison is struggling to be happy for Helena's easy fertility, writing in her passion planner twenty hours a day, and perfectly at terms with the fact that she and Donny are manslaughterers (which isn't as bad as being trained killers, okay?) Cosima is still kind of dying, trying to work out the genome sequence with Scott — their HQ is in the basement of a comic book show now — and missing Delphine like crazy. She tells S not to use "chicken" as a term of endearment for her, and next thing you know she's sobbing into S's chest about how sad she is that she can't find Delphine.
The structure of "Transgressive Border Crossing" is pretty brilliant: By putting Sarah back into Beth's space, the show continues to explore the parallels between them while flashing forward and backward seamlessly. It's jarring watching Beth walk out of the house in the same clothes she was wearing in the pilot, the night she jumped in front of that train. And it's down right soul-punching to juxtapose her detached, resigned embrace with M.K. in that moment with the one Cosima shares with Sarah when she arrives back home from Iceland. Beth could have made the sestrahood a reality, but she was too broken. She killed somebody that night she killed herself. And Sarah has created that Sestrahood — but the person who needed it the most (before we met Helena) is too scared to be a part of it now because she thinks what happened to Beth was all her fault.
With no sign of the Castor clones in sight and a promise from Scott that Dyad and Topside and all that are gone so we can focus on a single Big Bad in season four, I have never been more excited about this show. Also, how about that throwaway line that it's only been SIX MONTHS, in-series time, since the pilot episode? Amazing.
---
Boxed In
I haven't had a chance to watch IFC's new Amy Rubin-penned web series about identity yet, but I can tell you that it stars Brittani Nichols and several other very funny queer women and that I will, for absolute sure, be watching it this weekend. Why don't you watch it too, and we can talk about it in Tuesday's column.