Hi, it's me, Robin, the photoblogger! Yesterday was my birthday so Carlytron and I celebrated by catching Monsters and Aliens in 3-D, enjoying some wacky improv theater on the Lower East and attending the gay-loving celeb red carpet walk at the 20th Annual GLAAD (Gay & Lesbian Alliance Against Defamation) Media Awards.
Although we weren't invited into the actual awards (which is silly because: 1. It was my birthday, and 2. Carly was actually not wearing sneakers for once), I was excited to take photos of stars including Vanessa Williams, Judith Light, that guy who played Mr. Big on Sex in the City [editor's note: Chris Noth], Clay Aiken, and this year's Honorees, Suze Orman and Tyra Banks.
The last GLAAD awards I attended was in 2007, and this year — when we meandered in about 30 minutes prior to the scheduled start of the red carpet walk — I was totally surprised by how significantly the awards' media buzz has increased since '07. As we looked around at the gaggle of photographers and long lineup of camera people, from  Extra to the TV Guide Channel, the message was clear: being gay in 2009 is Super Cool.lo
The media is excited about being gay; or at the very least, gay-friendly. I muscled my way to the front of the photo line between Getty Images and Broadway World (dot com) and waited for the parade of smiling, fashionably-dressed gays to come.  They did not disappoint.
Carly was along to interview these fabulous attendees and will share some exclusive red-carpet-side gossip.
Red Carpet Report from Carly:

I would say that this event was a success, since we got to talk to almost everyone we wanted to (notable omissions: TR Knight, who didn't talk to anyone, Phil Donahue, who arrived before our crew did, and Tim Gunn, who apparently — and tragically — didn't walk the red carpet at all??) and everyone was really nice and had lots of good stuff to say. Our buddy Jack Mackenroth (Project Runway) was there with Brad Boles from the Real Housewives of NYC, my FAVORITE SHOW!! The always adorable Simon Doonan and Jonathan Adler were there (don't miss Beautiful People, the HI-larious British series based on Simon's memoirs, when it premieres on Logo in the near future), and Cherry Jones talked about why being on TV is sexier than being on stage. Kate Clinton was hilarious and talked some smack about Ant and we talked fashion with Jay Manuel. We also chatted with Jenny Shimizu, Suze Orman, Christian Siriano, and a bunch of other fab people.
.
.
.
.
.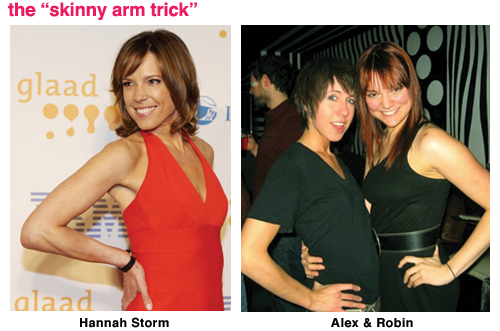 Hannah Storm looked hot, and was doing the famed "skinny arm trick." We know your secret, Hannah!
As we waited for each new face to step out into their respective sea of flashes, we heard a group of photographers behind us talking about RuPaul's Drag Race, Queer As Folk, and The L Word. Here I was in the midst of what seemed to be a crowd of straight media professionals and they were all gabbing about these hot gay shows, even though the latter two shows aren't even on the air anymore (Maybe one must be heterosexual to enjoy The L Word?).
.
Red Carpet Report from Carly:

Like, half of the cast of Ugly Betty was there, which is awesome because that's a wonderful, queer little show. Sadly, the show is on hiatus for a few months while ABC tries out the super-hetero In the Motherhood in its place. We didn't get to talk to Judith Light, but we did speak with Michael Urie, Ana Ortiz, and Wilhelmina Slater herself, Vanessa Williams. I learned that Vanessa is a HUGE fan of RuPaul's Drag Race, Ana — who is very pregnant — doesn't mind people touching her belly, and Michael's eyes are "aquamazel" (that's a cross between aquamarine and hazel, naturally). Everyone was super sweet and pretty and I love them all.
Red Carpet Report from Carly:

Tyra knows how to make an entrance, and she did so by showing up over 30 minutes after the red carpet arrivals had ended. I was totally ok with that, because I refused to leave without seeing her. Let me just say… bitch is TALL. She was there accepting the FIERCENESS Award (just kidding, it's the Excellence in Media Award) from Clay Aiken, who gave only 1 or 2 interviews and looks a lot like k.d. lang in person. She told us that she was thinking of doing a piece on her talk show where she goes undercover as a drag queen, to see if anyone could tell that she was actually her. This is genius, I really hope she does it. Anyway, Tyra was fun and we totally got her smiling with her eyes on camera.
"]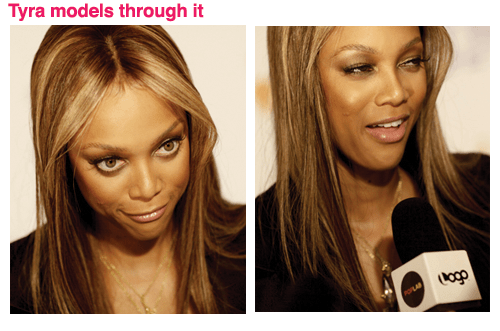 Tyra might want to take her own merciless unrealistic advice: always be aware of your face.
Later on in the evening, waiting in line for the improv theater downtown, we overheard a group of straight women in their twenties philosophizing about how ridiculous labels are — a topic that had been raised in their "human sexuality" class (did everyone but me take that course in college?). Everyone is "like, a little gay," one of them pointed out. "Yeah, who cares," another remarked. They laughed and talked about how being gay was not only totally normal, but nearly inevitable. I thought about my red carpet experience and the girls in front of us and wondered if it's just this gay bubble we call New York City or if 2009 is really The Year of the Gays?
Well — no. Not yet at least. We've got so much further to go before we become more than just an [apparently] disposable element of popular culture and start sharing the same rights as everyone else. We queers — and now, with the cancellation of The L Word and South of Nowhere, lesbians in particular — still lack significant media visibility, and as Ellen & Portia showed us last week, a little bit of visibility can go a long way. So here's to hoping that by 2010's ceremony we won't be just "popular" in the correct context, and we won't self-destruct when given the chance to step up (why did we kill Jenny?! Who killed Jenny?!) but rather will be correctly declaring 2010 The Year of the Gays. When accepting the Special Recognition Award at last night's ceremony, Phil Donahue said:
"And now, we look up in 2009, and [the LGBT community] is popular. The majority of the people in the nation agree with us. Our job now is to summon these people to stand up and say so out loud. To tell them to join us. To march the lavender line with us down Fifth Avenue, and to remind them, when they do join us, they're going to meet a lot of nice people."