–
Welcome to Your Weekend Fix. Check out our new facebook page set up by Intern Vashti (become a fan!).
Guess what! They fixed Lezberado so you can watch it now even if you're a Canuck or Welsh Person. And if you want more Lezberado, your wish may be granted — I'm supposed to be giving Showtime a list of ideas any minute now but so far I don't have any ideas. Anyone have an idea for what I could talk about in my room besides The L Word. Anyone? Bueller? Pleeeezzzeee.
Three Rivers, the CBS pilot starring many people including Kate Moennig (formerly known as Shane on The L Word) is now filming in Pittsburgh, go stalk Shane! (Thanks to Jaime for the tip.)
1. OMG! A girl is gonna have a "sexuality crisis" on an ABC Family TV show, says TV Guide: "Greek Star Pledges Big Twists (Including a Lesbian One)! Read the article and you might wonder if the biggest twist is how TV Guide got "lesbian" out of a few vague/removed/illusive suggestions.
2. Queerty's advice: "do not let Sherri Shepard talk about women's issues, let alone lesbian issues." Here's the video:
3. Portia de Rossi graces the cover of Diva Magazine, you can read a little bit of the interview online. (@diva magazine uk)
4. I don't really know how this ends up in a newspaper. But it has: Northeast High School volleyball team wrestles in Hershey's syrup. (@the florida sun-sentinel)
5. The Forty Sexiest Frontwomen in Rock History – you don't need a password for this one. (@nerve.com)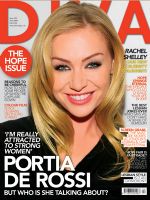 6. I'll be reviewing the Indigo Girls' Poseidon and the Bitter Bug for you sometime soon … but in the meantime, check out VelvetPark's A Bitch and a Butchie Salute Indigo Girls & Indigo Activism & Bettens & McKeown on Indigo Girls. (@velvetpark)
Today in Epic Douchebaggery:
0. Network 7 has caved into conservative groups by censoring a lesbian kiss that is scheduled to air this week on Home & Away, one of Australia's longest running TV shows. (@ The Australian)
-1 Bill outlawing discrimination against people who change gender REJECTED! : "Much of the debate was over the claim of opponents that this would allow transgender men and women to choose to use either gender's bathroom and potentially prey on children." Does this mean they're no longer concerned about the gay men preying on children in men's rooms, like last year? [sidenote: that's sarcasm](@nashua telegraph)
-2. Eva Longoria is adamant: "Definitely no more kissing girls." (@times of india)

from Alex:
I'm a sucker for hand screenprinted posters, and I do believe The Silent Giants have replenished their inventory since the last time I checked. Someone let me know when the 'Black Mountain' poster is re-stocked. I MUST.

from Crystal:
The people at Funny Or Die have created 'The Dirty Garage' – the most independent movie ever made. It's a parody of films often screened at SxSW, and you can watch it here.