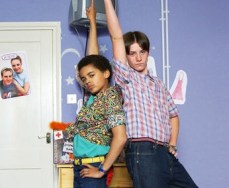 COMING OUT IN MIDDLE SCHOOL: New York Times Magazine cover story examines coming out in middle school. Boys know before girls, studies show (I imagine this is b/c physically, boys learn early what their body responds to via hard-ons, whereas girls aren't even told their entitled to a pleasurable sexual response at all, let alone that they should pay attention to their body's responses during early sexual experiences), but can find it harder to come out — though it's easier if they're "masculine," just as it's easier for bisexual girls considered 'feminine." Not surprisingly, most sexuality-related peer fear isn't about sexuality so much as it's about any threat to pre-established gender norms.
It's easier in schools with GSAs, and the writer visited one Los Angeles middle school school where it was easier to come out simply because a popular boy had come out there a few years earlier.
But when do they know?
Could he change his mind in a week, as 13-year-olds routinely do with other identities — skater, prep, goth, jock — they try on for a while and then shed for another? And if sexuality is so fluid, should he really box himself in with a gay identity? Many parents told me they especially struggled with that last question.
The writer (who, p.s., used to work for XY magazine, does anyone else remember that mag? I used to read it) admits that after meeting Kera (12, bisexual) and Justin (13, gay), before long he heard himself blurt out, "But you're so young!" A gay youth services director points out that no-one asks 12-year-old boys who like girls if they're just going through a phase.
So, is this "coming out young" phenomenon because of the internet? Increasing visibility for gays & lesbians in the media? Also, this quote was awesome:
Tina surprised me when she said her father actually prefers that she date girls. "His biggest fear has always been that I'll get pregnant before I'm 18,wp_postsshe told us, "so my dad's really supportive of the girl thing."
LESBIAN BROMANCE: Autostraddle's KC Danger takes a look at the new lesbian bromance.
TRUE LIFE: I MADE TRUE LIFE: I cannot imagine a more fascinating True Life episode than the one that aired last night, about the 11-year history of the show. Well except for the one about Staten Island and the one about the girls who had Chinese food feasts before getting plastic surgery, which was a lot. JAGER BOMBS!
SEX ED: New anti-sex website shames young women: "Girls expect emotional involvement almost twice as often as guys; 34% hope "a relationship might evolve." Guys, more than girls, are in part motivated by hopes of improving their social reputation, or of bragging about their exploits to friends the next day." (@feministing)
CUT THE GLAMOUR: Jezebel has suggestions for Glamour, 'cause they need to cut 25% of the magazine: We're not totally sure what percent of the magazine this is, but just get rid of the whole "Hey, it's okay!" page. Replace it with small text someplace in the front that reads "Despite everything this magazine tells you, you are allowed to eat food, have sex, and think thoughts." (@jezebel)