Aside for being reminded that kd lang, Leonard Cohen, Nelly Furtado, and Sarah McLachlan are Canadian (thanks, Olympics Opening Ceremony!), it's been a slow week in music news. On to the Fix!
BONNAROO
The 2010 Bonnaroo Lineup has finally been announced. Dave Matthews Band, Jay-Z, Kings of Leon, and Stevie Wonder will headline, but there's a little something for everyone. Ingrid Michaelson, Local Natives, Deadmau5, Fanfarlo and Medeski, Martin, and Wood are among a diverse list of artists playing the Manchester, TN festival.
SOUL TRAIN
Via Racialicious, we were alerted to the VH1 documentary Soul Train: The Hippest Trip In America, which premiered at the end of January. Racialicious notes: "Soul Train was an unapologetically black space within the landscape of television… Don Cornelius used to say that he felt black media (and by extension, Soul Train) should be "ethnic, ethical, and excellent… That small concept was fascinating."
BONNIE "PRINCE" BILLY
Though a little unconventional, indie folk singer-songwriter Bonnie "Prince" Billy announced a new album planned for March via lingerie model on Valentines Day. Watch it below:
NICKI MINAJ
In a spirit that almost rivals Autostraddle's affection for its stuffed dog Tinkerbell, fans were relieved to hear that bisexual rapper Nicki Minaj has been reunited with her stuffed pink monkey, Oscar, who disappeared about a week ago as Minaj flew to Miami. Also last week, Minaj recently advised fans on Valentine's Day gifts, "Don't expect a gift — you're not getting one. You don't deserve one. You don't need one. It's all about the girls," which we think means "I like making out with girls, who wants to make out with me?" to which we volunteer. She can bring the monkey.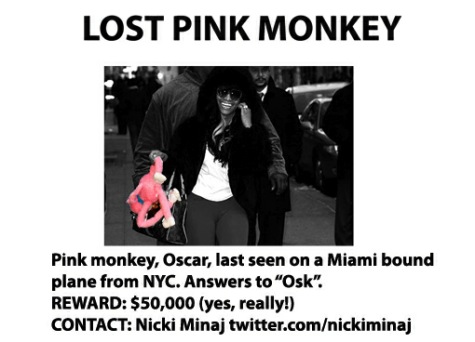 ST. VINCENT
Do you remember the hilarious feminist bookstore skits featuring SNL's Fred Armisen and Sleater-Kinney's Carrie Brownstein? Well, Women for Women is back — this time as the setting for St. Vincent's video for "Laughing With A Mouth Full of Blood," which we featured last week in the Daily Fix. Annie Clark herself requested Armisen and Brownstein for her video, and St. Vincent fans and non-fans alike will appreciate the humor of feminist bookstore hyperbole. Watch it below or read more at Carrie Brownstein's Monitor Mix blog.
GOOGLE DELETES MUSIC BLOGS
Benevolent Google might not be so good after all. This past week, it shut down six popular music blogs without warning in what critics called "musicblogocide 2010." Copyright law is at the center of this controversy, but bloggers are still showing concern. Read more at The Guardian.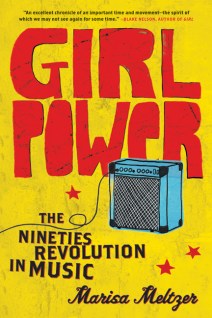 RIOT GRRL REVOLUTION
Sara Marcus and Marisa Meltzer have an interesting discussion following the release of Meltzer's book Girl Power: The Nineties Revolution in music. If you've been wondering what happened to all the angry, powerful women in '90s rock, check out the article at Slate.com. They discuss Bikini Kill to the Spice Girls. Laneia will be doing an interview with Marissa about the book really soon, so let her know if you have any questions you want answered!
WE NEED A HIP HOP WRITER!
We've got a pretty hearty roster of Audiostraddle bloggers at this point, many of whom really enjoy sensitive emo indie rock performed by skinny white boys with messy bangs. But although we're often pulling other Team Autostraddle members to add more hip-hop to the music mix here, and they often volunteer when observing a lack of hip-hop in our grand lists, we've come to realize that that just ain't enough. We need more! And hey, someone even suggested it on twitter, so obvs THE TIME IS NOW.
Audiostraddle is calling for hip-hop/rap/r&b music enthusiasts who would like to help with concert and album reviews, features and artist interviews. Experience isn't essential – but you will need excellent writing skills, perfect spelling & grammar, spare time, and the confidence to do phone interviews. This isn't paid work, but you'll occasionally get free stuff, get to talk to famous people and you'll have a chance to impose your feelings upon everyone else.
Email Crystal[at]Autostraddle.com with a resumè, a writing sample, and 2-3 story ideas. Let us know what you like about AS and how much time you can devote to the team.
Until then, please enjoy Intern Laura & Katrina Casino's cover of "Make Love in This Club," via Autostraddle facebook.