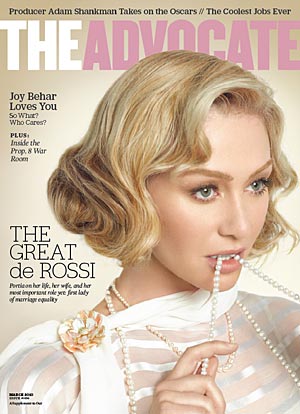 PORTIA: Hey maybe The Advocate was really serious about featuring more stuff for ladies when they said they were gonna do that like last year sometimes anyhow the point is PORTIA DE ROSSI is on the cover and you need to read the article b/c it will make your day ten times better. The article reveals that Portia is not only beautiful, talented, and married to Our Lady Ellen DeGeneres, but also a "staunch feminist" and all-around nearly perfect human being:
For a very long time [Portia] swallowed words instead of food. When she did speak she answered as if in character, imitating the kind of woman her publicists and costars told her young actresses should be.
That was the deal Hollywood offered: Forget being smart. Forget being a feminist. Forget that year of law school. And definitely forget being gay. Be "Portia de Rossi,wp_postsan Australian ingenue. Rolling Stone's "hot bombshellwp_postscover girl. A modern Rapunzel with silky blond hair bewitching an audience simply by unpinning a tightly knit bun.
Be miserable and self-destructive.
In this very well-written article, Portia discusses standing up to Hassleback on The View, how her "quiet life" was sort of split open by marrying Ellen DeGeneres and the challenges and joy of her relationship with Ellen. The piece also delves into Portia's mixed feelings about being on a TV show that inspired TIME magazine to ask "is feminism dead?" and how much she's changed since then — "Today, De Rossi is a walking, talking advertisement for happiness."
She also makes some really interesting points about her new willingness to speak about her personal life, despite formally being wary of doing so:
"Ever since Ellen and I got together, I feel like I've been given an opportunity to actually—God, this sounds corny…wp_postsShe rolls her eyes at herself, fidgets, and then forges ahead. "Well, I feel like my life can actually kind of stand for something. And I don't mean that in a self-aggrandizing way, like, 'Look at me, I can make a difference.' But I feel like, maybe I get why I'm here."

…. She doesn't care if every question during a junket for her show is about her personal life. Where she once would have demurred, arguing for privacy, "what I meant was I should stay in the closet because I'm greedy and selfish,wp_postsshe says. "Maybe by sharing my life, I can make people more aware of how important gay marriage is."
You should absolutely check out the whole article (and the eye candy) at The Advocate, I basically want to quote the entire thing. (@the advocate)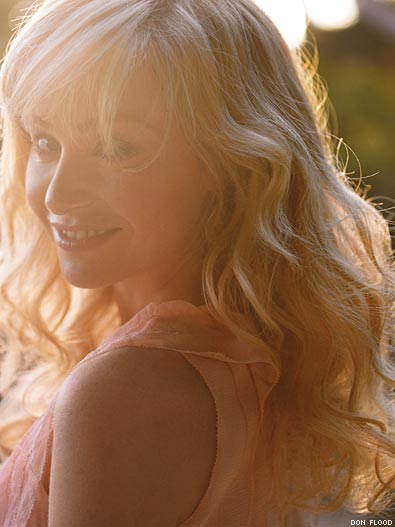 SKINS: Behind the scenes of Episode 402, which Riese & Crystal have recapped for you. Did you know that they weren't allowed to look at the locker until it was being filmed? You'll learn a lot of tidbits here, and bonus even if you live in the US you can see it! (also check out this interview with Lily Loveless). Kathryn says her and Lily have a lot of heated discussions about their characters, which is adorbs.
BBC: The BBC is interviewed about the big ass survey they are undertaking to get their viewers perspective on representations of LGBTs in their programming. The interviewer is super aggro for a lot of it. Here's a snippet:
QS: Is it likely there will be a program that will deal specifically with lgb people?
AR: No, this research is not about setting up quotas. It's about listening to audiences – how we can improve portrayal and policy in relation to lgb people.
WOMYN: St. Vincent/Annie does an in-store performance at :Women and Women First," the most feminist of all feminist bookstores with thunderAnt (thunderAnt is Carrie Brownstein and Fred Armisen… and is shot and edited by Patrick Stanton and Doug Lussenhop.)
MEGAN MULLALY: Q&A with bisexual actress Megan Mullally and her husband (@nymag)
TIMBERLAKE: "Justin Timberlake is no stranger to winning awards, though the one he was given on Friday night was certainly a bit stranger than usual. Wearing a bra, wig and high heels, the six-time Grammy and two-time Emmy-winning singer, producer and actor was presented with Harvard University's Hasty Pudding Theatricals "Pudding Pot" and named its 44th Man of the Year." (@popeater)
TV THIS WEEK; Per ushe an excellent rundown at AfterEllen of who will be gay on TV this week. (@afterellen)
RIHANNA: Rihanna has new photos from her "Rude Boy" video shoot. (@ontd)
REAL WORLD: All's Gay Except for Emily: "Mike meets a guy, Callie gets an internship at the local gay newspaper and discharged soldiers care of Don't Ask Don't Tell make an appearance." (@afterellen)
40 SEXIEST VIDEOS: Fuse picks the 40 Sexiest Videos.(Hasn't this been out for a while? I swear we already saw it.) Fiona Apple takes a spot, as does GROAN Katy Perry. (@ontd)
DESPERATE LESBIAN HOUSEWIVES: "This is the first time on Wisteria Lane that you'll see two women doing more than just kissing," Delany told us at this weekend's StandUp for Kids/Los Angeles at the G2 Gallery in Venice. "We're taking things to the next level. I get to do it. I'm very honored." (@e!)
JERSEY SHORE: MTV is cracking down on the Jersey Shore cast: "MTV chiefs are cracking down on the money-grabbing "Jersey Shore" stars' lucrative personal appearances that are netting them up to $7,500 a night. They've ordered the cast — including Nicole "Snooki" Polizzi, Mike "The Situation" Sorrentino, "Pauly D" Delvecchio and Jenni "JWoww" Farley — to rein in their appearances at clubs and bars or face strict fines or even legal action." (@nypost)
VANITY FAIR? VF reps respond to criticism that there were no women of color on the cover of their Young Hollywood Issue: "Deciding who will appear on the Hollywood Issue cover — and within the issue itself — is a long process, and one we take seriously,wp_postssaid a representative for Vanity Fair. "For the young actresses on the cover, both films coming out this year and past work were taken into consideration, as were schedules and availability, since we had to shoot all nine actresses in a single day." (@msnbc)
T-SWIFT: "A week ago, Taylor Swift was getting crappy reviews for her off-key Grammys performance — and now she's getting crappy reviews for her acting." (@nymag)
CHLOE: New trailer for "Chloe," which looks pretty awesome despite probs perpetuating some psycho lesbian stereotypes?
LADY GAGA: First Look: Lady Gaga's Viva Glam Lipstick. All of the profits are gonna go to AIDS research! ALL OF 'EM.
Laurieann Gibson says everyone will be "losing their minds" over the "Telephone" video: "The "Telephone" music video has been officially shot and choreographer Laurieann Gibson joined with Cherrytree Radio to talk about some of the video's details.  Gibson, who calls herself the dancing branch of Cherrytree, was there to talk about what happened on the set with Lady GaGa & Beyoncé." (@hausofgaga)