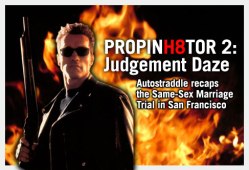 JUDGMENT DAZE: Our Mancrush of '10 (second only to Adam Lambert), Judge Vaughn Walker, is 100% homo! Why do we always fall for the gay ones? I mean I think we said at least five times that we wanted to marry him during our epic Prop 8 Trial recaps.
As reported by The San Francisco Chronicle:
The biggest open secret in the landmark trial over same-sex marriage being heard in San Francisco is that the federal judge who will decide the case, Chief U.S. District Judge Vaughn Walker, is himself gay.
Many gay politicians in San Francisco and lawyers who have had dealings with Walker say the 65-year-old jurist, appointed to the bench by President George H.W. Bush in 1989, has never taken pains to disguise – or advertise – his orientation.
Oh boy, we'll see how the other side reacts to this (they've yet to make a statement). Though I gotta say; honestly, that's how life is. The fact that the judge is gay is in a way proof of our point — we're everywhere, and sometimes we're going to be the ones deciding our fate, not you. Also this makes me forgive every time he let something be discussed that was irriating.  The fact that a gay man is in this position of power to make this decision is just as fair as the fact that the entire Supreme Court of the US is hetero. Right? Mostly I am scared about what maggie g is going to say; or worse that she's known all along and the counter-attack is heading our way.
However Andy Pugno, general counsel for the Prop 8 Team, says, ""We are not going to say anything about that," though he was eager to point out that his team had not gotten a fair shake in court. (@sanfranchronicle)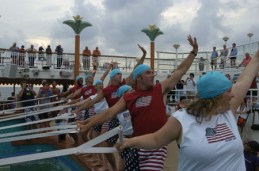 CRUISIN: Should gay cruises visit homophobic countries? As you may have seen in All Aboard, gay family cruise company R-Family Vacations' first trip to the Bahamas was boycotted by locals, and when we sailed to that same area in 2007, one stop was actually canceled following notice that local churches would be protesting our visit. R-Family explained that although they had reservations about eliminating that journey, after their first homophobic cruise protest experience they felt it was unsafe for children to be exposed to that kind of hatred.
"Neither I nor Miami Beach Gay Pride are blind to the fact that homophobia exists in the Bahamas," Sharon Kersten, a Source Events spokesperson, told EDGE in e-mail. "Perhaps we can be part of the solution, rather than punishing an entire nation for the fears and heinous acts of a small portion of the population."
She pointed out that, unlike the U.S., the Bahamas is among many countries that allow gays to serve openly in the military and an organization has been working to fight discrimination since 1999 without government interference.
HIGHER ED: "NYT finds heartbreak at female-dominated campuses, where women must suffer the pain of George Clooney films alone." (@salon)
GAY FAMS: Beye Elementary School in Oak Park, Illinois, a diversity-embracing, socially progressive and upper-middle-class suburb of Chicago, is under fire for hiring an expert to make their school safe for children from gay & lesbian families by battling hateful language such as "that's so gay":
After some letters appeared on the Illinois Family Institute Web site and in local weeklies, dozens of people showed up for a Beye PTO meeting last month. The meeting was largely cordial, but a letter voicing moral disapproval of gay families and of the issue being raised at the elementary level sent a gay high school student crying from the room.
Brown, who read the letter, said she felt terrible that her words upset the teen.
"I went home and cried," Brown said. "I cried about the high school student. I wish I had said to him, 'This might hurt you. You might like to leave.' I cried because Beye had a great family feel. I've had friendships with lesbians and gays. Now people will see us disagreeing as, 'You hate us.'"
Sarah Durbin, who is lesbian, attended the PTO meeting and was disturbed by the letter.
"You can't have your cake and eat it too," she said. "You can't say, 'I think you're immoral, but I like you, too.'"
SEX ED: Is it possible to do abstinence-based sex ed right? (@nytimes)
THE SPORT: Celebrating in New Orleans after Super Bowl win: "…the city descended on Bourbon Street. New Orleanians, as a general rule, do not like to go there. It is a tourist trap, too crowded and cheap. But on Sunday night it was a beating, living, pulsating mass of people, like a capital city of some country after a dictator has been overthrown." (@nytimes)
TIM TEBOW: The Tim Tebow ad was tame last night without any overarching anti-choice message. But the URL at the end — an almost surefire go-to for such an oblique advertisement — was the kicker. Here, Jezebel investigates the real Tim Tebow ad. (@jezebel)