Why on earth do we still care about what L Word actresses are doing? I blame the recession.  The L Word is a lot like baseball, or jousting.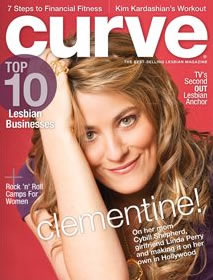 L WORD: Laurel Holloman (L Word's Tina) about The Real L Word reality show, how she misses the girls, and why The L Word hit a chord. Holloman states, "If there's an L Word reality show, I feel like there's an audience for it because we proved that there's an audience." She talks to Erin Daniels & Rachel Shelley every day (again why do we care I don't know but we do, perhaps because almost every pop culture-literate American cares for some reason about something, we just all happen to be into the same exact thing), wasn't asked to be in The Farm, unfortunately as it was a masterwork of the stage, screen and soundstudio, and also, is just always so FAIR. You go, Fair Laurel: "I think if Ilene comes up with some great ideas to keep it going, honestly I think it'll be refreshing to see a reality "L Word" instead of the glossed-over, high-heeled makeup one. . I think it's great the show is there and you have to embrace it by putting it out and hope it opens up doors. And if it opens the door for a reality show then it has served its purpose." (@shewired)
CLEMENTINE FORD: Clementine Ford (L Word's Molly) is on the cover of the October issue of Curve. Haha. Now you have to buy Curve. (@curvemag)
SAMRON: Between navigating the rough waters of Lilo @replies, Samantha Ronson has filmed an episode of 90210 set to air November 3. I hope Kelly Taylor fixes all this nonsense. (@people)
LADY GAGA: "Fame Kills" Lady Gaga & Kanye West pre-sale.
SHEWIRED IS ON A ROLL LATELY: Erin Foley. We love this girl. (@shewired)
HATE THIS GUY: Also, wtf Tucker Max. His existence and success, we feel, is proof of something sinister and unfortunate about this world. (@jezebel)
COUGAR: "Critics say Courteney Cox is a good actress, but even she can't make the stale, raunchy humor of Cougar Town – which premieres tonight – work. Unless, of course, viewers, like Cox's character, tend to think with their "coochie cooch." (@jezebel)
Also!! Crystal needs a music writer! We're calling for music enthusiasts from Sydney who would like to help with concert and album reviews and interviews. Experience isn't essential – we're mostly interested in your writing skills and confidence to do interviews.
This isn't a paid gig. We're seeking students and budding writers who are motivated by the chance to develop a portfolio. And free stuff.