Skyler James thinks California girls are the cutest…although, she notes, Montréal gals are also pretty rad. I caught up with Skyler after her recent appeal victory and asked "what now?" [You can read our first interview with Skyler here: Lesbian Soldier Denied DADT Discharge Now Seeking Canadian Asylum: Autostraddle Interviews Pte. Skyler James]
---
Natalie: On Nov 21, 2009, the Federal Court of Appeals ruled in your favor. Your case will now be re-heard by the Immigration Review Board (IRB). Yay! What are the next steps?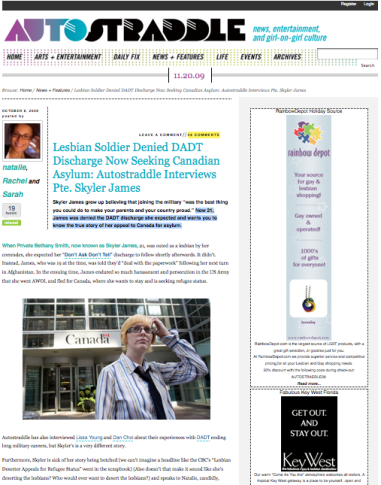 Skyler: My lawyer and I are waiting for the IRB to contact us to set up a new court date. A new IRB official will hear my case. The IRB official can either say, yes, you can stay or no, you have to go back to the US. Hopefully, I will be granted refugee status – and can go on to get Canadian citizenship! I am hoping that this official will not be biased!
Natalie: Wait, you believe that the initial ruling was biased?
Skyler: I believe that the original denial was opinionated – an opinionated denial. The IRB official allowed his personal beliefs – about the army, about the state of the US under Obama etc – to shape his decision.
Natalie: What happens if the IRB official denies your claim?
Skyler: If she denies my claim, then the Canadian Border Services (CBS) will do a pre-removal risk assessment. Twice, while I was in the appeals process, the CBS prematurely sent me a letter regarding the risk assessment.
The first letter came after I was initially denied; the second arrived while I was in the appeals process, waiting for a decision. While I was told to disregard both, I now have the feeling that they want to see me leave, that they want me out of the country as fast as possible.
It worries me. There are people with a certain amount of power that clearly want to get me out of the country. It makes me feel unsafe and scrutinized. I have to live up to a standard that others do not. I constantly fear deportation.
Natalie: Could the pre-removal risk assessment determine that the risk for you to return to the US is too high?
Skyler: No, I don't think so. It's basically paperwork, just a procedure.
Natalie: Did the Federal appeals judge give any direction to the IRB?
Skyler: Yes, the Federal appeals judge wrote a letter to the IRB official, stating that the official must seriously consider the fact that in these types of cases, there is never enough proof. The appeals judge also highlighted the Barry Winchell case, a private murdered – brutally beaten by a baseball bat in his barracks – at Fort Campbell in 1999 because he was queer.
Natalie: If you win this, will you be the first person in Canada to receive refugee status on the grounds of persecution on sexual orientation?
Skyler: Yes, I think that this would be the first time an individual wins asylum on the basis of sexual orientation.
Only 1% of refugee claimants in Canada are granted an appeal – and I won it! My lawyer (who I found through the War Resisters Support Campaign) – Jamie Liew – is part of an awesome feminist law firm: Galldin Liew, LLP. She is an amazing lawyer, as is her partner, Karin Galldin.
Natalie: How are your family and friends back in the States? Can they come visit?
Skyler: My family is doing well – they are coping. My mom is coming to visit me on the 5th of March…it will be the first time I see her since 2007. A few of my friends will also come visit.
I think 2010 is going to be a kick ass year. I spent the new year with my best friend and some others. And on January 22nd, I'll go see Tegan & Sara for the first time! Woo-hoo!
Natalie: What are you up to now? Where are you working?
Skyler: I am still working at the call center…and volunteering in the community.
Natalie: Where are some of your favorite places to go out in Ottawa?
Skyler: LookOut used to be one of my favorite spots in Ottawa! But, at the moment, I am laying low.
Natalie: Where do you like to eat?
Skyler: I love going out to eat in my neighborhood – Chinatown! I love Chinese food…and there is Pho Bo Ga on every corner – and great shawarma, as well. There is this place in Herongate mall – a Lebanese spot – that is awesome. And a Shawarma King on Rideau and Dalhousie.
Natalie: Anything else you want to highlight?
Skyler: The fact that Natalie is amazing!
Natalie: I am not going to put that in.
Skyler: You have to!
Natalie: Awww shucks, ok.