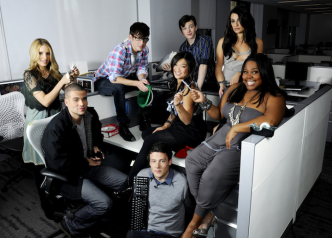 GLEE: GLEE gets a second-season pick-up way early, and announces a nationwide casting search to find the perfect person for three new roles. Hm, this sounds very American Idol-y, but gayer, which we love. Though the article incorrectly claims GLEE launched the singing careers of its young, talented cast (Lea Michele's singing career started in 1987, wethinks), we're excited to see all the bright-eyed youths come out in droves and offer video confessionals about how they are uncool in school. GO AUDITION CHILDREN! This is what Ryan Murphy has to say for himself:
"Anybody and everybody now has a chance to be on a show about talented underdogs. No matter who you are a Broadway talent or a struggling singing waiter with a dream in the Midwest you now have an opportunity to make that dream come true by posting your talent video and showing us what you can do. ALL the roles will be chosen from the video audition process, which is exciting and unprecedented. We want to be the first interactive musical comedy on television, and the search is ON."
Building upon the show's incredibly supportive community of GLEEks and with the hope of bringing fans even closer to the series, auditions will be open to amateur individuals as well as professionals between the ages of 16-26, and all hopefuls will be able to submit auditions online. Additional details to be announced soon, please check Fox's Website for updates.
JILLIAN MICHAELS: Jillian Michaels visited The Ellen Show today! Anyone got a video? Well we got a photo, they're doing SQUATS!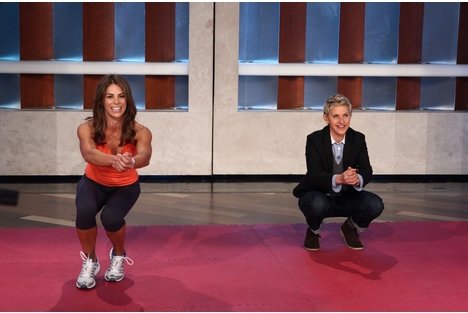 SKINS: Skins are taking over UK magazine stands with covers of COMPANY magazine and Stella (the teen issue!). So now we can all be super super excitant about more Naomi & Emily. Maybe we could recap it if there was a way to watch it in the US or Autstralia?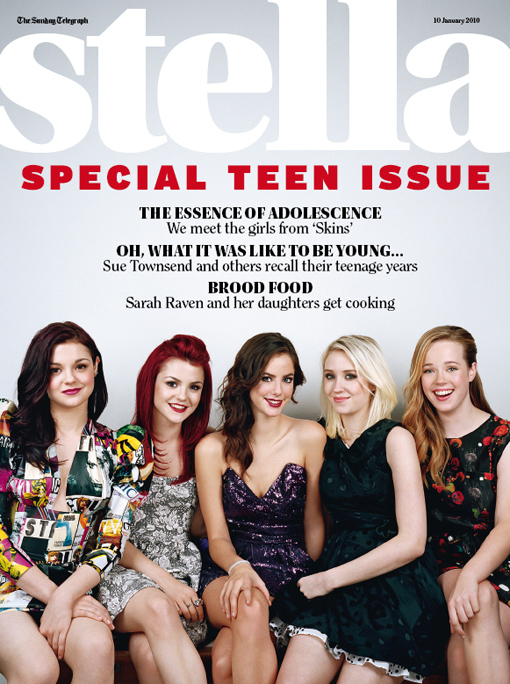 REAL L WORD: More from Showtime's TCA Tour!: Coming soon is Showtime's first foray into the world of traditional reality series. Get ready for "The Real L Word of Los Angeles,wp_postswhich Greenblatt says will be on the air probably this summer. "We've just cast those women,wp_postshe said, "so at some point we will parade them in front of you for some kind of grilling…and I mean 'parade' in the best sense of the word.wp_posts
ARRESTED DEVELOPMENT: Speaking exclusively with ComingSoon.net on Sunday at the press junket for When in Rome, Will Arnett confirmed that an Arrested Development feature film should go into production sometime this year. (@comingsoon)
THE LYNCH CAN DO NO WRONG: Jane Lynch is interviewed at the UK Guardian, where she says that if she were an ingènue like Kate Winslet, being openly gay would hurt her career. But 'cause she's a character actor it's fine 'cause no one is projecting romantic fantasies onto her.
On gay marriage: "Shouldn't there be safeguards against the majority voting on the rights of a minority? If people voted on civil rights in the 60s, it would have never happened. It took somebody like [President] Lyndon Johnson going, 'F all of you! I'm going to do this… Obama won't do it. He's a huge disappointment to me."
TILA: Tila Tequila had a big day on Sunday according to twitter in which she showed that she is just like us.
1. Admitted that she has no friends:
"NO FOR THE LAST TIME I HAVE NO FAMILY OR FRIENDS! YES I FINALLY ADMITTED IT! I AM A LOSER! MY DOG & HER WAS ALL I HAD! Why do I tweet so much? Even before Casey passed away? BECAUSE I HAVE NO FRIENDS! THERE! THE TRUTH COMES OUT! PPL say I need to get off twitter & grieve with friends & family… WHERE? I DON'T HAVE ANY! Casey was my only family & my Dogs!"
2. Told us she was gonna give us a piece of her life story, but then kept on going. Classic blogger move.
3. Decided to delete all her posts about Jasmine, which is good b/c those posts made us feel really itchy:
"Actually I'm gonna delete all my blogs about that nasty looking thing on my website. It's scaring away all my fans & giving her more press. I'm deleting all those blogs now."
"There! I just deleted all the NEGATIVE shit off my twitter and website! Negative people are gross!"
"1st I would like to Apologize to GOD for feeling vindictive. It's tough right now, but I'm better than that. So I apologize God. Never again."
CASEY: Also New York Magazine has an interesting piece on Casey by former Page Six writer Paula Froelich: "I won't sit here and tell you how amazing, sweet, and generous Casey Johnson was. Or how we were "friends.wp_postsWe had a contentious, symbiotic relationship. She was the billionairess who liked to be the center of attention, and I was the gossip columnist who would chronicle her exploits—in some ways her very existence, at least how she seemed to want to live it."
Tila Tequila is disappointed she wasn't invited to Casey's funeral: "Over the weekend, Tila (real name: Tila Nguyen) told E! News: "I don't want to talk about the funeral. I wasn't allowed to go, and I am so upset. I can't sleep, and I am on suicide watch." (@usweekly)
REALITY TV: Students at a California beauty college were shocked to find out the owners of their school were shopping the following reality TV proposal:"The students are mostly inner-city, unwed mothers taking advantage of government subsidies for a better life. The instructors can't find any other job that offers 'bennies' [benefits]. The new owners are white, naive suburbanites bleeding cash and trying to keep it all under control." (@bitchmag)
CALVIN & HOBBES: Calvin Faces: they did them. All of them. From Calvin & Hobbes. It's amazing, you really have to see it to believe it. (@buzzfeed)
WHAT WOULD JON THINK?: Brian Williams tell us why Jon Stewart is good for news. "A lot of the work that Jon and his staff do is serious," Williams says. "They hold people to account, for errors and sloppiness. … It's usually delivered with a smile — sometimes not. It's not who we do it for, it's not our only check and balance, but it's healthy — and it helps us that he's out there." (@npr)
NETFLIX: The New York Times has a really cool infographic about which netflix movies are rented and where. Milk is in the top 10 almost everywhere in Manhattan and also in a lot of places in New Jersey. (@nytimes)
LEZ: Meet the man behind Lady Gaga; Nicola Formichetti, her fashion stylist! (@lezbehonest)