SEX 101: Does Curve magazine have a sex issue every year? We dunno. More importantly; it has one RIGHT NOW and we read the hell out of that unit. Or rather I made Julia read it, 'cause that's a lot easier for me, and this would be the third time I've made her write some of the NSFW Sunday. It's so nice! People are so nice! Julia's cute, smart, and homosexual, so you're in good hands. BRB.
Here's Julia:
I came over to Riese's house imagining a day of adventure and spontaneity and instead I have been chained to her desk until I write her an article. I debated chewing off my leg to escape, but then I thought about what my life would be like with a stump leg and then I thought I should just write the article.
So here is Julia's review of Curve Magazine's Sex 101: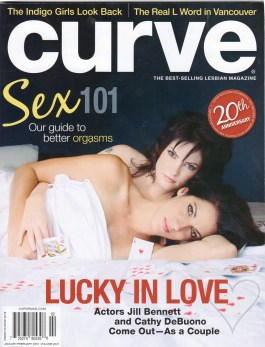 Curve Magazine released their sex issue this month. Or maybe it just had lots of sex in it. I mean look at the cover. "SEX101 our guide to better orgasms"!
The thing I found most fascinating about this particular issue (Aside from trying to figure out where the f*ck the "A-spot" is) were the polls that were scattered throughout the pages. According to Curve Magazine 3% of polltakers consider "solo" their naughtiest position. Is that a position? I don't know, it was just confusing.
On page 32 there's a feature on high-tech sex-toys you'll want to "tweet about" …
Curve recommends:
+ Je Joue's Sasi, which has 36 different settings and when you figure out which ones make you feel awesome then you can program it to remember them: Je Joue's Sasi.
+ The We-Vibe is the only vibe designed to be worn internally during sexy time, which I am still trying to picture. And apparently it reaches your C-spot…? That's right there is another letter spot that provides pleasure. It also fits nicely underneath a harness.
+ LELO'S MIA looks sort of like lipstick, but it's not. AND it charges in your PC or Mac USB port!!!!!!
+ If you like music and getting off in public places Ohmibod's club is made just for you! It has three settings– manual, ipod reaction, and ambient (which reacts to outside noises). So you can wear it out or maybe just have your girlfriend yell at your vagina: Earth Angel.
Other articles include
+ The illusive "A-Spot" which is located near the cervix… I think. Basically just poke around really far up there and see what happens.
+ All about Kegel exercise weights.
+ Recipes for a "tasty and sensual Valentine's Day." My advice is wear lingerie while cooking and then if the food is crap you may still get laid.
+ A piece on one woman's adventure into the word of BDSM.  There is a scene where she watches a girl get candy thrown into her speculum-ated vadge and I got scared she was going to get a yeast infection.
+ Courtney Trouble and the New Queer Porn scene! Courtney Trouble Films
+ A spread on Autostraddle faves Jill Bennett and Cathy Debuono rolling around in bed covered in playing cards. I think it is about their inability to escape random objects appearing in their bed, but I may be wrong. There's a lot of words, and some sexy pictures of Jill & Cathy in a bed. So – hot.
Ok so go pick up Curve at your local newsstand or subscribe. It comes in a black sleeve like porn so you're Mom won't know that you're a homo! You can also go sleeveless if you have nice arms like Helena. Then you can have 101 more orgasms.
---
Okay Julia's done now. Here's the rest!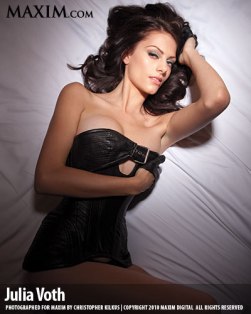 GIRL ON GIRL ACTION: Bitch Slap's Julia Voth [see picture]: "I make out with both of my female 
costars in Bitch Slap, but the one that stands out is with Erin Cummings. We did our first take, and it was flat. We were like, 'That just won't do.' So before the second take, Erin asked if she could pull my hair and grab my ass, and I was like, 'Yeah, yeah!' So we just devoured each other. I'm quite proud of that scene. I'd rather kiss a hot girl than an ugly guy any day." Oh sigh that's generous thanks jules.
NO PANTS DANCE: If you weren't on the train with your pants off spreading the news of the No-Pants Revolution or doing the No-Pants Dance… I really don't know what to say for you. Or for myself, as I also wasn't there. But Improv Everywhere got this shit together and everyone took off their pants. (@improv everytwhere)
DREW BARRYMORE: Drew Barrymore got naked in 1995. Here are the pictures. (@fleshbot)
LIST OF SEX: 50 Sexiest things Asylum magazine saw this year include Suicide Girls at Comic-Con, girls wrestling in coleslaw, Saved by the Bell porn, Serena Williams on the cover of ESPN magazine, the naked plus-sized Glamour shoot and the Megan Fox lesbian kiss. (@asylum)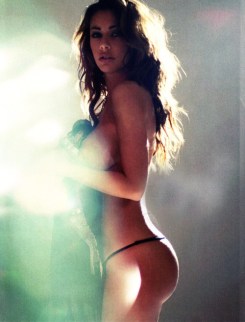 VAGINAS: "Vaginas! So strange. So mysterious. So essential a component of the female anatomy. Sure, you may have a vagina. Or maybe you're just curious about vaginas. Vaginas are like snowflakes. No two vaginas are alike. Of course, some vaginas are more exceptional than others. Check out the top 10 most unique vaginas in our vagina-tastic slide show." (it's @thefrisky, don't worry nothing scary)
SEX HOMEWORK: Kristen's homework: "One of the things we've identified is that the d/s itself is not a problem, but how we transition back to having equal power and equal footing seems to be. " (@sugarbutch)
AVN AWARDS: Watching vs. Seeing: Part of me thinks, "AVN is so mainstream, I don't stand a chance!wp_postsAnother part thinks, "Huh. Just imagine if I won. This could be a huge step towards the visibility of queer porn, of alternate presentations of gender and sexuality. This is why I do this… so who knows!" (@jizlee)
KY JELLY: "Does KY Intense really work? Answer: YES. In most cases, approximately 75%. By massaging a pea-sized drop of the gel directly onto her "intimate areawp_postsduring foreplay, while yelling, "By the Power of Greyskull*wp_posts the Propylene Glycol is going to give her a warming sensation. " (@coed)
Sexy Tumblr Alert: ELLES – Not often updated, but basically it's just a bunch of cute lesbosexy kissing scenes!
NO THANKS: Nine Nude Scenes we could've done without, also; the reason I hate Austin Powers.
Here's a video you can watch if you want: