You don't have to spend lots of money to look good. I promise you! There are many tricks to maintaining a fresh look without dropping g's on designer clothes at the mall or on Rodeo Drive or wherever it is that Carrie Bradshaw bought her shoes.
Anyhow, one of those tricks is thrift store shopping. Ah, the thrill of the hunt! Few things are more satisfying than finding a unique piece of clothing you absolutely love and having it cost about as much as a damaged sock from a "high end" store. So get out your treasure maps and your sense of adventure, mysteries await on every hanger! Laughs both of incredulousness and joy are on the horizon. Are you ready? Let's begin!
Thrifting: The Basics
1. Dollar dollar billz, ya'll
At thrift stores, they like everything to be from history, so don't count on your plastic.
I once was at a local thrift store where they had these lovely specimens:
Legit L.L.Bean duck boots for only $6!! Well, because I had entered on a whim, I had no cash whatsoever, which many local thrifty stores don't like. Including the one I was in. So I hid the boots, left, got cash, came back, and they had been SOLD. I guess I didn't hide them well enough, and now I am duck boot-less. Don't let this happen to you!
2. Examine the merchandise
There may be a legitimate reason someone didn't want that ______ anymore. So before you buy it, make sure there are no moths in the lining eating holes into places you really don't want drafts.
The benefit of shopping at thrift stores is — should something have a tear in it or disintegrate within a few weeks — at least you bought it for only a few Washingtons! It's a lot less ok when the blazer you just bought from Forever-Urban-Apparel, which cost you an arm and a leg and a date with that cute girl at the coffee shop, does the same thing.
Actually, to be fair, Forever 21 does have some reasonably priced clothes. Maybe that's why things sometimes fall apart. Hm. Anyway, moving on.
3. Try it on (or not)
If you don't like trying on other people's used clothes without washing them first, that's okay. Just size it up and down and make a sound judgment. For instance, if I see a long t-shirt I like, I'm not going to buy it without trying it on because I know long t-shirts have a personal vendetta against my hips.
However, if you're pretty sure that big comfy sweater will fit, go ahead! That's another benefit of buying things cheap–being suspicious of other peoples' used apparel shouldn't keep you from reaping the benefits of thrifting.
NOTE: Please don't buy undergarments at thrift stores. Unless you're absolutely 100% sure that the sealed package hasn't been opened, don't bother. It's just not sanitary. If you're going to splurge on something, let it be underwear.  Like these sweet briefs from Nudie Jeans. Co.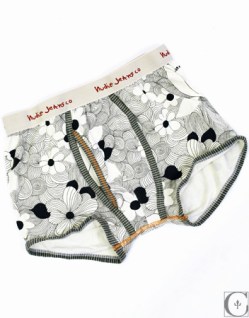 4. Branch out
It's good to expand your style horizons. Don't be surprised if the low prices inspire you to try on new things. Embrace it. If a sweater vest usually isn't your steeze, but you see a fun one that might go smashing with that staple button down you own, DO IT. 
You can get this one at DirtBag Clothing, the "authentic rock & roll clothing store". Don't be afraid to try something a little risqué–viva experimentation!
---
---
5. Take your time
Serious thrift shopping gets tiring. Especially because there might be a local thrift store on one side of town and a Goodwill nine towns over. And maybe that local thrift store only has teapots and fur-coats so for variety you have to go to that other OTHER thrift store. Bring a snack, a friend, and a realistic time frame. Spread out your thrifting; it's more fun that way.
6. Gender bend it
Another good thing about thrift stores is that you're less likely to get a sideways glance from someone if you're prancing about in the men's section than if you were in say, Brooks Brothers. Because yeah, I'm trying on these men's trousers, maybe even a pair of Dockers B.C. (Before Close-mindedness), but you're over there trying on a ridiculous bird hat. So I don't think you're necessarily going to be judging me.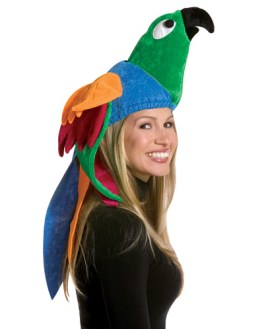 7. Know your stores
There are a number of different "levels" of used clothes shopping.
You have garage/rummage/yard sales. These are great for chatting with neighbors who aren't yours, finding Barbie dolls with fun alternative-life-style-haircuts, courtesy of their screaming three year old (if you can, get two alternative-life-style-haircut barbies for optimum scissoring action), and maybe even a red fuzzy cardigan.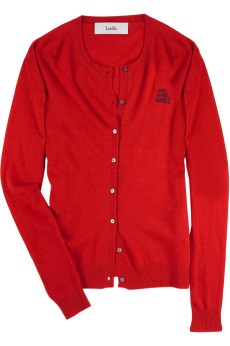 You have your local thrift stores, which will often have a mix of furniture/knick-knacks/ clothes/etc. These are basically like garage sales, only the stock of items will be continually replenished, and they will often provide little make-shift dressing rooms to try on the clothes, if you want. Beware: the puzzles you get at thrift stores may have pieces missing.
You have those 'name brand' thrift stores like Goodwill and The Salvation Army. These are generally way bigger, brighter, and less musty smelling than your local thrift store. They're also super organized. You can get basically anything here. Sweet saddle shoes, a super bowl clock, whatever. Tons of clothes and a pretty solid collection of furniture pieces & VHSs.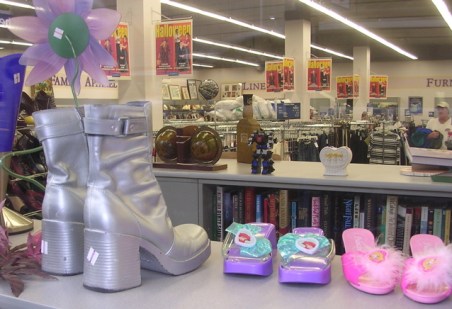 Unfortunately, The Salvation Army is still following that stupid trend of thinking homosexuality is, you know, the devil's' work or something. If you can stomach the fact that they have  an official policy statement seeped in intolerance and scriptures, go ahead and shop. But really, I recommend you go spend your money at Goodwill instead. It's plenty satisfying and magical and not homophobic.
Then you have Plato's Closet, which sells "gently used clothing for children, teen, and twenty-something boys and girls" at a bajillion locations. Far from musty smelling, these clothes are name brand, hardly used, and saturated in colorful happiness; though they often lean a little teen with lots of Hollister and Abercrombie. Their inventory updates daily and they do cute things with finding which style or  trend you are this season. They mention that "Didn't Steal Your Boyfriend" is a fashion trend right now. Besides being a little silly in the idea that "oversized" clothes can only possibly be "boyfriend" clothing, I'm actually all for this trend as long as they keep making comfortable fitting clothes. Also, this means that in summertime guess what's coming back in style? NORMAL LENGTH SHORTS. It kinda has been back in style, but it will be in full force soon. More on this in a few months when warmer weather is on the horizon.
Lastly,  you have those crazy online vintage stores: Blue Bird Vintage, De Ja Vu Vintage, Snow Jane Vintage, Lotus Vintage, Art House Vintage, Meat Market Vintage, Neon Life Vintage, I would say there are roughly a million of them. Really, just put some nouns together in a Google search and add "vintage," and see what happens!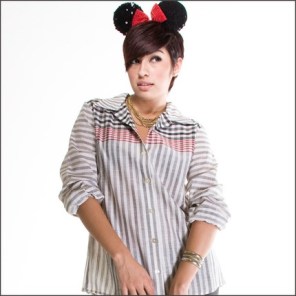 This shirt is from Billie Goat Vintage. Basically these people made thrift store shopping their job and created an online store where they put on these clothes and pout. Then you're like "OMG I WANT IT," and you can buy it. You can get pretty cool/crazy stuff. But in some cases, though it's 'used', it can be pretty far from bargain prices.
8. Give back
If you have any clothes in good condition that you don't want anymore, you should definitely donate! Share the love. Just think: that could have been some other lovely lesbian's flannel shirt.
---
So enough of this, I think I've assaulted your eyes enough for one day. Get out there and explore your options! Happy hunting!!