Sci-Fi and Fantasy television shows have always offered gay viewers some very attractive futures, supernatural universes, and alternative galaxies, chock-full of tolerant peoples and adorable lesbiwitches. Outside of the limitations imposed by our current political climate, writers and producers can create a context-free world where special things tend to happen, like Willow and Tara: Babylon 5 featured gay marriage; Farscape had a bald, blue plant lady who uncontrollably orgasmed in the sunlight; Stargate's second season will feature lesbian IOA officer Camile Wray; and Caprica's got a gay Tauron assassin and heaps of subtle queerness throughout.
Much of what we now consider standard fare for sci-fi television, like its left-leaning-to-libertarian politics, began with the grandfather of the genre, Star Trek, which celebrates its 44th anniversary this week. You know that Buffy/Spashley/Tibette fan-fic you swap on message boards? Trekkers invented that — mostly as a way to write homosexual Spock/Kirk romps — and, unlike the overall composition of fandom itself, most slash authors were women.
So, in an age of inter-species-polygamous-holosex, one would think that a little fingerblasting would be no big deal. But despite addressing a multitude of social issues like sexism, racism, disability, evolving into squiggly lizards and having squiggly lizard babies – and being the origin of all slash fanfic in the world ever – Star Trek has yet to acknowledge the existence of LGBT people and, in my opinion, has slowly died because of it. What gives?
I know I'm not the first Star Trek fan who's ever wondered: where are all the gays?
The Original Series (TOS) was pretty groundbreaking for its time: while the American Civil Rights movement was still facing significant struggles and setbacks on the ground, "Lieutenant Uhura," played by African-American actress Nichelle Nichols, was not only on the bridge of the Enterprise, but even finding time to cop off with Kirk in the first interracial kiss on mainstream US TV.
Nichols' presence on the show inspired a generation of actors, including Whoopi Goldberg, who appeared in Star Trek: The Next Generation. So if the show wasn't afraid to address racism and representation – which was a pretty bold thing to do at that time – why shy away from homophobia? Is this another case of accepting a show's liberalism at face value but never asking them to prove it past an initial display of interracial affection? And what does it say about how complacently we've been programmed to accept homo-free television even from our most inclusive franchises?
According to gay rights activist George Takei ("Ensign Sulu" from TOS), series creator Gene Roddenberry was totally up for putting a gay character in the original show, but feared the wrath of the studio:
"I asked him, 'How do you feel about that [gay rights]?' He said, "This is an important issue and we want to deal with it… [but] our ratings are low and I need to keep the show on the air. All I need is another firestorm and this show will be cancelled. The times will change as we move along, but at this point, I can't."
Roddenberry may have had a point there because despite his pussyfooting, the show was cancelled anyway.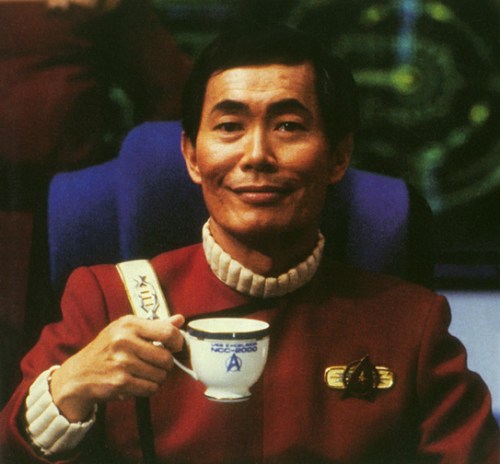 Almost a decade after the original went off the air, the franchise returned with Star Trek: The Next Generation and Roddenberry's assurance that there would be some gay characters.
Sadly, however, Roddenberry passed away during season five, leaving producer Rick Berman at the helm (see what I did there?).  Berman was afraid that parents would freak out about their kids watching gays on afternoon reruns and so, under his direction, TNG began what would be a long and illustrious tradition of awkwardly bumbling around gay issues but NEVER DIRECTLY MENTIONING GAY PEOPLE AT ANY COST.
Not shockingly, Star Trek's LGBT fans (who adorably call themselves the "Gaylaxians") don't feel that gay people have been properly acknowledged in the show's universe: other than a manipulative evil lesbian kiss here and a smattering of body-swapping romance there, the Gaylaxians have been completely ignored. Star Trek is supposed to be about the future, and instead the lack of LGBT representation on the show betrays it as outdated and narrow-minded.
I present, for your reading pleasure:
My Top Three Gay-But-Not-Really-Gay Moments
in Star Trek: The Next Generation:
+
1. Dr. Crusher and the Trill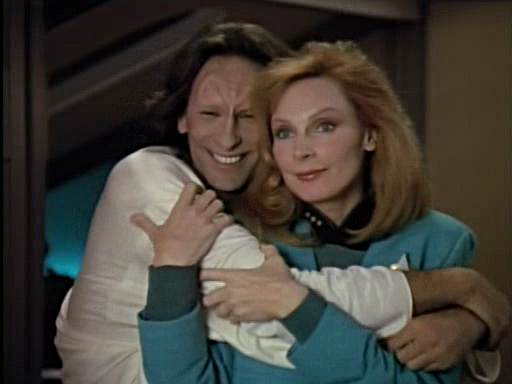 "The Host" was written as a response to a letter-writing campaign from Gay Star Trek fans to address sexuality issues. In the episode, Dr. Beverly Crusher falls for "Odan," a symbiotic slug-dude that lives in host bodies. When Odan's male host unexpectedly kicks the bucket, he's transferred into Riker's body, which takes Beverly about 20 minutes to get used to, but Riker's just a temp. Ultimately, Odan is transplanted into a leggy blonde woman. Awkwardness ensues.
Odan: Yes I am still Odan and I still love you. I cannot imagine that ever changing.
Crusher: I'm glad that you're alright.
Odan: Is there to be nothing more?
Crusher: Perhaps it is a human failure but we are not accustomed to these kinds of changes. I can't keep up. How long will you have this host? What will the next one be? I can't live with that kind of uncertainty. Perhaps someday our ability to love won't be so limited.
Odan: I understand.
Crusher: Odan, I do love you. Please remember that.
Then Odan kisses Crusher's wrist. Yup. Smack on the wrist.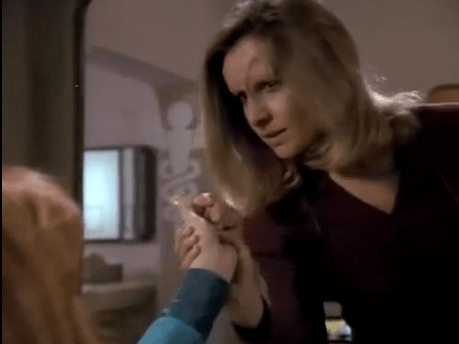 So basically, a potential same-sex lover showed up on the Enterprise only to be instantly rejected by her prospective paramour. NICE!
Not only did the producers fail to include a gay storyline as promised, but the offensively almost-gay plot detracted from the episode's meaning to begin with.  Franklin Hummel, director of Boston's Gaylactic Network, told The Advocate: "In a way, I found [the female host] weakened the point of the story. Was the problem that the rapid changes were too much for her, or was it the fact that it was a same-sex relationship?" Double fail, Star Trek.

2. Whoopi's Giant Hat of Love
In "The Offspring," Data builds an unintentionally creepy android daughter named "Lal" and, as any loving parent would, foists her onto somebody else at the first opportunity. Lal is left in the care of Guinan, a 600-year-old bartender who teaches her, along with how to dispense pithy pearls of wisdom and sport magnificent hats, all about the birds and the bees.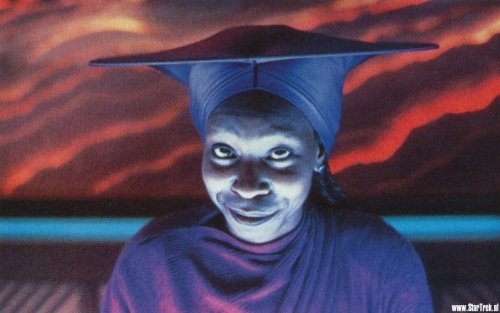 In 2001, Richard Arnold, Research Consultant for The Next Generation, explained that during the taping of "The Offspring" Whoopi Goldberg refused to refer to love as a strictly heterosexual concept:
"According to the script, Guinan was supposed to start telling Lal, 'When a man and a woman are in love …' and in the background, there would be men and women sitting at tables, holding hands[…] But Whoopi refused to say that. She said, 'This show is beyond that. It should be 'When two people are in love.'"
Goldberg also lobbied for a same-sex couple to be put in the background of the scene but a last-minute call to the producer put a stop to that outrageous shit.
+


3. Riker and the J'naii
After Roddenberry had promised to put a gay character in the show, Rick Berman got a lot of heat from fans demanding that he follow through with it, and he responded with "The Outcast."  But because there couldn't actually be a gay character – because people might see and write letters and WILL SOMEONE PLEASE THINK OF THE CHILDREN – fans got a ham-fisted homosexual/trans metaphor in the "J'naii," a race of androgynous beings who treat gender as an icky perversion. One of the J'naii, "Soren," wants to identify as a woman and get her freak on with Riker. Cue impassioned speech:
"I am female. I was born that way. I have had those feelings, those longings, all of my life. It is not unnatural…What makes you think you can dictate how people love each other?"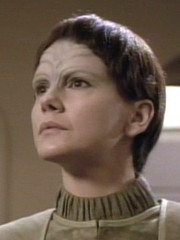 Jonathan Frakes (Riker) tried to persuade Berman to have a man to play Soren, but that would have led to TWO MALE ACTORS KISSING, so no dice. Frakes complained that the episode wasn't "gutsy" enough and that "Soren should have been more evidently male."
I understood the episode to be an awkward metaphor for homosexual tolerance in the 20th century, but apparently many viewers thought the J'naii (who were all played by women) were supposed to be a race of man-hating bra-burning lesbians with a vendetta against hetero men.


Stardate: Present Day
Five incarnations and 600 episodes later, we are still led to believe that 300 years from now the galaxy is populated by heterosexual nuclear families.  It's no wonder that the franchise fizzled out when, sixteen years after Britain elected a female Prime Minister, the producers of Star Trek: Voyager congratulated themselves for putting a woman in command of a starship, and they nearly chickened out of that. Out of touch much?
"They don't need money in Star Trek and they don't need religion," author Cecilia Tan told Salon.com in 2005. "There are no Christians in Star Trek. Everyone's a sort of secular humanist. Everyone is accepted and happily employed. So everyone wants to see themselves in that world. It's like, if everyone's all happy and well-adjusted, where are the happy, well-adjusted gay people?"
Despite a massive cult following and a seemingly endless syndication, Star Trek has never had high ratings and the producers have always been terrified of offending their limited number of faithful viewers. They may have tried to satisfy us by including a handful of evasive homosexual metaphors in their version of the future, but that type of representation only reinforces the notion that being gay in the 21st century is soooo controversial that it can't even be talked about – not even three centuries later. Now we can get our gay fix elsewhere — like an upcoming Big Bang Theory episode in which George Takei and Outer Space Shane Katee Sackhoff (Battlestar Galactica) will play the dueling voices of Wolowitz's conscience.
I couldn't help but feel cheated that in a supposedly utopian 24th century, Star Trek never managed to accomplish the things we're achieving in the 21st. All Star Trek ever managed was "implied nudity,"making the once-great franchise guilty of the worst crime of all – being boring.