A little over a year ago I was at a Girl Bar and this song came on and the dancefloor went mad.
Them: "Haven't you heard it?! This is Poker Face! Don't you love it?"
Me: "Meh."
I didn't; in fact, I'd never even heard of it. I'm one of those late adopters who's skeptical of anything everyone else seems to like. The fad will fade, you know. Quickly. And then I'll be on my fence, smugly not loving "Poker Face" just like all the other smart people.
However, I work for Autostraddle. And Lady Gaga is Autostraddle's President Goddess, so I've been more or less constantly exposed to her work since May. And it grew on me. Initially, the theater geek in me appreciated her as a performance artist and the big homo in me dug her activism and involvement with the National Equality March (as my bank account can attest, I absolutely cannot resist a cute activist girl). I can't scowl at a lady who's up there thanking God, the gays, and her fans all the time!
But what really did me in was the Bad Romance video. It was like crack and steroids and love potion all at once, I watched it a trillion times, and when Lady Gaga passed through Chicago earlier this month you bet your ass I was gonna haul my misanthropic self down to the show with all the rest of her "Little Monsters."
Except that unfortunately Stubhub doesn't have an unemployed student discount. I wallowed in misery as the first two Lady Gaga Monster Ball shows happened in Chicago and I watched my friends enjoy themselves via their Facebook profiles. Then it was Sunday. The third & final Chicago Monster Ball day, and because of that venue change fiasco I had another chance!
Conflicted, I did what any girl would do and consulted the Internet. The responses were evenly split, but it was hard to argue with those who were for the concert: "GAGA > FOOD" and "Bad Romance live = once on a lifetime." And my favorite (pro or con): "How much of Lady Gaga do you get to eat for $108?". In fact Autostraddlers and other friends were so supportive of my Gaga concert ambitions that they even offered to mail me food!
As luck would it, I didn't have to decide. About three hours before showtime an Autostraddle/Internet miracle occurred, I got the golden ticket, had a minor coronary, sped to the suburban venue, parked/screamed at a police officer, dodged already-drunk girls in the parking lot, and got inside! AND IT WAS BEAUTIFUL.
Firstly; everything was sparkling. Straight girls in sequins and gay boys in glam accounted for 90% of the crowd. 5% wore fabulous Gaga costumes. The remaining five percent (me, the children, and the old people) felt as if we'd entered some kind of alternate glamtastic universe with open bars where everyone is nice to everyone and you can have your pic taken Gaga style.
I tracked down some of that costumed 5% for photos and they happily obliged.
In the foyer I spoke to a little old couple (the husband prefers Bruce Springsteen, the wife wanted to see the 'fabulous outfits') and met a boy who lent me his homemade razor-blade glasses (by forcing them on my face and scaring the crap out of me.) Then I hired a Sherpa to find my seat, which was next to a boy in pink hot pants and a girl dressed like Rainbow Brite. I was so far up the back and to the left that I think I was sitting in O'Hare's airspace. Thank goodness for the jumbo projection screens.
Semi Precious Weapons, much to my surprise, were the opening act, there to get us "wet and excited for Lady Gaga." I love rockin' glam boys, especially the kind who aggressively make uncomfortable straight boys even more uncomfortable like when Justin Tranter yelled, "You think you're horrified now, just wait until I'm f*cking your girlfriends later!" Or you know, just wait 'til a few minutes later when unprepared front-row kids got an eyeful of his boyjunk as he changed from a dress into leggings onstage. He taunted security, telling, "this is rock 'n' roll. You dance, have sex in public, and bleed. All at the same time!" It was delightful chaos, even in suburban Chicago.
Fact: The first time SPW played with Gaga was in 2006 to a room filled with 12 people. I'd say things are looking up for everyone.
The second opener was Jason Derulo, a Michael Jackson wannabe-slash-Kanye West psuedo-breakdancer who was replacing Kid Cudi. I would've liked to have seeen Kid Cudi.
Between sets the atmosphere was free and buzzing as the audience danced to Beat It and vendors roamed the aisles selling glowsticks. As Gaga told us later, she made this show so we could dress up, be ourselves, and love one another, like Pride! The real freaks, she said, are the ones locked away outside! Yeah!
I didn't really even mind the gigantoid jumbo-screen commercials, 'cause it's hard to be anti "donating $25,000 to end youth homelessness," especially in the LGBT community, like Gaga is doing in her partnership with Virgin Mobile to raise money to fight youth homelessness.
At last! Gaga time! The production value was clearly off the charts from the get-go. Everything was flashing lights & smoke! She got everyone going right away with Dance in the Dark leading straight into Just Dance. Mid-song she said lovey things about Chicago, whipping the crowd into a gyrating hormonal frenzy. At the songs end, she'd wave her hand in the air like a magical mute button and all the Little Monsters went dead still.
At which point Gaga screamed: "Haven't you heard? I have a huge dick. And balls. [mimed jerking off] Now dance, you motherf*ckers!"
Cue LoveGame, and sexy dancers doing sexy dancing in sheer, flesh-toned leotards. I actually thought they were naked at first.
Lady Gaga bantered with the audience as she introduced the fourth song, Alejandro. I've read criticisms of this part of the show, how the between-song banter is scripted and rehearsed. To which I say DUH. IT'S THE F*CKING MONSTER BALL. It's a theatre piece, it's performance art. (Oh my God, I'm defending a pop star. Who woulda thunk.)
And well, it sounded sincere and seemed to have a purpose. Like before Alejandro when she talked about her favorite 'monsters' (alcohol, death, sex, etc.). She replaced some Robertos and Fernandos with Chicagos while singing. That led into Monster, and my favorite sketch of The Monster Ball.
After informing us that all we need is love, art and each other (not money) Lady Gaga asked, "Am I sexy? You're sexy. Do you think I'm sexy? [pause for cheers] I don't believe you! [lays on floor] I'm like Tinkerbell, you have to clap if you don't want me to die. DO YOU WANT ME TO DIIIEEEE?!?"
Just like that she has you eating out of her hand! It's magnetic! You're loving it and loving yourself before you even have time to hate it and hate yourself!
She transitioned from sexy-time into super-creepy time with the lighting and costumes for Teeth. The lighting and costumes went all red, black and gorgeous.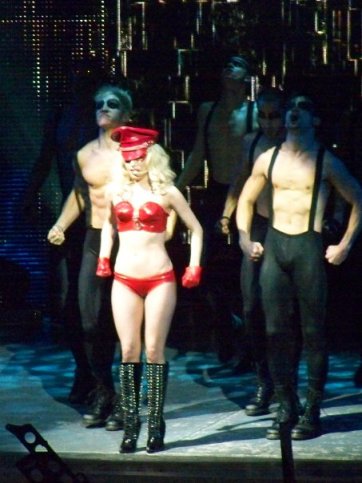 And at the end, Gaga and the dancers struck a strange pose for an almost uncomfortable amount of time, with wide, toothy grins and heads cocked like birds or The Gentlemen. I couldn't get a clear shot with my crap camera and so I reproduced it for you: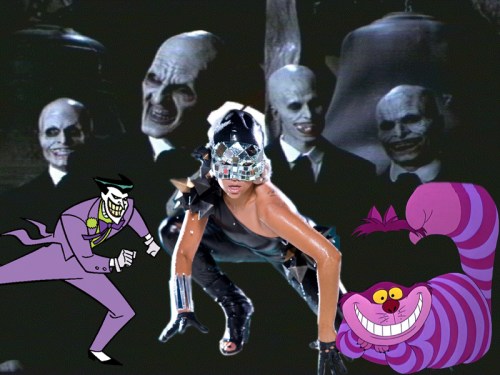 Inspired by Teeth's repeated refrain of "my religion is you," Gaga segued into talking about how churches hate her but she doesn't care 'cause she has us, which is the same thing we tell ourselves when our families banish us to conversion camp and kick us out of our girlfriend's youth group.
After telling us about her special love for Chicago (since she got her big break at Lollapalooza 2007), she says, "Hey, hey, Little Monsters, I hope you're having a good night. I dedicate this song to you" and broke into my favorite song of all Speechless. We were not speechless howevs, everyone sang along. You could feel the love in there, even though we knew she actually wrote that song for her Dad but whatever she's Lady Gaga, she can dedicate her songs to as many people as she wants.
My favorite anecdote was next about a time she was being driven through Boston ("I'm from New York, I don't drive") when she saw a girl in the car ahead rocking out to Fame Monster. Gaga wanted the fan to notice her so she stuck her head out the window and waved — to no avail. But the girl in another car rolled down her window and directed a Bad Romance-style claw-hand at the other fan to show solidarity. Gaga was amazed that two of her 'Little Monsters' signaled each other and so she now wants the claw to be the international symbol for all of us. And so she made us practice.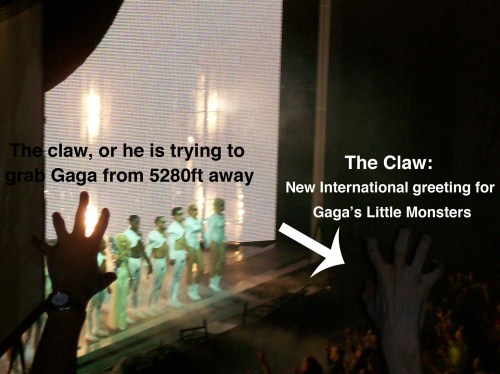 For her strange piano version of Poker Face, Gaga shot at us with a sparkler-emitting uzi (yes, it exists) while a keytar playing bear (or dog?) joined a keytar-playing Gaga who began singing The Fame/Money Honey/Beautiful, Dirty, Rich not quite a medley but not quite separated either and then before we knew it she was rockin' a red vinyl bikini and singing Boys Boys Boys while all the male dancers flexed and vogued around her in suspenders. I kinda wished there were some androgynous female dancers there as well, but anyhoo it was all very 90's sexy Madonna-esque. That led into a full length dancey performance of Poker Face. And then I got in trouble.
See, there's no video recording allowed and you gotta stay in your seat but I couldn't see from my seat! The sweetheart gay boys next to me let me inch past them so I could sneak 30-second video clips while the ushers weren't looking. When Gaga, atop a moving scaffold, launched into Paparazzi with a shackle around her neck, I needed to get that shit on video.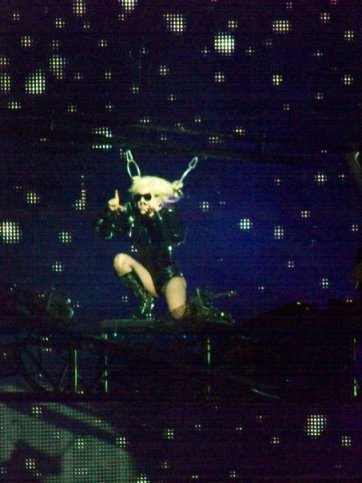 So I got bold & edged out of my designated area at the exact moment he head honcho security guy showed up and ordered me back to my seat. Despite words of encouragement from the gay boys to damn the man ["F*ck the douchebag, do what you need to do to get your story!"], I was aware that getting kicked out at this point would mean missing Bad Romance! This show was changing my life, I had to be there until the end!
Instead of doing an encore – which wouldn't have worked in a scripted, arty performance like this, and like duh who wouldn't encore Gaga – there was just a longer pause and set change over before the final two songs. For Eh, Eh (Nothing Else I Can Say) Gaga sang from inside a huge stationary orbit at the back of the stage which unfortunately meant I couldn't see her, just her projection.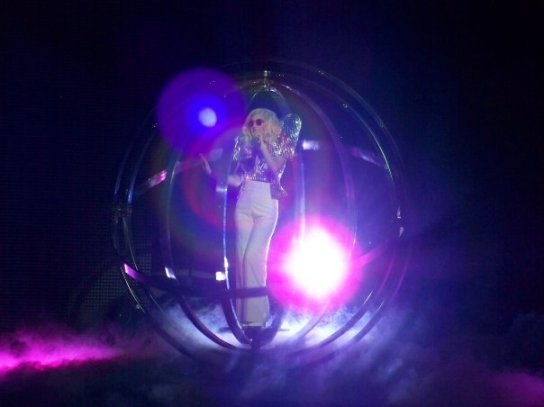 But next came the big one, Bad Romance. It was bright and loud and amazing. My notes said "beautiful! white! smoky! deafening!" and magically, it produced the only photo that didn't turn out too tiny or blurry. The whole group bowed, danced/shimmied single-file off stage, and end of show. Though the people behind me said it was anti-climactic, I thought it was kinda perfect.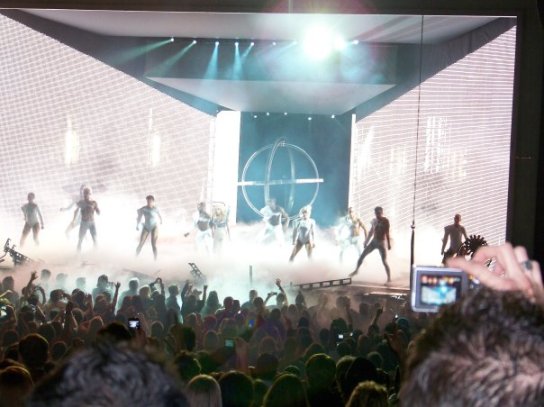 ---
I don't usually go to big venue shows. I'm used to paying ~$30 to see an indie band in a standing-room only venue where the audience is loud and rude. So really Amanda Palmer is the only show I've attended that rivals Monster Ball's love & creativity.
But this was different. I'm not usually into dance music. I'm not even into dancing.
But being in that room in that energy and knowing that I wasn't the only one there attending her first big stadium show — I actually felt like dancing. I know that it seems exaggerated or cliché that I say Lady Gaga and The Monster Ball changed me, but it did.
If I'd stuck to my surly roots and refused to give Gaga a chance, I never would've been in that room with all those people drawn together for the love of art, music, and being freaks. And it wasn't for some glossy pop-star or orchestrated boy-band, it was for a lady who actually writes her own songs, and loves gay people, and says rude things on TV.
So I'm glad I stopped being so skeptical for once — because if I'd stayed on my fence, I would've missed the dancing.