Happy holidays you guys! We made a couple of things for your gay shopping needs. Here they are: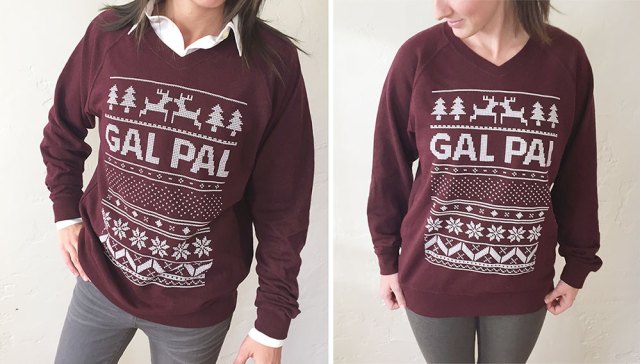 I'm really into dumb holiday shirts/sweaters. For every single day the week before and after Christmas every year, I wear the same awful semi-turtle neck I got at K-Mart that's three sizes too big for me. I love it so much. So this year when we were thinking of what to stock the store with, I got really excited about making an ugly holiday sweater thing with a gay theme: GAL PALS OF COURSE.


The design is made up of these tiny little things that give the sweater that "knitted" look. And the sweater is made of lightweight terry is perfect for layering, as evidenced by my white collared shirt or Brittani's awesome chambray shirt underneath.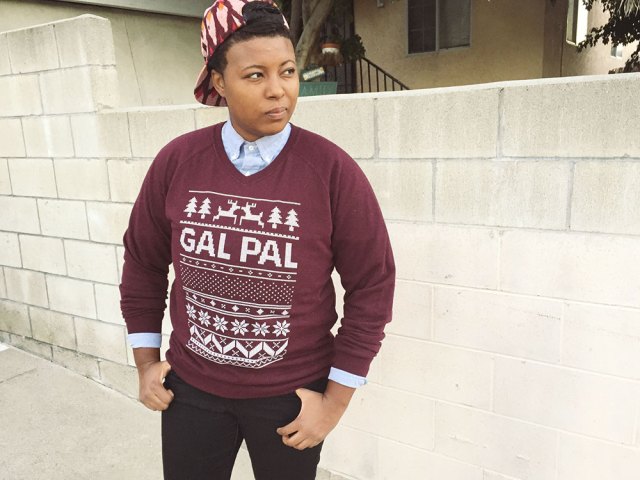 More importantly, we only printed 100 sweaters so these will go quick and they are only around for this holiday season. So snatch em up while you can!
A Note On Sizing: This sweater is a mens sweater, so I recommend ordering a size down than usual. I usually wear an extra small in mens, so the small fits me with some extra room.
---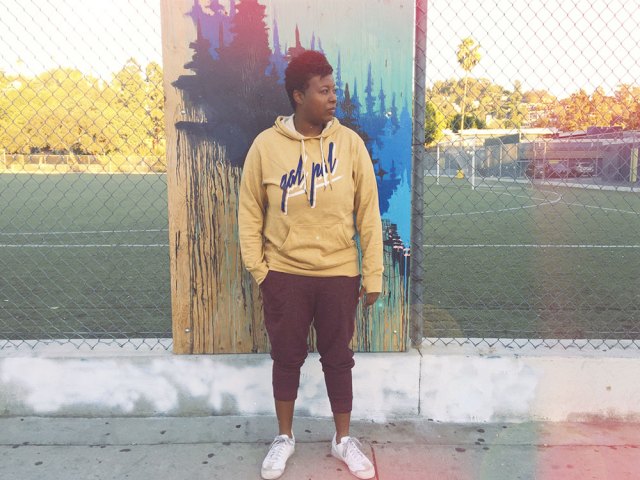 This pullover is like being hugged by sunshine. The colors are pretty great and we can finally say we have more than just black and grey things in our store.
The "Gal Pal" imprint is navy and white, and the fabric is soft french terry.
It also has thumb holes!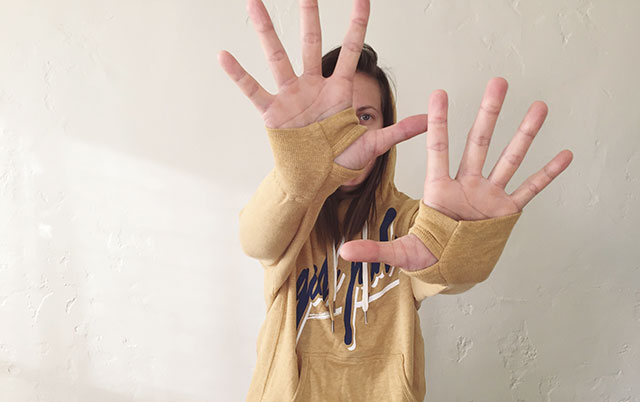 A Note On Sizing: This sweater is unisex. Most of the stuff in our store is unisex, so if you've ordered from us before, the sizing will be pretty typical. But for those who need a description: the sizing will be larger than typical women's shirt, but slimmer than a mens shirt. I'm wearing a small (and usually do) but could honestly go for a medium. It's a hoodie after all.
---
There's a size chart provided for everything in the product images in our store.
Happy shopping, guys!