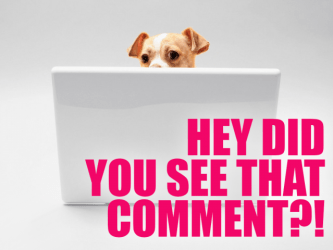 Hello, Wallaroos! Well, I went to the zoo today and, yes, I, an adult human, rode the little train. I refuse to apologize for it. If there was a conductor's hat available to me, I would have worn it!
This week was Trans Awareness week! To celebrate Mey gave us a history lesson super cool trans women from back in the day, taught a master class in transgender comic book characters AND gave us a list of the best trans movies. Then Gabrielle Bellot wrote a beautiful personal essay about loving herself. I loved it and her.
There was a republican debate, which I didn't watch because I knew Rachel would tell me the important parts and she did!
Carmen kicked off the Holigay Meet-Up Season – the true Reason for the Season. And there's already a few set up: Thanksgiving in Indianapolis, a potluck in Seattle and crafting/ugly sweaters/hot chocolate in Manchester!
Alaina nailed what it feels like to be a college senior. As someone currently in the last semester of grad school I can totally relate to all these feelings. Amber spoke to our small town hearts – saying all the things we wished we said.
In true meta fashion, Melanie found a Hidden Gem by Deb Jannerson, one of our very own Autostraddlers. Brittani demanded to be sexualized. Mission accomplished.
Also:
"Knock, knock."
"Who's there."
"Olive."
"Olive who?"
And Comments!
---
On Spend the Holigays With Your (Queer) Family: Host an Autostraddle Meet-Up This Season!:
The Festivus For The Rest Of Us Award to Anna: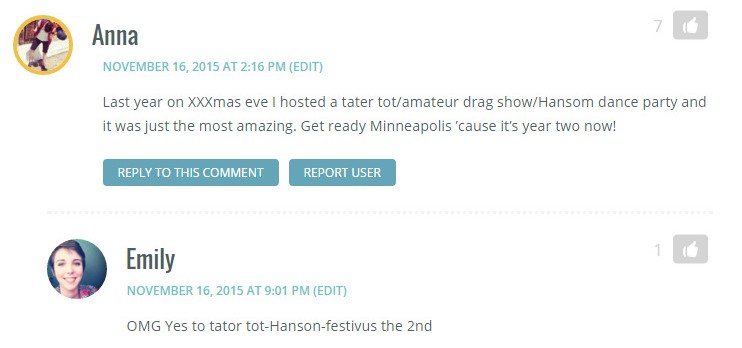 On 31 Lovely Recipes that Say "Olive You":
The The Hyberbole and Three Quarters Award to Rie: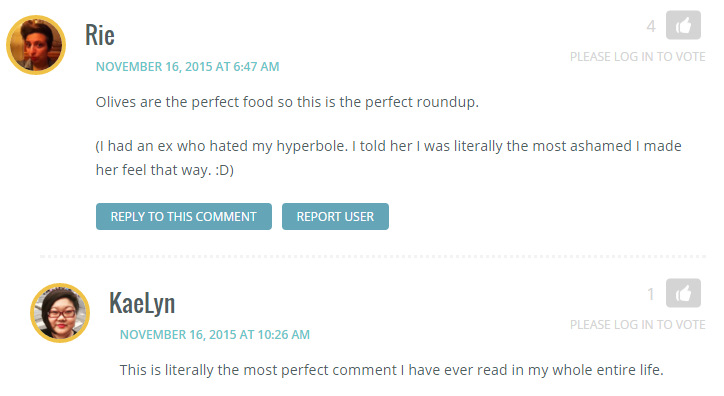 On FRIDAY OPEN THREAD: Which Hogwarts House Is Best In The Sack?:
The Comment Award Award to emily:
The Strong Feelings Award to Lucy Hallowell (and really every single commenter on this post):
On NSFW Lesbosexy Sunday Wants To Dehydrate You Slightly:
The Out of Context Award to breck:
The Teen Hearthrob Award to m. teerexington.:

On All The Things I Should've Said In My Rural Town:
The What Was Old Is New Again Award to busylilro:
---
See a clever, hilarious or thought provoking comment around this website-ship? Email it to me at: bren [at] autostraddle [dot] com!