Y'all! It's the holigay season all over again! I'm overjoyed, delighted, and other synonyms for "blissed out" because of this, and as you read this am probably listening to my Bing Crosby holiday records and lighting a sugar cookie candle. This is my favorite time of year, and not only because I love gifts and also hot apple cider. It's also because I know that the holigay season means holigay meet-ups, and that holigay meet-ups can only mean one thing: previously unprecedented levels of jolliness and inner warmth.
The mainstream holiday messages we're bombarded with this time of year are always centered around the traditional notion of family. This year, let's make the season gayer than ever by spending it with our chosen queer families — our partners, our gal pals, and our fellow 'straddlers — at meet-ups all over the world!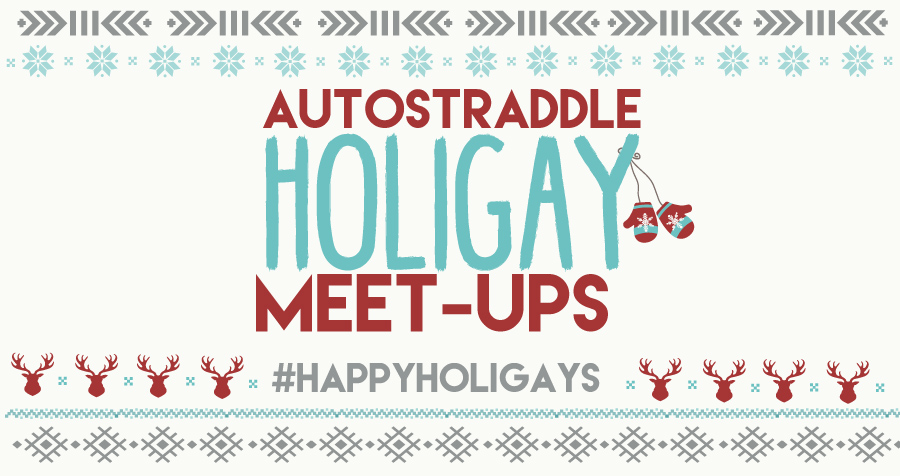 We've spent the last two winters rockin' around the Christmakwanzakah tree together, and it's been a blast. And all it takes to keep this storied holigay tradition strong are readers like you — yes, you! — brave enough to open their hearts and potentially homes to other members of this amazing community by hosting holigay meet-ups through the new year.
Hosting a holigay meet-up is more fun than baking a batch of sugar cookies shaped like snow people, and it's definitely easier than humming any part of The Nutcracker in tune. Your meet-up can take any shape or size and will still make everyone's heart grow three sizes: You could make breakfast / brunch / lunch / dinner reservations at a local spot for you and ten other weirdos from this website to keep the festivities simple, invite your fellow queers into your humble abode for a night of holigay crafting, or even check out a tree lighting or a holiday festival with a crowd of 'straddlers. Heck, you could even go the extra mile and volunteer together at a soup kitchen on Thanksgiving or keep it classic and grab drinks during happy hour.
Once you've decided on an activity and a time to do it, figure out a way for folks to RSVP (Intern Nikki made you a pretty Facebook event banner that will fit just right, but feel free to utilize other sites or create a hanky code for your event instead!) and submit your event details to us via this link right here. We'll post all the events and push them out on social media and in our link round-ups, so you can be sure nobody will miss out on the fun.
If you're looking for inspiration, you should get lost in our holigay archives, follow our holigay board on Pinterest, and / or keep your eyes peeled for awesome holigay content comin' your way via this very website all season long. We've got you covered for everything from food and drink ideas to picking out your meet-up outfit, I promise.
If you're not hosting a meet-up, you can still get in on the action! All the events submitted in the next few months with a distinct holigay theme will be posted under the "holigay meet-up" tag, and all of the events submitted over the next few months, period, will be archived right here. You can follow us on Twitter, like us on Facebook, and get hooked on our Tumblr and Insta to keep tabs on the holigay happenings, too.
In the meantime, be sure to post away on social media with your most festive face on using the #HappyHoligays tag! We're already excited here at Autostraddle HQ (which doesn't exist IRL, but lives on in our hearts) to see you catching snowflakes, making gingerbread houses, and spinning dreidels.