Last night was the second Democratic debate, and a smaller one — Jim Webb has dropped out of the race since the first debate, and Lincoln Chafee has returned to his post governing the denizens of Whoville, so the Democratic candidates are now just Hillary Clinton, Bernie Sanders, and Martin O'Malley. You can read a full transcript of the debate here, and read a fact-check of it here. You can also watch the debate in full here, although unfortunately that video does not seem to include the truly staggering amount of Twitter screencaps and analytics that CBS was intent on breathlessly updating onscreen throughout the night. You'll just have to draw your own realtime pie graphs of how many times people tweeted the candidates' respective names, I guess.
Depending on your preferred angle, the take of the night was generally "did Hillary lose the debate?" or "was this O'Malley's breakout moment?" Whereas O'Malley's performance in the previous debate led many to question whether he was going to be able to stay awake the whole time, in this debate he was well-prepared, with lots of numbers and examples, and ready to point out what he sees as his opponent's mistakes. For many, I think his charisma and sense of winning personality are still lacking, but many found his points themselves pretty impressive. Hillary spent much of the latter half of the debate on the defensive for taking campaign contributions from "big banks" on Wall Street, an accusation which she explained by pointing out that she had worked to help rebuild Wall Street after 9/11, which I think had mixed success in reassuring viewers. There were few surprises from Bernie Sanders — he reiterated a call for a political revolution, his desire to raise taxes on the wealthy and provide free college education, and "break up big banking."
With this debate taking place almost immediately after the tragic attacks in Paris on Friday, there was an extra emphasis on foreign policy and responses to terrorism; after Bush's tenure as President, many Americans have been primed to expect reassurance of the US's military prowess, and I wondered if and how we'd see that play out on the debate stage. (Sidenote, I'm very interested in if and how this is impacting Republican Lindsey Graham's campaign, since his entire platform is basically that ISIS is bad. Oh wait, I checked, and apparently his take is that "there's a 9/11 coming if America does not lead the ground war against ISIS." Okay.)
Asked to defend and explain the Obama administration's claim very shortly before the attacks began that "ISIS isn't gaining strength," Clinton said that ISIS "cannot be contained, it must be destroyed," and that the growth of ISIS was primarily Iraq's fault; she also discussed updating the government's authorization to use military force against terrorist groups for the current situation. Sanders was more interested in looking at interconnected events globally that have led to instability and conflict, like climate change depriving many of water and crops, as well as the American invasion of Iraq, and he took an opportunity to remind viewers that Clinton had voted for the Iraq war. O'Malley seemed to attempt to hedge his bets on both of these views, repeating some of Clinton's language about American needing to step up to defeat ISIS and reinforcing Sanders' point about the invasion of Iraq being a mistake.
Other major issues, like gun control, immigration, the Syrian refugee crisis, healthcare and Black Lives Matter were discussed. I don't know that any candidate really broke from the pack in a meaningful way on any of those issues, but dynamics between the candidates were interesting. Sanders and Clinton made a point of agreeing with each other and commending each other for policies or decisions several times, leading some to believe that they could be priming Democrats for a Clinton/Sanders ticket. Conversely, O'Malley seemed to come into the debate ready to take shots at other candidates, pushing them on their records and any inconsistencies he saw. At times, given the relative similarity of O'Malley and Sanders' platforms, it felt as though they were joining forces against Clinton. The overall sense is that Hillary is still the frontrunner and likely DNC nominee, but that O'Malley may have made a case for himself as vice president based on his performance last night. In part because she is the frontrunner, Hillary took the brunt of criticism last night — no one brought up that while Sanders disagreed with Hillary on Iraq, he hadn't opposed American military presence in Afghanistan, and while Sanders did get in a jab about Baltimore not being "the safest city," O'Malley's performance as governor during the recent political unrest in Baltimore, which turned many residents of Maryland against him, wasn't discussed.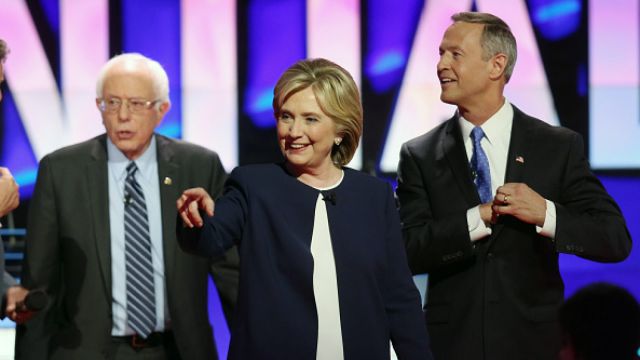 What stuck out to you as major highlights or lowlights? Is there something you wish they'd talked about that wasn't discussed? Did anyone understand CBS's weird Twitter analysis better than me?