Kelsey and Taylor are moving to the Bay Area and have embarked on a vast, winding, southern gonzo road trip on the way there to see all of the things worth looking at. They left Brooklyn in June and August, respectively, to get ready to Do This Thing. The thing being to set out for San Francisco, that illustrious place of willful reinvention, half-sleeve tattoos and tall trees made of red. This is their Tumblr and This is their story.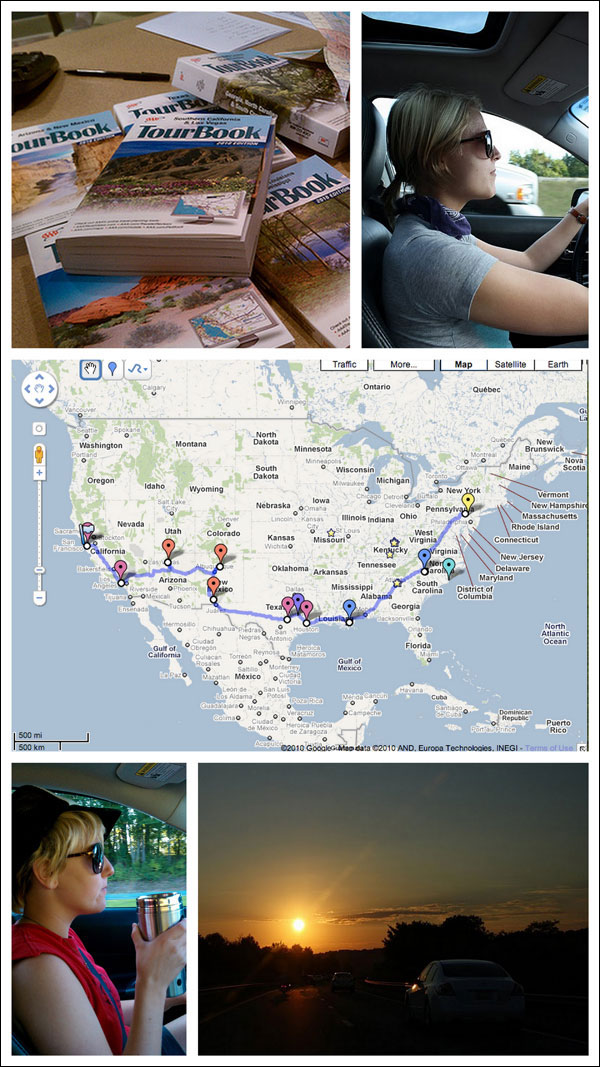 PRE BLAST-OFF: ALLENTOWN, PA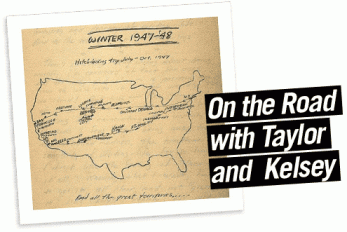 So we had this plan, this plan of epic proportion, colossal even, to start our lives anew. At the end of August, we would take to the highway and transform into road-warriors, which are a more highly evolved being like on Ice Road Truckers.
We would dine exclusively out of modestly portioned ziploc bags and I wish Dippin' Dots, but they don't sell Dippin' Dots in rest stops for reasons unclear. We would don our road-warrior uniforms, crumpled unidentifiable heaps of fabric excavated reluctantly from a back-seat and rule the passing lane with an iron fist and a pair of aviators. And we would do it for as long as it took. Which hopefully was around a week because probably we couldn't do it for longer.
The time drew near. The last Saturday in August, Kelsey's delightfully (?) overzealous agents of rearing insisted on throwing us a going away party. Naturally, there was a cake featuring a creative grocery store icing rendition of the Golden Gate bridge, and a lot of light beer and suburban gay sexual tension and pasta salad and what-have-you. It was a runaway success; it will probably be featured in Good Housekeeping, hearty slaps on the back all around.
Fast forward to whatever day we were supposed to leave, I think Monday. Kelsey's mom breaks the news that a hurricane is about to absolutely devastate the fucking shit (her words) out of Stop Numero One-O, Wilmington, NC. And it's name is Earl. Really?
The plan was to visit Lynn Real Last Name Unknown who is also called Scantron, probably because she excels at standardized testing. Lynn accessories with aplomb and does these things here, among other things elsewhere. Lynn also lives at the beach, and she's neat and one time I made her eggs over medium in Park Slope, Brooklyn. Correct me if it was an omelette.
See, the thing is that I need to spend some time at the beach. Because I goddamn love it there. The ocean is vast and impossible and I like to wade out, slow and far. And I especially like it because if anyone tries to make me get out of the water I can just swim away from them, which is easy given that the coast is technically infinite.
So Kelsey and I are clearly lusting for the sand and the surf and the mixy in-between parts. We watch the Weather Channel. We endure the local-on-the-eights, every eight, and there are many. We track the Doppler until our eyes bleed, like in True Blood when the vampires feel sad. I weep myself to sleep for three days, and my soul kind of finally uncrosses its arms, and we decide fuck this shit, our hearts will go on and on. And they do.
Thursday morning we stuff Kelsey's Mazda 6 to the proverbial gills with 100% of the objects-we-own-on-this-earth. Kelsey's mom strategically pokes bottled water into all of the little holes between the bins and suitcases like we're driving some kind of live-action game of Jenga. My teddy bear, Brown Bear, is all riding high in the backseat because he's a great guy, and he's been really patient through this whole process but like, he's ready to get the fuck out of Pennsylvania. And so are we. The three of us just want to live deep and suck out all the marrow of life and stuff. And then we were off.