by alex & riese
Today Adam Lambert's "If I Had You" video premiered and WE FUCKING LOVE IT, obviously. It's basically a wild Burning Man-esque vampirey forest party of ecstasy, love and FIAR. The video features many of Glambert's friends from his days in L.A.'s "Zodiac Show" as well as Allison Iraheta from American Idol and reminds us of lots of things, like Boy George and Vampires!
+
All You Need is Love
Although we personally like to believe that "If I Had You" is about how Adam Lambert would give up his ipad (or a similar piece of gadgetry), fame, fortune, etc. to be our boyfriend, Adam Lambert told MTV news that it's actually about loftier things: "no matter what color your skin is, no matter what religion you are, no matter what your sexuality is… we can all party together. All this other stuff– money, success, fortune, fashion, glam — it's all great but it doesn't mean anything if you're not connecting."
Mhm. For example when Adam Lambert wears white pants, we connect.
Burn Baby Burning Man
Adam Lambert had his big eye-opener about trying out for American Idol at the yearly Burning Man festvial, where Lambert saw "people living in this Utopian society" and found that idea "beautiful."  This sentiment is reflected in the If I Had You video, where we learn that Maseratis (a type of car apparently) and stripper heels (which are impossible to walk in) are unnecessary when you have the "neo-hippie movement," bicycles and Love Love Love.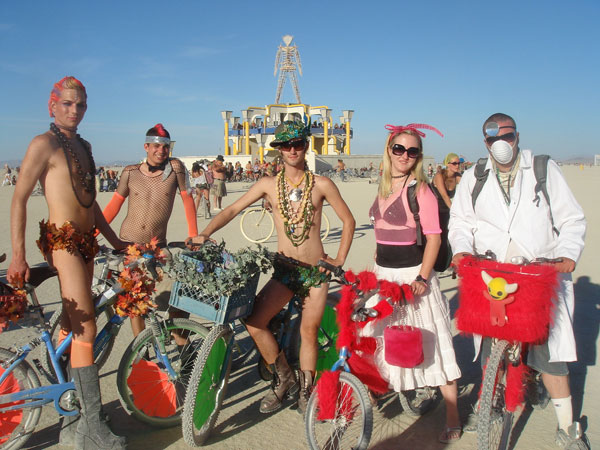 Adam Lambert, Karma Chameleon
Adam Lambert is clearly channeling Boy George in this video by dressing exactly like him and donning Boy George hair. Even the makeup! It's so perfect.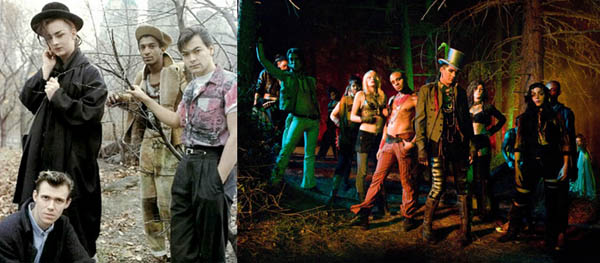 If you're like 12 and live under a rock that was put over your head at birth, preventing you from knowing things about the past, Boy George is a British pop star (best known for "Do You Really Want to Hurt Me?", "The Crying Game" and "Karma Chameleon") who, like Adam Lambert, was influenced by David Bowie and Iggy Pop and was gaaaaay. However, unlike Adam Lambert, Boy George reached a level of prominence in the 80's when people weren't really "out." For example, Boy George's boyfriend Jon Moss, the Culture Club's drummer, was never comfortable being in a same-sex relationship with Boy George and had been married to a woman when the two first met.  This under-the-radar relationship, among other destructive forces, made the inner workings of Culture Club really tumultuous and all this terrible stuff happened and Boy George became a heroin addict and his friend/co-writer OD'ed in Boy George's apartment and Boy George was arrested and the whole thing was all quite sad & messy and the band broke up.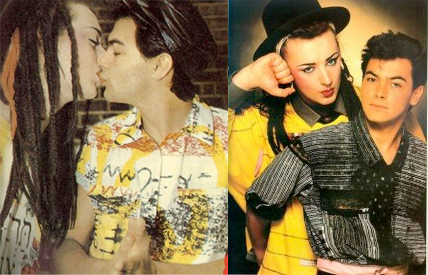 In many ways it was artists like Boy George who paved the way for artists like Adam Lambert to thrive unencumbered by the homophobia and conservative discomfort that made George/Moss's relationship so difficult. (Well that wasn't the ONLY thing that made it so difficult, you'll have to watch Behind the Music for the full scoop) It's awesome that Adam is paying tribute to him in this video. 'Cause whereas Boy George was like "you're making me cry, now I'm gonna do heroin," Adam can be like "Holler look at my codpiece!"
Adommy 'Shippers, Your Boat Has Arrived
Also, um, this song is (maybe) about how if Adam had the man he loved, he wouldn't need money, fame, fortune or twitter. Everyone knows Boy George's songs were often about Jon. Obviously this would have to be subconscious as this song was written eons ago in Glambert-Time but MAYBE JUST MAYBE Adam is channeling Boy George here because of the secret love burning between Adam Lambert and Tommy the ("straight") bassist! You know, you saw them kiss at the AMAs (our Second-Favorite Moment of 2009) (Adam sticking that guy's head in his crotch is our First-Favorite Moment of 2009. Same night, same place.). YEAH AMIRITE? Probs not. But I expect at least ten angry comments. Any less than that and I'll be disappointed.

Mainline my Heart
Furthermore on this Boy George tip, Adam's saying that "there's a thin line between a good time and a flatline," which Riese thinks means "sometimes you have so much fun, you have to be careful not to accidentally die!" but everyone else thinks means, "all we need is love, there is no need to OD and die."
The Illuminati
Also Adam is giving us the sign of the Illuminati:
Sleep All Day. Party All Night. It's Fun to be a Vampire.
This video is everything our music editor Crystal loves about the world: Vampires and excessively studded leather.
Q: Crystal what do you think is the "right amount of leather"?
A: 50% minimum.
Did you see The Lost Boys? Well you should, because it's a super-important vampire movie from the 80's, and a lot of it takes place in the forest and there are mullets involved, kinda like this music video!
Did you see Twilight? Crystal did, she loved it even though Riese thinks it's Mormon abstinence propaganda: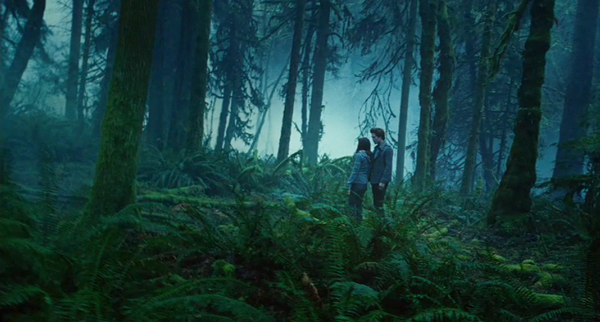 In conclusion, this is clearly a video about love, sex, bloodsugarmagik, with extra crazy-sexy-cool. Adam gets to dance, wear hot outfits, and play homage to the homosexy stars of the 80's, all while still managing to make Crystal think about Twilight: New Moons Over my Hammy. Bravo, Adam Lambert! BTW if we had you, poverty, irrelevance and debt never could compete.