Do you remember first getting your period. Were you excited. Do you hate yourself in retrospect for your excitement. Do you love it. Are you uncomfortable. Listen, we're here to change your life. Make it better.
Long before getting my period, I enjoyed both Judy Blume novels and advertisements disguised as pamphlets about teenage girls named 'Ginny' 'Patty' and 'Donna' who had questions about pads, tampons and boys. This book, Growing Up and Liking it, produced by esteemed literary press "Personal Products," inspires its reader to anticipate one's period with sunflowers and fonts:
Of course, the reason companies even make literature like that is 'cause they have PRODUCTS FOR YOU! And as you may know, periods are both inevitable and expensive and often, for lesbians, especially irritating. In "Butch.Period," a recent article by Heather Robinson for Curve Magazine, she writes:
Though I don't know many women who love their periods, I'm more disgruntled than most. My cycle makes me acutely aware of all the Earth Goddess parts of me, and it's impossible to ignore the baby-making organs on board. I'm just not made for menstruation. Despite my 20 years of visits from Aunt Flo, I am still caught unaware on a regular basis. Sometimes I wonder if I'm not being passive-aggressive with my own body. Meanwhile, my poor cargo shorts continue to pay the price.
Let's lighten that load. We're gonna tell you about menstrual cups and if you can't handle it (which is fine, I can't!) then we still have a super-special-secret way to ensure Proctor & Gamble's lease in your vagina doesn't get out of control.
"Our society creates a hospitable climate for cuntpower to be generated into profits amassed by large corporations…. taking responsibility for one's bleeding ways is part of the reality-based revolution founded between the soft, luscious thighs of every woman on the planet… a more material aspect of this revolution is downsizing the percentage of our funding to corporations that exists for no other purpose than to constrain women in the throes of body-alienation and perpetuate our deleterious relationships to our cunts."
–CUNT: A Declaration of Independence
by Inga Muscio
1. The Menstrual Cup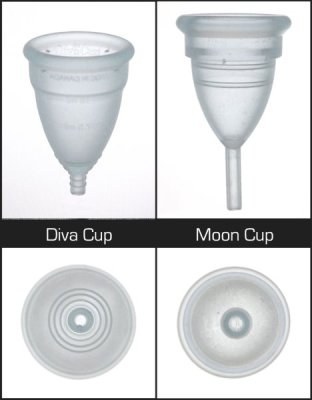 Dina and Laura have kicked down some patriarchal walls for Real Life: I Use a Menstrual Cup.
Dina
Age: 27
Menstrual Cup User For: Four years or thereabouts
I moved into the dorms at my total hippie college when I'd just turned 18, and we celebrated our new beginnings by spending a weekend retreat before school started on Camano Island, where I found myself elbow-deep in alternative living choices.
One day after breakfast, the conversation turned to periods. "Oh, I use sea sponge tampons!" one of them said, a look of manic pride on her face.
"Oh, I use the Keeper menstrual cup!" another woman said. "It's wonderful! I can save my blood and paint with it!"
"I put my blood in a jar so I can feed it to my plants!" someone else piped up. "They perk right up, it's so beautiful!"
Meanwhile, I was sitting there trying hard not to look horrified. Needless to say, this girl from the suburbs was a bit traumatized.
It took me five years to even consider buying a menstrual cup for myself, but once I got my Moon Cup from the UK, I was hooked. Now I even help moderate the Menstrual Cups LiveJournal community because I'm a special kind of crazy.
(And no… I don't feed my blood to any of my potted plants.)
Laura
Age: 21
Menstrual Cup User For: Ten months
Last Christmas break, the first day after getting home from out universities, my friends and I were sitting around and talking about everyone's semester, including the three who'd just gotten back from studying abroad.
The group consensus seemed to be that, while Europe was great, periods were a problem. The only tampons you could buy in Austria, Germany, France, and Spain were o.b.-style and if you managed to find a pack of ones with applicators, they cost three times as much.
Because I take my menstrual healthy very seriously (read: I wanted to go abroad but wasn't interested in shoving the dry, cotton equivalent of a cork up my vagina without the help of silky silky plastic) I went home and got on my computer to try to figure out what my options would be if I went abroad. I don't even remember where I found menstrual cups, but after ten or so minutes of being grossed out, then fascinated, I realized I had to have one.
Diva Cup might be the most hilariously inappropriate name for an item designed to capture blood, but I love products with ridiculous names; my bike is called "Urban Soul." Mine has reduced the amount of trash I create, soothed some of my cramps, and inspired bonding. I recently got text from my friend, Jonathon, who's climbing the Appalachian Trail that said "All the girls on the trail have menstrual cups too!! Miss you so much."
While it has its share of downfalls, we're talking about a vagina band-aid; nothing's going to be perfect. Since the product websites take special care not to be graphic, Dina and I aim to let you know all the things that you actually want to know when it comes to menstrual cups. If you've ever used one, we want to hear from you! Let us know what you like, what you can't stand, and if you have any tips or warnings that we didn't think up.
— The Good —
+
+The Price Is Right
Dina: When I consider that I was spending about $10 on pads before, my $50 cup paid for itself in less than half a year! If you're inclined to think they'll work for you, I suggest you give it a try. Figure out how much you spend per month on menstrual products, then see how many months it would take to make the amount you paid for the cup back. If you give it a try for that long and don't like it, then you haven't wasted any money!
Laura: I know the initial price seems steep (I paid $30), but these babies last ten years. Ten years of tampons adds up to about $1000. Eek!
+Comfort City
Dina: I find them much more comfortable. For me, pads chafe and smell funny after a while, and tampons are dry and scratchy and give me horrible cramps. The cup is non-absorbent, so it doesn't dry your vagina out like a tampon can. This also means that the risk of TSS is much lower than with tampons – possibly even nil. I could always feel a tampon inside me when forced to use one, but I don't feel the cup at all.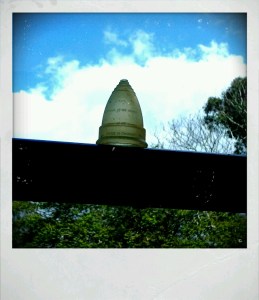 +Environmental Friendliness
Dina: They are also a lot more ecologically friendly – no throwing away used pads, tampons and packaging!
Laura: Tampons are really really white which means bleach was used in their production. I know they're safe, but the thought of putting something porous that's been soaked in bleach inside of me isn't super appealing.
+The Pocket/Purse Issue
Dina: I love not having to carry around a handful of pads and/or tampons around with me when I'm on my period (or suffering the embarrassment of running out).
Laura: My friends would probably have me put this in "The Bad" column because I never had tampons when they come looking for one, but honestly this is a wonderful thing. If you keep track of your period, you can put your cup in the day you're supposed to get it so that you don't have the play everyone's least favorite game: it's the first day of my period so now i have to go home and scrub out my underwear. Or you can just keep it in a little cozy in your bag.
— The Bad —
+
+Making It Work
Dina: While I think cups are great, I also recognize that they're not for everybody. Some people aren't comfortable using internal products for various reasons. Others might find it difficult to use – it does take a while to master. (Remember that LiveJournal community? Lots of helpful people there!) Some people have leaking problems and have to try a couple of different cup brands before they find something that works… and not everyone has that kind of money to burn.
Special Correspondent Intern Emily: I had followed the instructions and I got stuck at the second to last step; when you insert it, the cup is supposed to open up inside of you, but it just wasn't. I spent a few hours on the LiveJournal mentioned above and found the sections about first time use and popping open to be really helpful.
Basically this LJ is everything you've ever wanted to know (and more). It's great because they're real people and not brand instructions. There are so many more methods than just the ones that Diva tells you about in the instructions.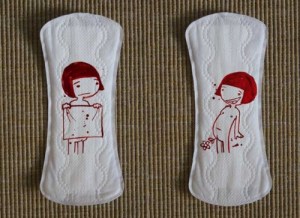 Laura: It took me a whole period to get it to go in right without leaking and the first time I got it in, I nearly had a panic attack because I couldn't get it out. It turns out all I had to do was used a little toilet paper to pull on the stem because my fingers couldn't quite grip it. As far as the stem goes, mine was a little too long so I had to cut it so it would stop mercilessly poking my vagina every time I moved.
+
+Cleaning
Dina: My cup stains. Also, cleaning it in public can be kind of annoying – wiping it off with TP in the stall means that sometimes little toilet paper clumps get stuck to it. Bringing a water bottle into the stall with me and trying to clean it over the toilet makes me afraid I'm going to drop it and lose it forever. Just emptying it without cleaning means I get to deal with the tiny bit of blood mixed with vaginal juices that's left behind. Unisex bathrooms are nice because usually the toilet and sink are in the same room!
Laura: Just because I'm comfortable with my period doesn't mean my roommate is. I have to schedule cleaning it (I soak it in vinegar because I fear yeast infections like it's my job and then boil it for 20 minutes) for times when she's not around. As far as my neurotic tendencies go, the whole public restroom thing can be a problem. If I forget to empty it out in the morning, it's going to overflow and leak and I'm not totally down with taking it out, walking to the sink, rinsing it out, and then going back in the stall and putting it in because that's slightly disgusting.
— The Ugly —
+
+The Gross Factor
Laura: This one's pretty obvious. You've got to be pretty comfortable with your vagina to decide to use one which, really, isn't a bad thing to be. My mum thinks it's gross and has asked me multiple times if it's FDA approved. Once you get past the initial disgust, you have to realize that you bleed a lot more than you might think. When it's all soaked up in a pad or tampon, you might not realize just how much blood is coming out of you every month. The upside of this is that I've realized that I need to eat healthier, especially during my period, to keep me from getting shaky or worn out too easily.
+ Going to the Bathroom
Laura: Using a menstrual cup does make me feel like I have to pee more often than usual. I think it's pushing on my bladder and making it feel more full, but I know that I tend to get up to go to the bathroom 3 or more times before falling asleep when I'm using it.
Dina: Whenever I have to remove my cup, I bear down. Unfortunately, that uses the same muscles I use to poo. Which means that every time I have to poo with my cup in, I feel like it's going to fall out into the toilet. When I'm at home I'll usually just pop the cup out before I drop the kids off at the pool, but if I'm at work? I've been known to put my finger over my vagina to hold the cup in. I've never actually gotten close to losing it that way, but… it's still a concern to my paranoid mind.
+I've Never Been So Scared Of Losing My Grip
Dina: One time after rock climbing, my cup started to leak and I had to go to empty it. My hands were really shaky from all the work (I have carpal tunnel syndrome), and I couldn't get a grip on my cup. Before I knew it… plop! Into the potty it went. I had to reach down the toilet hole to retrieve it! (Thank goodness I live in Australia, where there's only a small amount of toilet water rather than the giant swimming pool in American toilets!) After tearfully and furiously scrubbing it off in the bathroom sink (and getting extremely strange looks from a gaggle of ten-year-olds) I had to put it back in. What else could I do? I don't carry around tampons anymore! Ahhh! Luckily my vagina lived to tell the tale, and I keep a death grip on my cup at all times.
— The Bottom Line —
+
Menstrual cups are economical, ecologically friendly and effective for many vagina-having people. But they're not for everyone. At the end of the day, as long as you're happy with what you're using, we're happy!
What do you think? Do you have a cup? What's your favorite brand? Or could nothing ever convince you to shove a piece of latex/silicone/thermoplastic elastomer up your ladybits (at least for menstrual purposes)?
2. Do It Yourself
Of course cups aren't for everyone, but if you're still determined to be the best lesbian hippie you can possibly be, you'll probably be excitant about some other options out there, like making your own pads!
3. Toxic Shock Station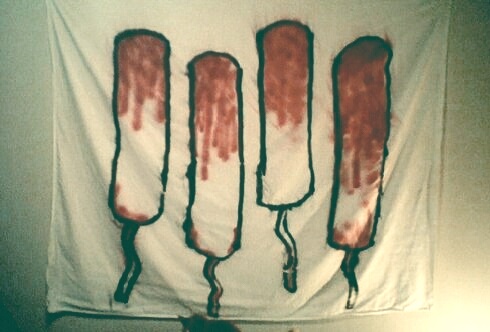 Because we need 'money' to 'fund this operation' — so much more than we have, in fact, that we're constantly asking you for it — we're always thinking of new ways to facilitate the giving-of-money. That's why we've put together this fantastic Autostraddle A-STORE so that you can save money AND stick it to the man. 'Cause Amazon is the man, right, but so is CVS and Walgreens and Duane Reade and Rite-Aid, so if you're gonna support all those places, wouldn't it be way cooler if a little bit of that went to someone else, like say, Autostraddle? Well, just order your tampons on the internet and we get like ten cents, which eventually adds up to A BAJILLION DOLLARS.
Here's some of those things, but really go visit the a-store. BUY THINGS; FUND AUTOSTRADDLE; WIN/WIN!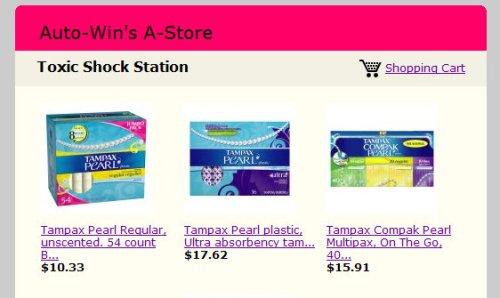 Go all-natural with Seventh Generation Chlorine-Free Organic Pads or Natracare Organic pads to keep chemicals out of your vadgehole.
The best way to save money is with a Lite/Regular/Super 80-count Multipack for $23.50 (.15/tampon) or  A 40-Count Multipack at $13.66 ($0.17/tampon).
As aforementioned, Menstrual Cups are super fun. Moon Cups are sold on Amazon in multi-packs, you can select how many  you want from two [54.59 ($27.30 / Item), which saves you $16.19 (23%)] to twelve [$314.30 ($26.19 / Item) which saves you $110.38 (26%)], or just get your two-pack in Size A MoonCup, or Size B MoonCup. Other Brands include Diva Cup Diva Cup #1 Pre Childbirth $25.95 (save 34%) and Diva Cup Diva Cup #2 Post Childbirth $22.95 (save 42%) and The Keeper Size A 1 Pk By Gladrags: $27.48 (22% off store price).
Hey did we leave off your favorite menstrual accoutrement? Tell us and we'll add it to the store! Happy bleeding, revolutionists!!