There's been a certain trend in our posts of late on the Gay Teen Suicide issue – reports on the suicides and their fallout, of course, but also reports on people like Candi Cushman and Carl Paladino, with the suggestion that these topics are PERHAPS NOT UNRELATED; that the systemic and institutional dismissal of our community might contribute to individual human beings feeling dismissed, unworthy, invisible. There is now a certain amount of awful, heartrending confirmation of that theory.
Zach Harrington, 19, killed himself after sitting in on a City Hall meeting discussing whether or not to make October GLBT History Month in Norman, Oklahoma. He listened to things like one man saying that he'd "moved to Norman because he thought it was the kind of place that would never accept the GLBT community with open arms," and then he went home and killed himself about a week later. What else do you have to say? What else is there? (@jezebel)
It's possible to spend plenty of time breaking your own heart wondering why Zach went to the meeting at all. Our best sad speculation is that the idea of a GLBT History Month mattered to him, and he went to City Hall to lend his one small voice in support of it.
Harrington's father says he's not sure why his son attended, but that "he feels his son may have glimpsed a hard reality at the Sept. 28 council meeting, a place where the same sentiments that quietly tormented him in high school were being shouted out and applauded by adults the same age as his own parents." (@examiner)
Zach's sister was quoted as saying that "When he was sitting there, I'm sure he was internalizing everything and analyzing everything… that's the kind of person he was. I'm sure he took it personally." I want to take issue with that statement.
I understand exactly what she meant – that even overhearing a homophobic comment can feel like a letter written just to you slipped under your door for the ten thousandth time – but I think it's wrong. I think we need to stop thinking of this as just "taking it personally;" like it's a mistake on our part, an unfortunate emotional overreaction to the climate we live in. We're not just "taking it personally;" it IS personal. It's MEANT personally. The people doing and saying these things, whether they're politicians or just active citizens, are adults with brains and hearts, and they understand that 1 in 10 people are gay and that there are 700 people in this City Hall meeting. At a certain point – especially the point after, what is it now, eight or ten suicides of people under the age of 25? – you know that you're hurting people, and you do it anyways.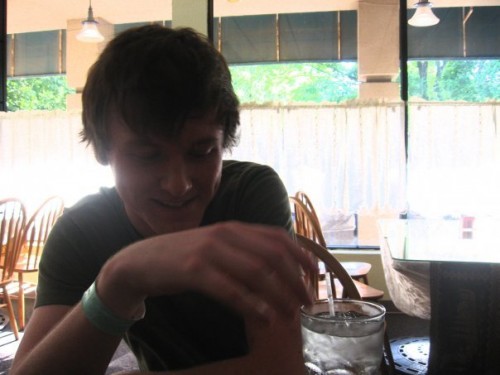 You hurt people when you say "fag" in a classroom, or when you let someone get away with saying "fag" in a classroom, or when you vote yes on Prop 8 or no on anti-bullying initiatives or when you tell your little cousin that maybe he shouldn't tell people he wants to be a figure skater when he grows up. That is personal. That hurts people, and sometimes makes them feel like they should hurt themselves. Zach Harrington is dead, and there's nothing we can do about that. But we can use this as an opportunity to remind people that they're accountable for what they do and what they say; we're all accountable to each other, and for taking care of each other. Jesus Christ, people. What are you doing?