Apartment hunting is one of my least favorite things in the entire world, along with team building exercises and dancing under duress at social functions. As you may be aware, I just moved across the nation in a car to stake out a little territory in the bay area. And turns out there's just not a whole lot of unclaimed land here, what with the gold rush, so we'll be renting an apartment from The Man, just like everyone else.
While no apartment search is painless, unless outsourced somehow to overzealous friends or people on a subcontinent somewhere, there is one glorious tool that kept me going through it all. Meet Padmapper.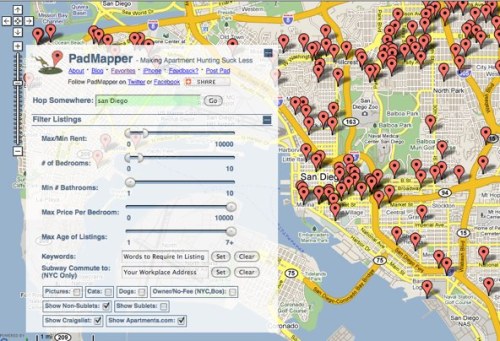 Have you ever noticed how Craigslist is the shittiest website you've ever interacted with? I mean, Craigslist provides invaluable services (for free!), but the site itself an eyesore and a brainsore too. That's where Padmapper comes in. Padmapper is a "front end" tool that filters Craigslist property listings through Google Maps, creating a clean, organized interface for your apartment hunting needs.
Select your preferred block/neighborhood/5 mile radius on Padmapper and watch as apartment listings meeting your specifications pop up as red dots on the oh-so-familiar Google Maps interface. You can save favorites, sort listings in a number of ways, hide them at will and even annotate them. Favorites satisfyingly appear as green dots on the map so you can keep it all straight.
You'll have that cat-friendly two bedroom with indirect sunlight and a clawfoot tub before you know it.