As a person who group up inside the cult of Fox News, and who spent years researching it academically to write about it, and who remembers every moment of the 2016 election in excruciating detail, I had absolutely no desire to watch Bombshell — until Riese told me Kate McKinnon finally plays an actual lesbian in it. I'm not talking about dyke-y hair and gun-licking as subtext. I'm not talking about just her general way. I'm talking about Kate McKinnon's character having sex with Margot Robbie's character and their relationship becoming the most emotionally resonant thing in the entire movie.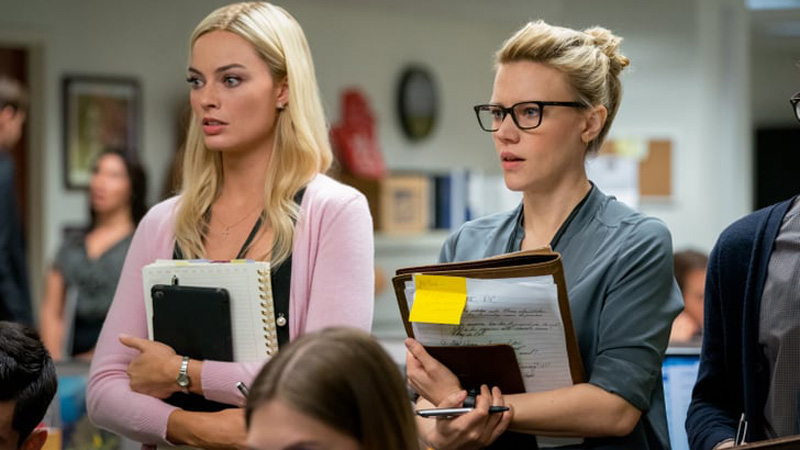 Okay, first of all: Bombshell is not a good film. I should just tell you that upfront. Part of it — most of it maybe — is that it tries to make feminist heroes out of Megan Kelly (Charlize Theron) and Gretchen Carlson (Nicole Kidman), both of whom were instrumental in having Roger Ailes (and ultimately Bill O'Reilly) ousted from Fox News, but both of whom only did so after their careers were in peril, and after fueling white supremacy with outright lies and fear-mongering propaganda; and exhibiting unrepentant racism, xenophobia, misogyny, transphobia, and homophobia on a daily basis; and empowering the Republican Party's descent into fascism. It's almost nauseating to watch two women who used their platforms to attack victims and survivors for years hoist an imaginary #MeToo trophy in the air.
Director Jay Roach and screenwriter Charles Randolph actually seem to know this! It's why Kate McKinnon's character, Jess Carr, exists in the film at all! Jess is a lesbian. She's a Hillary supporter. She watches Rachel Maddow. She quietly tries to warn Margot Robbie's Kayla Pospisil — a composite character made up of the probably zillion white, blonde, blue-eyed evangelical Christians who have made their way from journalism majors at state schools in the south to Fox News' intern program — about the rumors of the myriad ways a woman can be sexually harassed at the company. Not that Kayla actually needs to have it spelled out for her; Fox News is her family's lifeblood, but Jess says it plainly: "You have to adopt the mentality of an Irish street cop. The world is a bad place, people are lazy morons, minorities are criminals, sex is sick but interesting. Ask yourself, 'What would scare my grandmother or piss off my grandfather?' And that's a Fox story."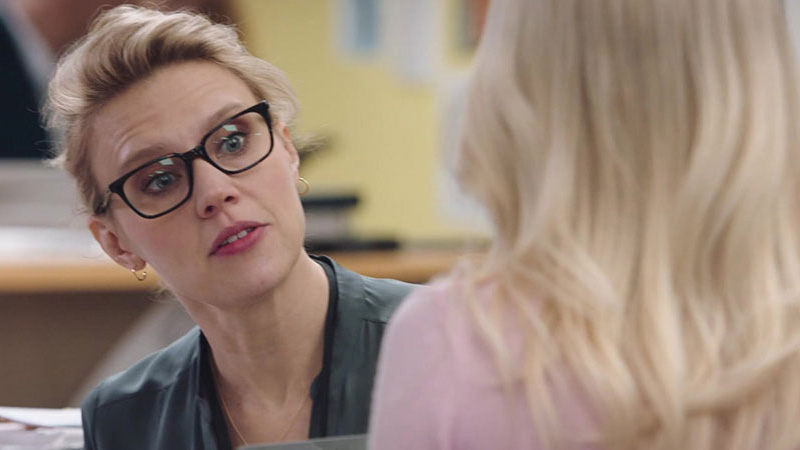 Ironically enough, while Megan Kelly is making her way around the Fox News offices like the queen of the castle, Jess tells Kayla that she would love to work anywhere besides Fox, but it was the first place she got a job, and now that it's on her resume, no other news organizations will take her seriously. That's not the only way Jess is juxtaposed to Kelly, whom she never actually even speaks with. She looks after Kayla the best she can. She coaches her. She warns her what closed doors not to go behind. And when Kayla finds herself behind those doors, Jess refuses to pass judgment, offering only compassion for another of the countless women who fell victim to the most powerful predator in an industry full of predators. Kelly, meanwhile, tells Jess it's not her responsibility to protect other women from the powerful men that she knows prey on them.
Jess and Kayla's scenes exist almost as if they're an entirely different movie.
But they're not! They are wrapped up inside a frenetic, fourth wall-breaking script that spans the months before Trump won the Republican nomination, including his attacks on Megan Kelly, to the day Rupert Murdoch fired Ailes and took over the newsroom himself. Megan Kelly's star is rising, Gretchen Carlson's star is falling, they meet in the middle and refuse to take responsibility for the evil they've wrought in the world. Hey, but, they both hate Roger Ailes! Theron, Kidman, and Robbie are all great, of course (with Theron taking home the prize for best wig), but even they don't seem quite sure who they're making this movie for. It's not liberals, who, I'm sure, mostly felt the same way I did when watching (annoyed and grossed out); or Fox News viewers, who don't believe anything they don't hear from Fox News itself. Maybe it's for those mythical independent voters in the middle of the country?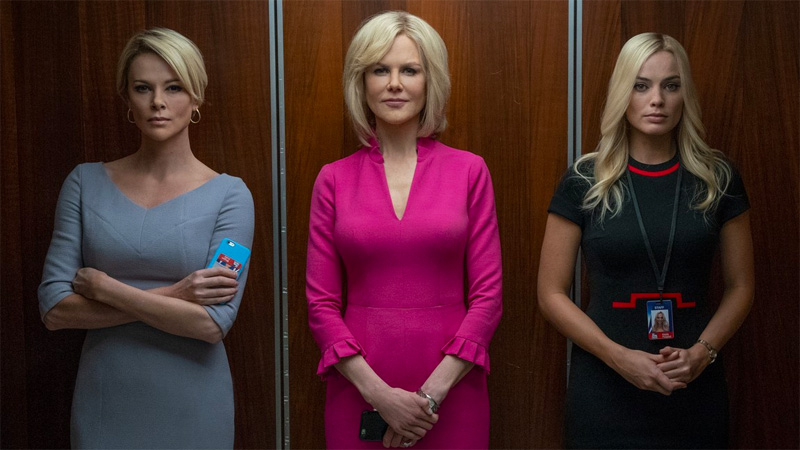 If you're going to watch Bombshell, there are some gay easter eggs to be on the lookout for. A wild Holland Taylor appears more than once. Brooke Smith, who you probably know best as Erica "You Are The Glasses" Hahn from Grey's Anatomy is a fierce Fox lawyer. Brigette Lundy-Paine has a small role.
It's fun to see Kate McKinnon playing gay for real. It's fun to see a lesbian portrayed as the only person with an actual soul in a movie that stars basically every white woman who's ever been on TV at some point. It's fun to watch powerful men get destroyed. What's not fun is watching bad people take down worse people for self-serving reasons and get treated as heroes for doing it.