Last week we told you that a vote on Don't Ask Don't Tell in Congress was reasonably imminent; now, with the official results of the Defense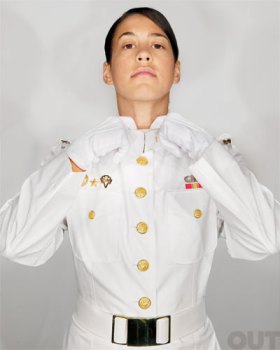 Department's study being released tomorrow, it's all coming to a head.
The Joint Chiefs of Staff and Pentagon officials have all indicated that they're in favor of a change, but this is a divisive enough issue that no one feels quite comfortable predicting how this vote will go. There's some reason to be confident; even if timelines are an area of controversy, most politicians agree they want the repeal to end sooner or later.
Some people are very hopeful about the policy's ending this month; for instance, discharged lesbian West Point cadet Katie Miller is re-applying to her school in the hopes that she will soon be a fully qualified candidate before the law.
The showdown hearings are sure to be high Washington theater, with a sprinkling of camera-loving protests possible. Each side will be marshaling whatever evidence it can pull out of the year-long Pentagon review to buttress its argument. Lawmakers will ask supporters of lifting the ban how sure they are that a change in the law wouldn't harm unit readiness. They'll ask opponents to justify their stance in light of President Harry Truman's unilateral order racially-integrating the ranks and asked why the believe the world's finest fighting force can't handle the repeal. Sunday's talk shows offered a preview from members of the Senate Armed Services Committee. "We don't have a problem," John McCain, the Arizona Republican who has become a chief defender of "Don't Ask, Don't Tell" in recent months, said on CNN Sunday.
John McCain, who was re-elected this month in Arizona, has maintained his anti-repeal stance to a degree that is beginning to look excessive even to those who don't categorically oppose him. He was originally a strong voice for the Pentagon's ten-month review of the options for repeal, saying that it was necessary to be fully informed before making any decisions; now that that study is about to be revealed, he's refusing to accept its findings, and calling for an entirely new study on the effects on morale and battle effectiveness before any progress can be made.
Secretary of Defense Robert Gates has written a letter defending the study's finding and the future of repeal, emphasizing that further "research" on the topic may effectively result in leaving the issue up to a de facto referendum of the troops. Which would be terrible policy creation and also in defiance of basically every tenet of military administration. McCain stuck to his guns, however, and remains vocal that nothing done so far on the part of Congress of the Pentagon could make a repeal possible.
McCain has also blamed Obama's "inexperience" for the President's naive belief that this policy can or should be changed, which seems in particularly poor taste considering the fact that President Obama has a full two years more experience at being President than McCain ever has, because Obama was elected instead of him. Or maybe that's what this is really all about. Either way, there are perhaps more flattering and politically expedient ways to go about this.
If you're curious about where this mentality is coming from, or if you remain at a total loss for how this could possibly the state of affairs in this time and place and world where man can walk on the moon but not call his husband his husband and still keep his job, you might find this article on why the Marines are the branch of the military most vehemently opposed to a repeal interesting. Obviously it's a really complex issue, but also a fascinating one: the acknowledgement that gay people currently serve in the military existing simultaneously with the vociferous refusal to recognize them personally, and the fierce commitment to intimacy within the unit alongside the complete disgust that that intimacy might ever be romantic – I don't know, it's just layers upon layers upon a million layers of sociocultural complexity. Some highlights: (@spokesman)
"There is nothing more intimate than combat and I want to make that point crystal clear," Amos told reporters in San Diego recently. "There is nothing more intimate than young men and young women, and when you're talking infantry, we're talking our young men laying out, sleeping alongside of one another, and sharing death and fear and the loss of their brothers."
"I just think it would complicate things," said Trentham, 24, of Sevierville, Tenn. "If you have two homosexuals in a unit, they could have a relationship and if they broke it off, is that going to cause the mission to fail because they are having problems?
Gary Solis, a Marine combat veteran who teaches the laws of war at Georgetown University Law Center, said [some] have the misconception that openly gay Marines will not be as aggressive or "gung-ho" as their comrades in arms… "Of course, we know none of that's true about homosexuals," Solis added. "There have always been homosexuals in the Marine Corps, but when you acknowledge it openly, that's a different thing."
Not sure what to make of it all? Well, here's one more point to consider: despite the constant back-and-forth of the federal courts on the legality of DADT – which was challenged by Judge Virginia Phillips, but ultimately declared viable by superior judges – there were no discharges of gay or lesbian servicemembers for the last month. Although discharging gay soldiers is still in keeping with military policy in technical terms, Defense Secretary Gates put the official power of discharge in the hands of the service secretaries on October 21, of which there are only three for the entire military.
"Statistically, it would be extremely unlikely if we had a month in which there were no gay discharges," Belkin said, noting that 428 gay and lesbian service members were honorably discharged under the ban in 2009. "When you require a service secretary to sign off on a discharge, you are basically saying, 'We don't want any people in this category discharged unless there is an exceptional situation.'"
If actions speak louder than words – and in a case where this many words have been said to little effect, they do – this is one action that maybe implies that people in power in the military actually truly don't want to have to fire any more qualified soldiers. Let's hope that their attitude wins out on the voting floor this week.