GAGA & LAMBERT: Last night Adam Lambert & Lady Gaga were featured along with Crazypants Glenn Beck on Barbara Walters' Most Fascinating People special. The most amazing part was when Barbara Walters used the phrase "bluffin with my muffin" to lead into the standard set of questions regarding Gaga's sexuality. This has been described in headlines as Gaga "admitting" her bisexuality, but um, she's been talking about it since Logo Pop Lab '08 people.
Howevs, it's confusing that Gaga told FUSE a few weeks ago she wasn't sure if she'd ever been in love with a man or with a woman, and last night told Barbara Walters she'd never been in love with a woman and had been in love with a man. I hope she's open to being in love with a website. Also, Barbara asked Gaga if she'd ever had sex with a woman, and Lady Gaga said, "Oh goodness," which was amazing.
Adam Lambert Interview: Gawd I love it when Babara Walters is forced to talk dirty. When she asks Adam why he did what he did in his AMA performance, her tone of voice suggests,"why did you put all of my kittens into my favorite velvet purse and slam them against the wall?" Walters called the performance "raunchy" and "lewd." Lambert responded, "You can't plan everything — if I did a performance exactly how I rehearsed it, it would be so boring." Take a gander:
MOVIES: SheWired's Top Ten Queer Movies of 2009. Yay! There were girls kissing in movies in 2009! (@shewired)
KATE MOENNIG: Um, are we all aware that Kate Moennig plays Drew Barrymore's girlfriend in that new movie Everybody's Fine? Heads up before you spend $12 on this thing. Shane only has a few minutes on screen (two scenes).  Because we love you, we saved you the trouble and made a little collage of all 3 minutes of screen time. Yes, that's Drew Barrymore and Robert DeNiro in the upper right corner. (@afterellen)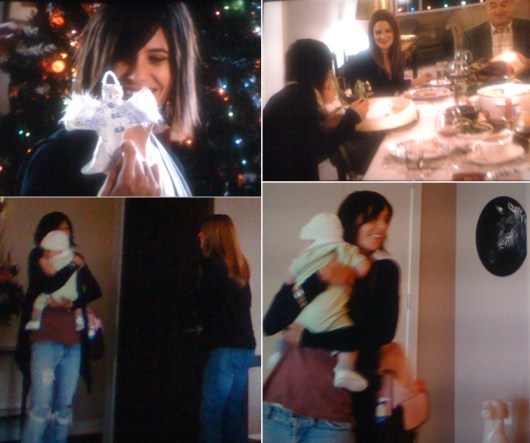 GLEE: Is Glee a little bit racist? This piece brings up the fact that despite having one of the most racially diverse casts on TV right now (7 white kids, 2 African-Americans, 2 Asian-Americans and a Hispanic girl): "Quite simply, the show is about the white people. Exclusively. The writing staff has barely been able to come up with any dialogue, let alone a storyline, for any of the non-white kids. This leaves most of them with nothing to do but sing and dance in the group numbers. I noticed this in the first two episodes, but decided I should reserve judgment. But now, half a season has gone by and nothing has changed." (@popmatters)
Finally, Idina Menzel is OFFICIALLY cast in Glee! She is being tapped to play the glee club coach of McKinley High's main competition Vocal Adrenaline and she could appear in all 9 remaining episodes! (@ew)
CARMEN DE LA PICA MORALES: It's a Sharmen reunion today on the Daily Fix. Take a gander at Sarah Shahi's baby boy William Wolf. (@celebritybabies)
SEX AND THE CITY: The Sex and the City 2: Electric Boogaloo poster has debuted. (@moviefone)
TEGAN & SARA: Enjoy this new Sainthood B-side, "Sheets." I promise I won't linger long / I promise I won't push my face up against your clothes/ I won't linger long / I won't push my face up against your clothes/ Or your stupid sheets. Maybe it was cut because the melody sounds just like Sentimental Tune?