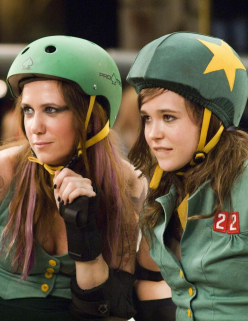 On the 2016 Autostraddle Reader Survey, we asked those of you with one or more significant others to tell us where you met your very special someone(s). 29% of you met online, 23% met at school, 18% met through friends, 6% at a bar or party and 4% at an LGBT event.
8.5% picked "Other" and provided us with your answer as a write-in. Also, lots of people wrote in answers even though they'd also checked off an aforementioned category, because you really wanted us to know the full expression of your personal truth. For that, we salute you. Thank you for being so open with us all.
We learned that just as it was in 2014, the best place to meet a queer lady besides the internet, A-Camp or an Autostraddle Meet-Up is roller derby or softball. If you're not athletic, I hear that Tinder is a solid thumb workout.
So, here are the gayest ways you met your lover, pulled from the write-in box on the Autostraddle Reader Survey and ripped mercilessly out of context for your collective enjoyment:
1. Queer youth center, then later at the gay bar
2. Folk scene (trad. music and dance)
3. Sacred harp singing

4. A spiritual retreat
5. Peace Corps
6. She was my professor in college. We didn't start dating until I'd been out of college for a few months.
7. She held the door for me at the library, I gave my best femme up-down-checking-you-out, she held eye contact for a full 30 seconds, I offered her reference help for a paper she was writing, I asked her out.

8. In a chat room for a Cathy DeBuono web series

9. LiveJournal- Lesbians Community

10. Online but not like online dating – we met through a fan forum for an Australian reality TV show contestant. We first met in person at one of said singer's concerts organised by the fan forum.

11. Through her girlfriend.

12. She is my exes exes ex. And yes, our exes introduced us while we were still with them.

13. She was dating my friend and we did that lesbian thing where there's messy emotional overlap but it all worked out in the end!

14. I was a customer at her cosmetics counter.

15. They are my bike mechanic.

16. At a local yoga studio.

17. Girl Scout camp is a magical place.

18. We went to nursery school together and met again as adults

18. Smashing the patriarchy and organizing for a rape crisis center on our college campus while also taking a gender studies class. Also I was a data point in her thesis. It was about gender neutral housing. We are gay.

19. At an A-Camp Introvert Meet-Up. We've been quiet together ever since.

20. In the sci-fi/fantasy section of the local bookshop

21. A science fiction convention

22. The Strand Bookstore Must Love Books Queer Lady Speed Dating

23. Lesbian Book Club

24. Volunteering at an LGBTQ Literary Event

25. Potterheads meet-up

26. At an Autostraddle London speed dating event :)

27. At our gay-ass sorority

28. At the intentional community/commune we used to live at.

29. We moved into a co-op at the same time and hung out in the kitchen a lot because we were both unemployed.

30. Shared accommodations while both doing research for our masters in the Arctic

31. On Autostraddle! I moved to a small city in the UK where there appeared to be no lesbians! But a quick search in the Autostraddle members directory proved otherwise (there was only one)

32. I was a student teacher looking for advice from my old mentor, she was in my mentors class. So it's both work and school and yeah…makes me look like a creep.

33. At a Colleen Green show where there were only like 20 people total. we were both taking the subway home the same way and struck up a conversation

34. LGBTQ flag football league

35. Through British Army rugby

36. Paragliding, we are both pilots

37. She was coaching her son's U6 soccer team and I was coaching my niece's team. We played each other.

38. Poly events, kinky play parties and a Nightvale Dance Party

39. On Xbox live 8 years ago

40. AnimeFest

41. At a Black Lives Matter protest

42. Training for a crisis counseling hotline

43. At a weekly discussion meeting for anarchists

44. LGBT support group, back when you needed those

45. At a house show in Brooklyn

46. At a Drag Show

47. Adversaries in a musical competition who fell in love?

48. Local female fronted band competition. Essentially an LGBT event

49. I'm in a local LGBT youth facebook group thing for our city and we meet up every couple of weekends and hang out

50. Picked me up hitchhiking

51. Building an imaginary wardrobe. (Not a euphemism.)

52. Sadly

53. Church camp??!!

54. She was (and is) the cutest employee at the pet store so I asked her out while buying dog food.

55. Roller derby. Such cliché.
---
Where's the gayest place you've met a special someone?