Hello ladies, and welcome to the winter fashion guide! Today you'll be viewing things that will hopefully keep you nice and warm until you can get back indoors and de-robe with your ladyfriends in front of the fireplace or whatever it is you do. So, from the bottom(s) up, let's do this.

Boots
Why do you need boots, you ask? Because they're amazing. A good pair of boots can make your winter a whole lot more comfortable. Sometimes even practically. I definitely feel better walking amidst icy tree-roots when I'm wearing workboots, and since that tends to happen to me, especially in the winter, I like knowing I have a slightly better chance of not falling. Boots can also simply be pretty and warm and sleek looking, so really there is a boot for everyone, you just need to find it.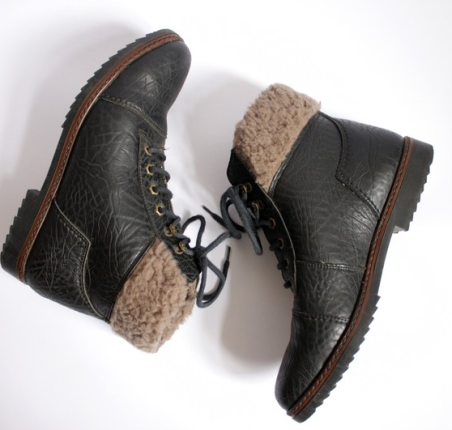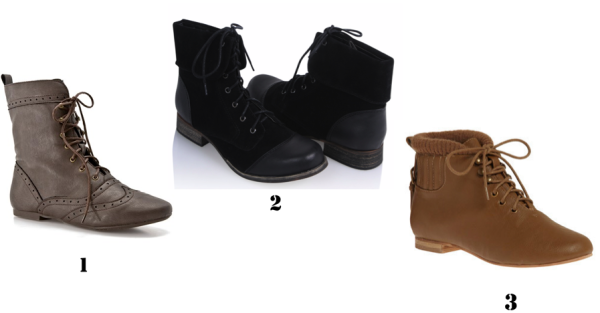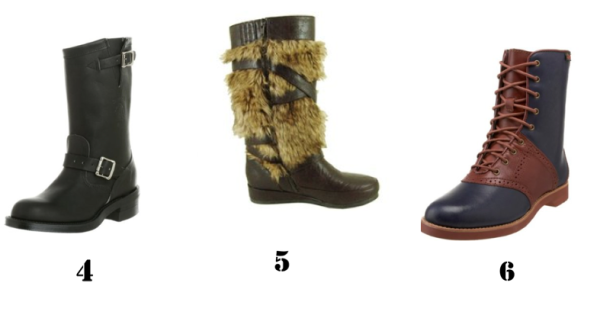 (4) Chippewa Men's Boot ($159.10) (comes in smaller sizes!)
(5) Qupid Neco Brown Faux Fur Boot ($49.99) This boot makes me think of viking lions in a good way. If you're going to do "fur", don't settle for anything less than awesome.
(6) Bass Women's Nikki Ankle Boot ($96.00)
OUTERWEAR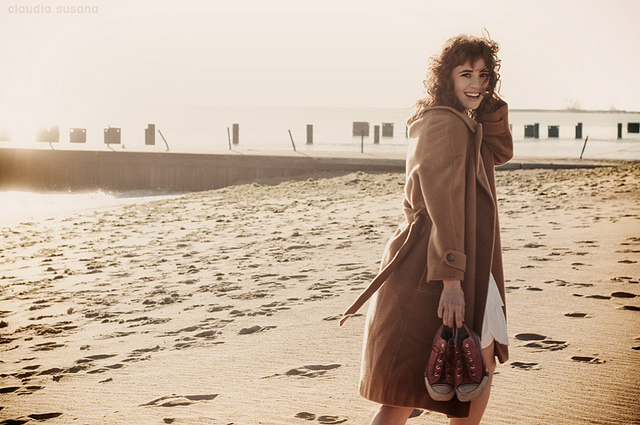 Femme
The beauty of a peacoat descends from it's versatility. They become, in a phrase, 'a staple to have in one's closet'. Like the little black dress or a blue blazer, peacoats can be at once sharp and casual.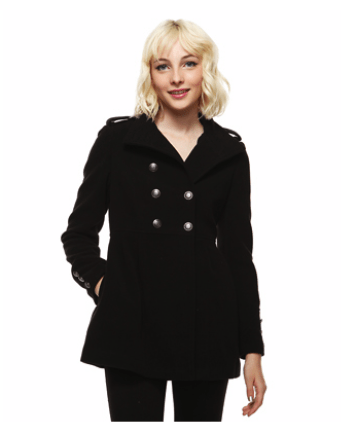 Steeper in cost, but offers a lot of charm. It comes in an array of colors in case charcoal isn't your skeeze; the pearl bracelets are optional, per usual.
A less expensive yet still nice. I'm a fan of the tall neck jacket–it partially eliminates the need for a scarf and has a hood.
Vintage sweaters like this one from HolySmokeVintage are perfect for the winter, make good gifts, etc. I feel like there was a time when giving sweaters was an embarrassing or uncouth gift. Personally I'd be stoked if someone gave me any piece of clothing as a present. Anyway, surely you'll have at least one facebook event asking you to wear an ugly sweater and drink eggnog (if not, you should probably organize that event), so you might as well be prepared.
If you're looking for something more light-weight to go over all of your sweaters: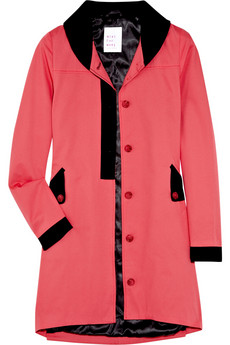 The Outnet.com says they are the most fashionable fashion outlet. Now, I'm not one to be hierarchical, but this site DOES have a "dress me" application, so it can't be too far from being true. Cover-ups like this one are good if you like layering sweaters and/or are tall. Long coats are also good for stockings and generally keeping your bum warm.
And if you have the money, feel free to step up your game even more with something like this beautiful Berizlo Coat ($205) from All-Saints.
Less Frill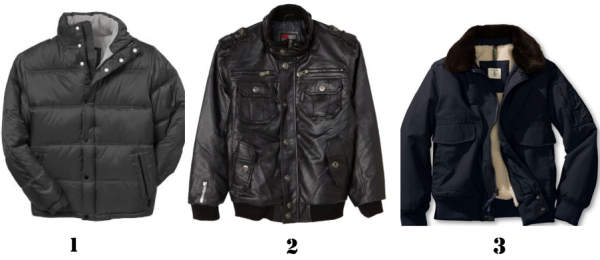 I think of less frill coats as the more short, rugged type. You could potentially climb a tree in all three of these without caring if they get a little worn. If you're of smaller stature, try looking in the boys department.
There are of course nicer versions of rugged coats too. This one's nice if you like expensive snowboarding coats: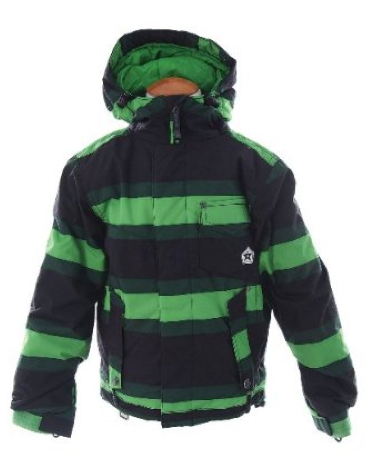 The Steffe Jacket ($50.95) is good if you like snowboarding coats but ones that aren't too expensive. Go over to Amazon.com– they will help you find things.
And don't forget layering! You're going to need warm clothes to drink hot chocolate in because coze chilling outfits are a must for optimum coze chilling, you know? Rachel B knows. She suggests a men's grey zippered cardigan from H&M. She says they're wonderful and I believe her.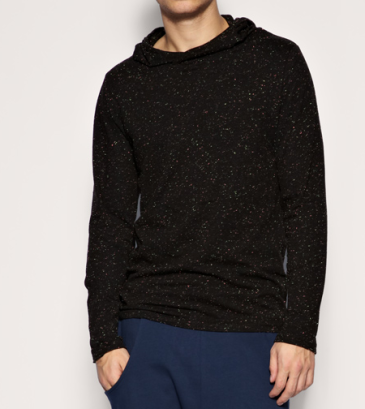 This looks really warm/ like space, so I'm a fan. Perfect for layering and talking to girls about space.
Plus Size
Also if you head over to Torrid you'll be able to get the sweet animal print overcoat you're regretting not having purchased when we talked about them in the Fall Fashion Guide.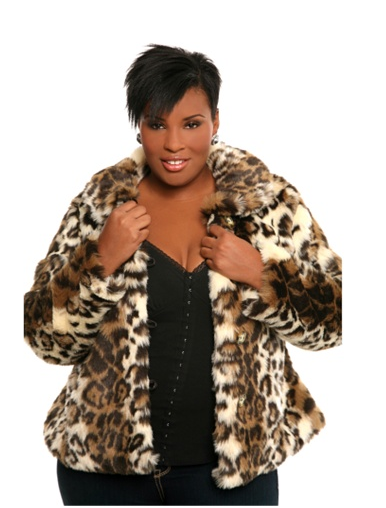 Also there's this Wendy Toggle Coat ($29.99) that's a good light weight option from this awesome site called FredFlare that you should probably check out. You can also get things like this pocket watch or these texting gloves there. Christmas lists' ho.
There are also really good vintage options for plus size coats: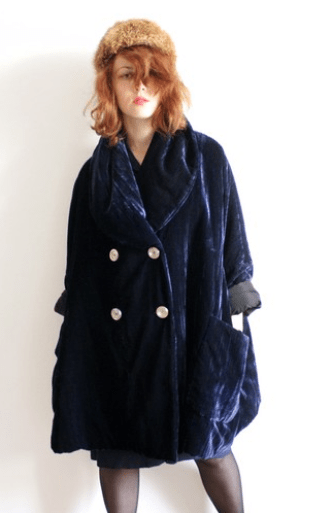 Also check out this way cheaper red wool coat from VintageGoodness – Plaid & Red Wool Coat ($29.95)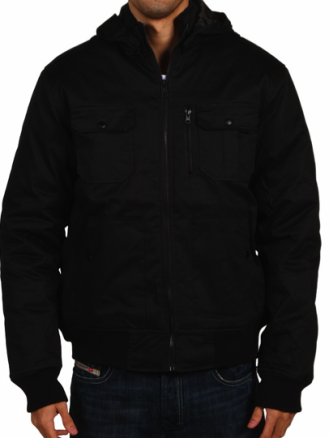 How cool does this jacket look? Too cool for you? Wrong. You're the bees knees. Just like that kid in School of Rock. For the goods, Marc & Ecko has the hookup. Also they have this thing where their muse is Lindsay Lohan, so I guess that means they create the kinds of clothes they think would make Lindsay Lohan attracted to you…thus I think this site is good for like-minded lesbians (who have the money). Even though we would never objectify Lilo quite to this extent, they still have nice sweaters.
WINTRY ACCESSORIES
Once upon a time my cute Russian photography professor had a fight with her boyfriend and bought herself some new winter threads to cheer her up. One item she picked up was a scarf with a hood attached; because as she put it: "there are lots of times when you don't think you're going to need a hood, but then you do."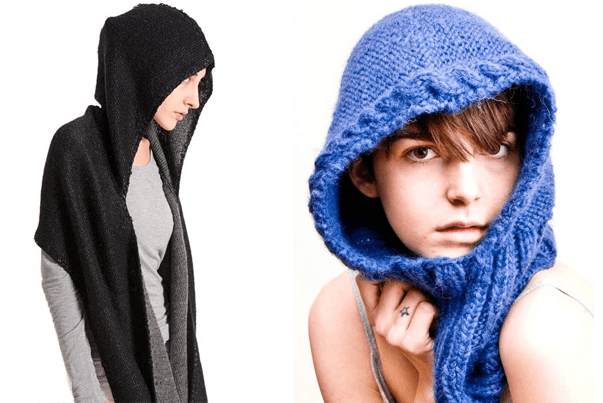 You can find a nice cheap one over at Belt Outlet ($12.95) or Amazon ($13.99); or if you're feeling ambitious, knit your own.
So I know I just mentioned this, but I'm going to mention it again. LOOK. Texting gloves ($22). That's actually what they're called.
If you're one of those people who likes wearing dresses no matter what the season, you might want to check out these super comfy looking fleece-lined tights ($35) from Singer22. I think they're overpriced because famous people shop there or something.
If you want to be adventurous consider putting these over them.
These Thick Black Warm Knit Ladies Winter Legging Tights ($11.99) would also work, and I really appreciated how the title is just a bunch of descriptive words and nouns. Anyway they also look pretty warm and are only 12 dollars.
Other Stuff That's "In" Lately
And That I Haven't Really Mentioned…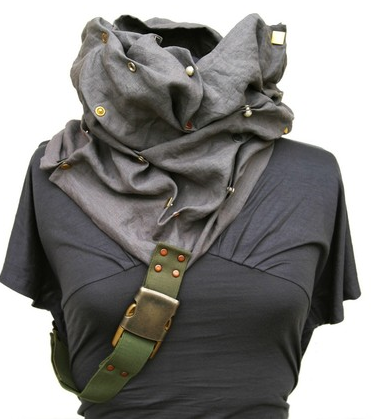 …military-esque things (go figure), lace, velvet, wearing thick socks with your heels, button-ed up collars, et al.
I think dressing like a mountaineer can be cool too. Maybe get a vest and turtleneck thing going on. Maybe just some brown slacks and an orange sweatshirt with the British flag on it. I don't know. What do you think mountaineers wear?
Pages: 1 2See entire article on one page