Hello ladies, and welcome to the winter fashion guide! Today you'll be viewing things that will hopefully keep you nice and warm until you can get back indoors and de-robe with your ladyfriends in front of the fireplace or whatever it is you do. So, from the bottom(s) up, let's do this.

Boots
Why do you need boots, you ask? Because they're amazing. A good pair of boots can make your winter a whole lot more comfortable. Sometimes even practically. I definitely feel better walking amidst icy tree-roots when I'm wearing workboots, and since that tends to happen to me, especially in the winter, I like knowing I have a slightly better chance of not falling. Boots can also simply be pretty and warm and sleek looking, so really there is a boot for everyone, you just need to find it.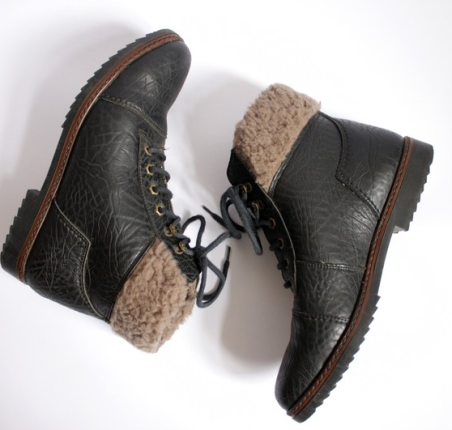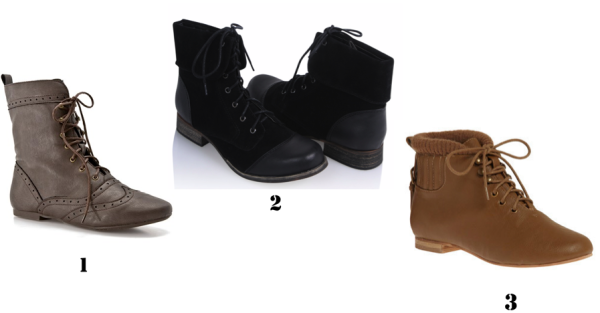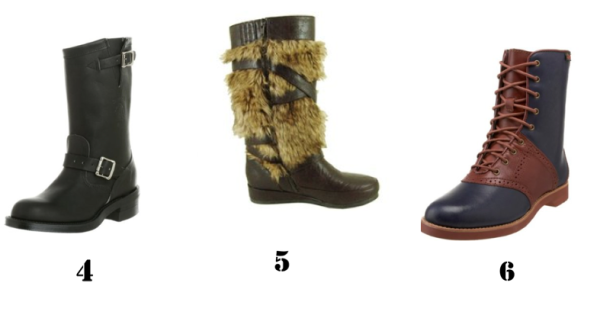 (4) Chippewa Men's Boot ($159.10) (comes in smaller sizes!)
(5) Qupid Neco Brown Faux Fur Boot ($49.99) This boot makes me think of viking lions in a good way. If you're going to do "fur", don't settle for anything less than awesome.
(6) Bass Women's Nikki Ankle Boot ($96.00)
OUTERWEAR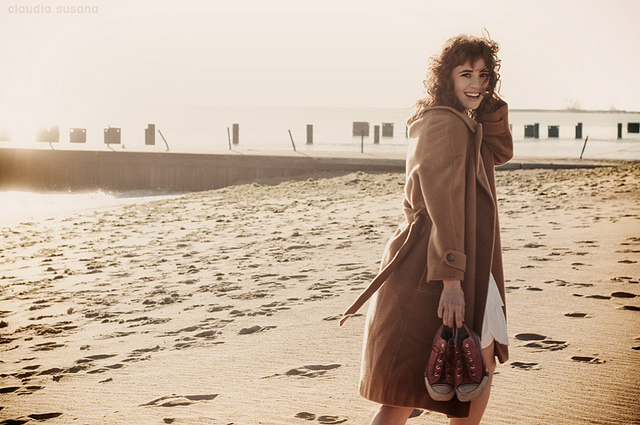 Femme
The beauty of a peacoat descends from it's versatility. They become, in a phrase, 'a staple to have in one's closet'. Like the little black dress or a blue blazer, peacoats can be at once sharp and casual.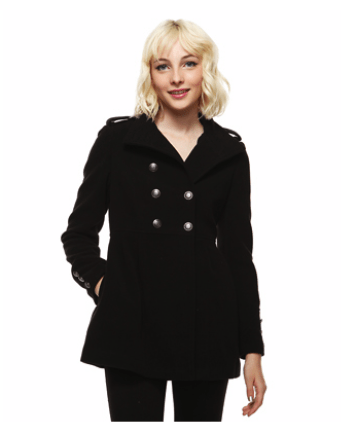 Steeper in cost, but offers a lot of charm. It comes in an array of colors in case charcoal isn't your skeeze; the pearl bracelets are optional, per usual.
A less expensive yet still nice. I'm a fan of the tall neck jacket–it partially eliminates the need for a scarf and has a hood.
Vintage sweaters like this one from HolySmokeVintage are perfect for the winter, make good gifts, etc. I feel like there was a time when giving sweaters was an embarrassing or uncouth gift. Personally I'd be stoked if someone gave me any piece of clothing as a present. Anyway, surely you'll have at least one facebook event asking you to wear an ugly sweater and drink eggnog (if not, you should probably organize that event), so you might as well be prepared.
If you're looking for something more light-weight to go over all of your sweaters: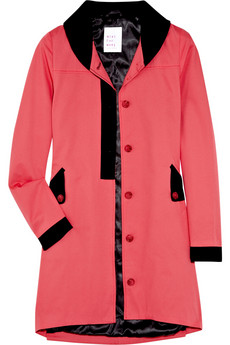 The Outnet.com says they are the most fashionable fashion outlet. Now, I'm not one to be hierarchical, but this site DOES have a "dress me" application, so it can't be too far from being true. Cover-ups like this one are good if you like layering sweaters and/or are tall. Long coats are also good for stockings and generally keeping your bum warm.
And if you have the money, feel free to step up your game even more with something like this beautiful Berizlo Coat ($205) from All-Saints.
Less Frill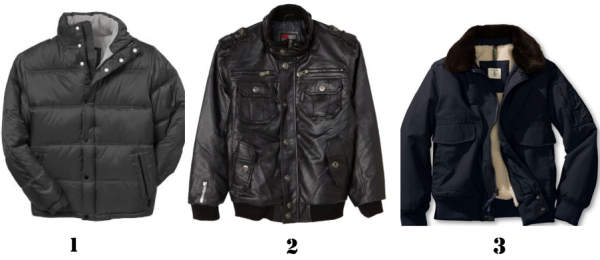 I think of less frill coats as the more short, rugged type. You could potentially climb a tree in all three of these without caring if they get a little worn. If you're of smaller stature, try looking in the boys department.
There are of course nicer versions of rugged coats too. This one's nice if you like expensive snowboarding coats: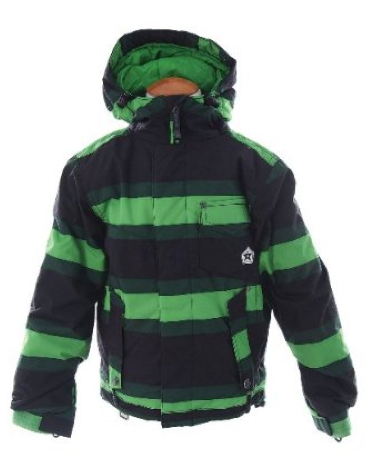 The Steffe Jacket ($50.95) is good if you like snowboarding coats but ones that aren't too expensive. Go over to Amazon.com– they will help you find things.
And don't forget layering! You're going to need warm clothes to drink hot chocolate in because coze chilling outfits are a must for optimum coze chilling, you know? Rachel B knows. She suggests a men's grey zippered cardigan from H&M. She says they're wonderful and I believe her.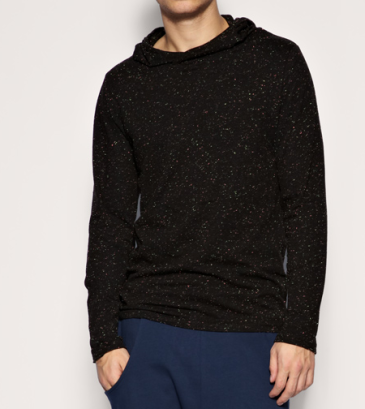 This looks really warm/ like space, so I'm a fan. Perfect for layering and talking to girls about space.
Plus Size
Also if you head over to Torrid you'll be able to get the sweet animal print overcoat you're regretting not having purchased when we talked about them in the Fall Fashion Guide.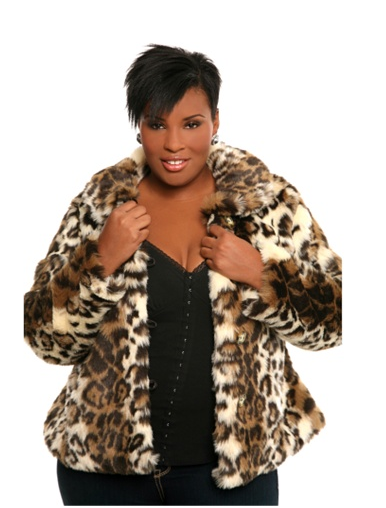 Also there's this Wendy Toggle Coat ($29.99) that's a good light weight option from this awesome site called FredFlare that you should probably check out. You can also get things like this pocket watch or these texting gloves there. Christmas lists' ho.
There are also really good vintage options for plus size coats: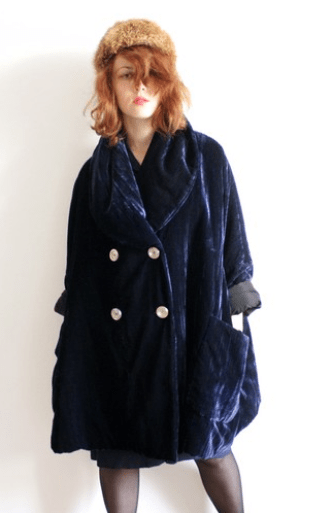 Also check out this way cheaper red wool coat from VintageGoodness – Plaid & Red Wool Coat ($29.95)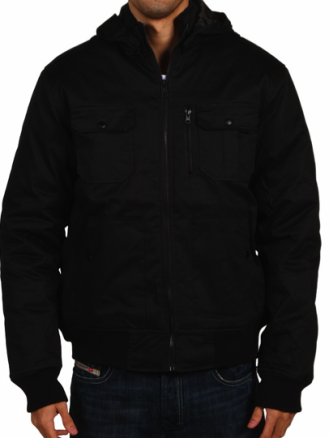 How cool does this jacket look? Too cool for you? Wrong. You're the bees knees. Just like that kid in School of Rock. For the goods, Marc & Ecko has the hookup. Also they have this thing where their muse is Lindsay Lohan, so I guess that means they create the kinds of clothes they think would make Lindsay Lohan attracted to you…thus I think this site is good for like-minded lesbians (who have the money). Even though we would never objectify Lilo quite to this extent, they still have nice sweaters.
WINTRY ACCESSORIES
Once upon a time my cute Russian photography professor had a fight with her boyfriend and bought herself some new winter threads to cheer her up. One item she picked up was a scarf with a hood attached; because as she put it: "there are lots of times when you don't think you're going to need a hood, but then you do."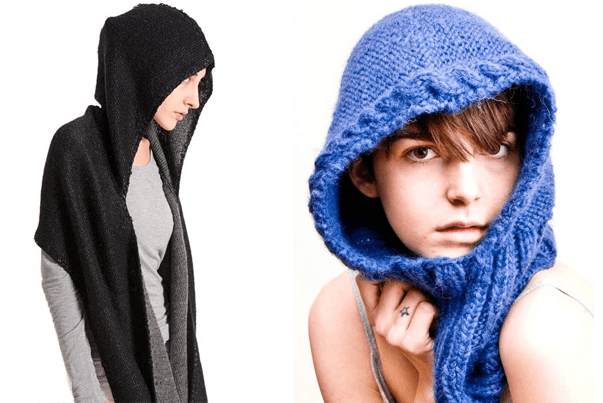 You can find a nice cheap one over at Belt Outlet ($12.95) or Amazon ($13.99); or if you're feeling ambitious, knit your own.
So I know I just mentioned this, but I'm going to mention it again. LOOK. Texting gloves ($22). That's actually what they're called.
If you're one of those people who likes wearing dresses no matter what the season, you might want to check out these super comfy looking fleece-lined tights ($35) from Singer22. I think they're overpriced because famous people shop there or something.
If you want to be adventurous consider putting these over them.
These Thick Black Warm Knit Ladies Winter Legging Tights ($11.99) would also work, and I really appreciated how the title is just a bunch of descriptive words and nouns. Anyway they also look pretty warm and are only 12 dollars.
Other Stuff That's "In" Lately
And That I Haven't Really Mentioned…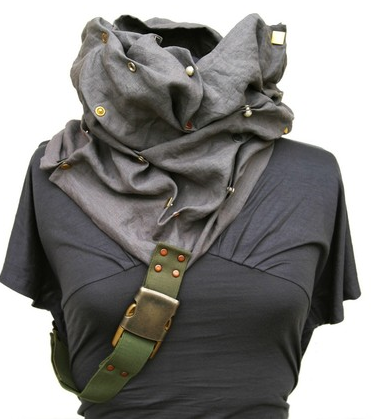 …military-esque things (go figure), lace, velvet, wearing thick socks with your heels, button-ed up collars, et al.
I think dressing like a mountaineer can be cool too. Maybe get a vest and turtleneck thing going on. Maybe just some brown slacks and an orange sweatshirt with the British flag on it. I don't know. What do you think mountaineers wear?

-Lily-
Winter and I have quite the difficult relationship, mainly because I hate it. Once the temperature dips below 35 degrees and Santa goes back to the north pole, my seasonal affective disorder (also known as "why the fuck is it so cold and dark?wp_postsdisorder) kicks in and my wardrobe turns into five ugly sweatshirts unattractively stuffed underneath a highly inadequate fall jacket. But this year I am destined to change my ways. I am going to look cute goddammit! And so are you! Here is how.

This lady looks nice and warm all while managing to maintain her attractiveness—which is the key to life is it not? I never understood the point of hats until I experienced the cold—they apparently do wonders for keeping you warm, who knew!?
This Stockholm Aviator Hat ($36) is a really cute faux-fur hat that will go with anything.
You will probably (definitely) also need a coat. I really like this parka by Spiewak: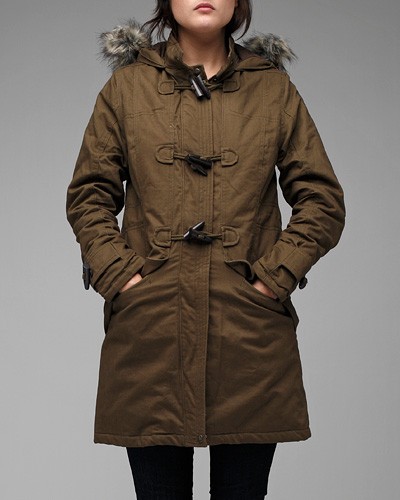 Plus the faux fur trim is removable so you can take it off, and then put it back on, and then take it off, and then put it back on! It's like a really fun game for when you're bored and/or on drugs!
Here are some other examples of super cute coats:
To finish off this particular look you're going to need some tights (which you can really get anywhere, I suggest the cheaper the better because they will rip no matter what). Some booties like these: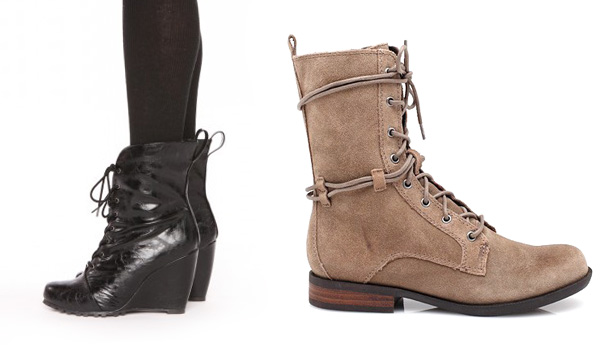 …and a bold shade of red lipstick. My favorites are Nars' semi-matte lipstick in "Red Lizard" and "Fire Down Belowwp_posts(they have pretty ridiculous names…fire down below makes me think of fire crotch which then makes me think of Lindsay Lohan which then makes me think of Samantha Ronson and by that point I'm pretty content with my train of thought).
Other fantastic essentials for winter:
Long thick socks and thick leggings! Sometimes I just don't want to put on pants. If my legs were not affected by temperature I'd most likely walk around pantless all the time. Unfortunately this is not an option, but leggings, tights, and socks are fantastic ways to get around the hassle of wearing pants. American Apparel has some great leggings made specifically for the winter! And their thigh-high socks look fantastic when worn with a dress or skirt and some long boots.
Sweaters and Vests
Large bulky sweaters with kitties dressed as snowmen on them are necessary for sitting beside a warm fire, drinking hot chocolate, and singing about Jesus. But if that's not what you plan on doing this winter, you should still find a couple of great cozy sweaters that work for your everyday life!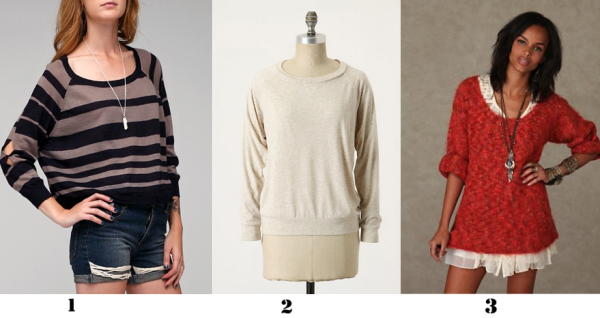 These may not have images of Santa embroidered on them, but they're still perfect for the winter!
BONUS.
We at Autobody like guest writers. Especially ones who have different bodies/mentalities, knowledge of good deals, and are fashionably inclined. If you match really any one of these categories, think about shooting me an e-mail (rfonticoba@wesleayn.edu) and contributing next time around! Now, without further ado…
Guest Writer Franco!
Hello! I'm Franco, a dandy little queer cublette transboy from the Northeast.
Some background on me: my first year of college was spent in some delusional world where I thought I was going to get a degree in fashion merchandising, aka fabulous gayness. However, four weeks into my freshman year I knew that corporate, i.e. finance, marketing, accounting, was more my style and promptly switched majors but continued my passions for fashion and retail. I've worked at American Eagle Outfitters, Express, and Armani Exchange thus far on my travels.
Here are my top five choices this winter:
Cardigans:
I've been on the hunt for a great couple of cardigans to add to my wardrobe for a few years now. I've finally started to find a few that I've liked. When I think of the perfect cardigan for a guy like me, athletic framed but smaller than most bio guys, fit, styling, and overall length definitely need to be taken into consideration. Same goes for you lady loving ladies; although I've just become hip to the fact that women's cardigans are extremely long in most instances.
From my own personal collection (THANK YOU discounts from working at A/X)
Now, anyone can really wear this, believe me my smaller and gayer co-workers have to fend off women with sticks for extra small at times.  I don't want to be gender normative and make a "ladies" version, so here are just couple of different options from Urban Outfitters and JCrew.
Some Options at Urban: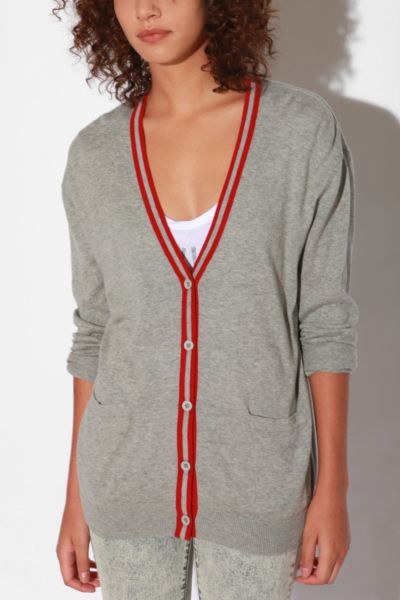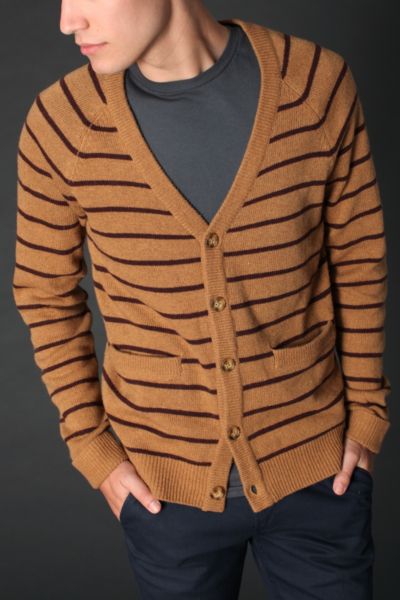 Some Options at JCrew: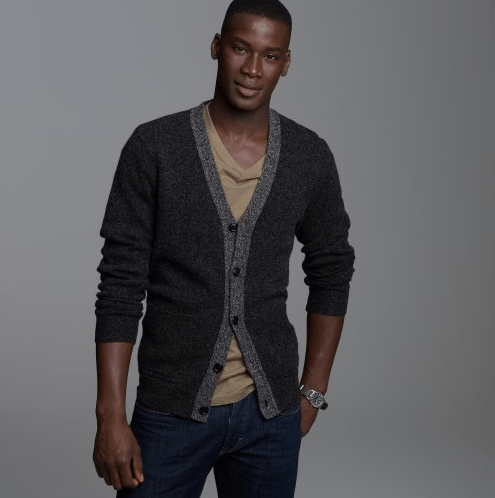 My second option from JCrew was called "hideous", "god awful", and "gross" and is being substituted with an approved suggestion from Tulle from a femme friend of mine.
Last year in the great Northeast there was blizzard that shut my entire campus down including an unfortunate power outage, where I had to sleep on the floor of a dining hall, gross. In that time, with the mounds of snow, I was probably the only fool outside in converses and no socks so this year my number two essential is SOCKS.
Socks are pretty much the (insert the most androgynous queer lady you can think of here) of the clothing world. Practically any one can wear any style.
Socks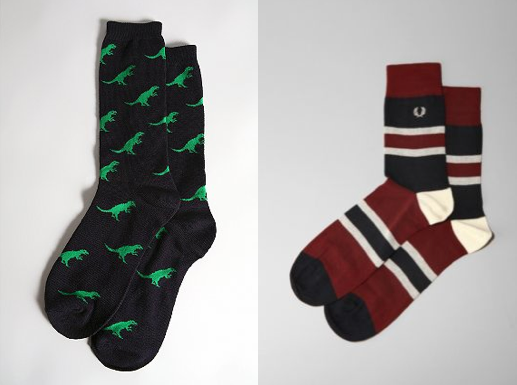 Sock Dreams is another personal fave, from fancy socks to even fancier sock garters, they keep the dandy boy in me satisfied.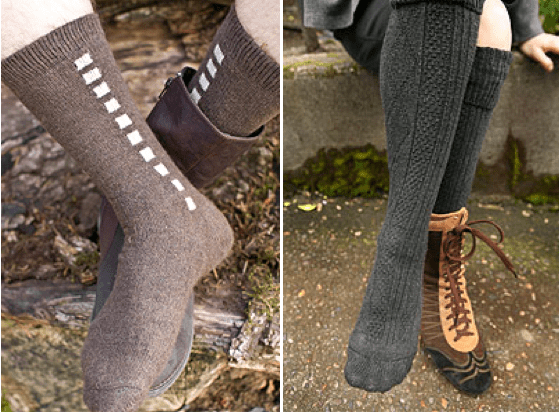 My next winter must-have is functional yet fancy and definitely better than my current over sized Timberlands, boots. Strong, sturdy, functional, a great boot should be all of these things and keep you warm.
This is my mecca boot for 2010/2011 Winter.
Find something similar to it in black, brown, or whatever and just wear.
Denim
Now, denim is personal to everyone, so I'm not going to tell you to favor one fit over another. For me, my winter denim shifts to a much slimmer leg to tuck into aforementioned boots and to darker washes with browns and reds. It works for me but not everyone. Personally, I like Diesel's Tepphar Jean and Armani Exchange's J130 – Resin Coated Slim Fit Jean).
So I'll leave your denim picks up to you, but I will say–do wear denim this winter; do own it, and try not to wear anything with holes that you can feel the wind through. Own your body and buy accordingly, you're all beautiful, hot, sexy, etc.
Okay, moving on…
Last pick!
My constant need for this surpasses all. Its my favorite year round thing because it's so versatile. However, I do love winter in regards to all the different kinds that come out during the year. It is my pleasure to give you Franco's cherished fashion advice. The Number 5 but Number 1 item I must have this winter is Underwear, yes underwear. I know you ladies love underwear.  And just because its winter time and we are all bundled up like the Wampa from Empire Strikes Back doesn't mean we neglect our under bits. Think about it, if your a Vickie's kinda girl, the runway show just happened, if your not, Black Friday just passed–everything including skivvies are NOW ON SALE!
Why just a week ago, I got these lovely Hugo Boss trunks on sale, $8.
Alright here is a quick cheat sheet covering basic underwear deals from high femme to stone butch and everything in between.
Victoria's Secret
Vickies always has some crazy 5/$25, 3/$25, or some jazz promotion going on from their Lacy Collection to their Pink Collection.
American Eagle Outfitters AEO and analogues of AEO run generally the same underwear promo for anyone who buys men's underwear. I know for a fact AE runs a 2/$20 deal on boxers, boxer briefs, and athletic trunks. [Briefs are a rarity unless you have a 'grade A store']
Aerie
Think VS's Pink collection by American Eagle Outfitters. A little more accessible and has much better choice in clearance underwear. Keep an eye out, The Very Aerie Sale should be underway soon and undies have been known to go starting at $1.95!
Target (or Kohls or whatever else you can think of for your "go-to" and "tried and true" basic styles). From solids to some surprisingly cute styles from Fruit of the Loom, Champion, Hanes, and more, these stores have you covered. You're sure to find something you want…maybe even in a MULTIPACK!?!?! (score)
And for the true bargain hunters check out something like TJ Maxx for closeout and discontinued stock of many, many favorite brands.
That is my must-have list this winter, all you straddlers out there. I hope you enjoyed my guest blogging!
And for those of you who DID NOT get the Star Wars joke, this is a Wampa.
Warmest regards, Franco the Dandy Cublette
Alright that about wraps it up! REMEMBER there's a lot of cool stuff out there, but ONLY YOU can find the look you want for your body shape. Go through a bunch of different options and don't get frustrated! Hopefully the spirit of giving finds its way into your life this holiday season and drops some sweet new ropas into your lap.
Pages: 1 2See entire article on one page