You guys it's Hanukkah! Which is in my top five personal favorite holidays all year because my roommate is going to make sufganiyot and also, I dunno, candles are nice? Underdog stories are inspiring? Whatever. Try to cease the frenzied passage of the latkes from the plate to your mouth long enough to click and scroll and appreciate this list of our eight favorite lesbian Jews. Jewish lesbians. Jewbians.
TOP EIGHT JEWBIANS
+
8. Jill from The Real L Word
Duh! Doesn't it make you wanna pick out a wedding dress just thinking about her?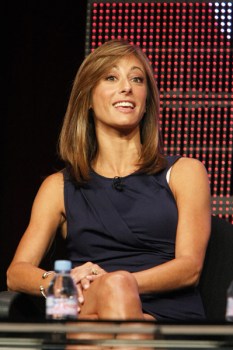 +
7. Felice Schragenheim of Aimee & Jaguar
Ok fine this is a movie (and also a book), but it is based on the real life story of Lilly Wust and Felice Schragenheim, a Nazi soldier's wife and a Jewish resistance fighter in WWII Berlin. I KNOW RIGHT. #FEELINGS. Basically Felice Schragenheim is a total badass, the end.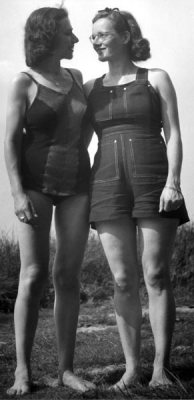 +
6. Susan Sontag and Annie Leibovitz
Sontag was a supersmart author, literary theorist, and political activist; Leibovitz is an incredible photographer recognized worldwide for her work documenting an incredible range of human experience. Can you say power couple. Can you say JEWISH POWER COUPLE.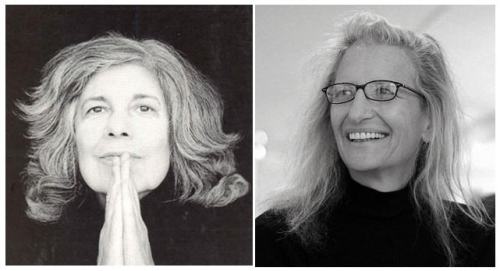 +
5. Gertrude Stein
A hugely influential and groundbreaking woman writer, whose avant-garde thinking and art paved the way for virtually every female artist or intellectual since.

+
4. Sandra Bernhard
We've told you before but now we're telling you again: just watch this video of her on Letterman. Just.. just watch it. Happy Hanukkah.
+
3. Carrie Brownstein
I'mma let you finish, but Sleater Kinney is the best band that doesn't make new music but who I want to tour together again more than I want, like, world peace, of all time. Also somewhere on the internet there's a video of her wrestling with Miranda July, which, just, like, I might die. I couldn't find it though, so sorry.

+
2. DJ Carlytron
Obvs. Riese is also Jewish, when you see God spelled as G-d on this website it is because of her, but I made the gametime decision that CEOs and Editor-In-Chiefs are not eligible. HAPPY HANUKKAH GUYS.
and… drum roll pls…
ILENE CHAIKEN!!!!!
Just kidding, it's obvs
+
1. Julie Goldman
.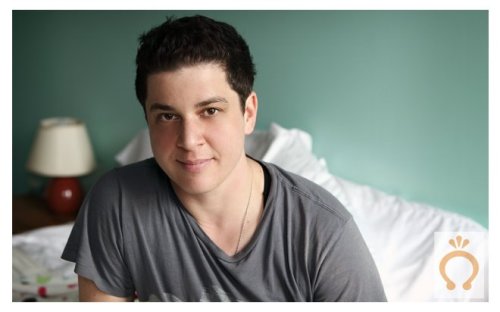 HAPPY HANUKKAH MOTHERFUCKERS. I hope someone makes you sufganiyot.
SCOTT BROWN:
Scott Brown, who is a Massachusetts senator and also a Republican and also creepy and weird, has announced that he'll agree to a DADT repeal. IF HE CAN DO IT, ANYONE CAN. John McCain, write that down.
LADY LAWYER:
Speaking of creepy and weird, the District Attorney of Wisconsin was fired for "sexting," and his replacement is A Lady. SCORE ONE FOR US.
TIPPING:
Are you concerned about how best to convert your insufferable holiday cheer into kindness towards service employees? Luckily Lifehacker has tips on How To Tip Properly During The Holidays. (Hint: this is v. relevant to Rachel's interests!)
LADY GAGA DAY:
In celebration of her wax statue at Madame Tussaud's, December 9th is being declared International Lady Gaga Day. Celebrate it by wearing multiple wigs throughout the day, loudly demanding of passersby if they think you're sexy while wearing a leotard, eating someone's heart/having your heart eaten, being fucking awesome.
BISEXUAL GERMAN:
German football player Nadine Angerer has come out as bisexual, and also as the person with the coolest last name on the entire German women's soccer team. WAY TO GO NADINE.
DADT:
Justin Elzie was the first person to be discharged under DADT; seventeen years later, he thinks we're close to seeing the end of the policy. ""I know it is going to happen now. It is going to be repealed. It is just a matter of when," said Elzie, who recently chained himself to the White House fence in protest at the policy's continued existence."