In the Black community, it's a ritual of olde to watch horrible movies and television with your friends and family. One-liners from movies that never should've seen the light of day become part of the family lexicon. Like when my best friends call me "Bruce" — the dude who should've left the party ten minutes sooner — to remind me that I'm doing too much. We're the only ones who get the reference but that's the beauty in it.
Horrible media (sometimes not the content itself, but just how it's presented) is the cornerstone upon which so many of my relationships were built. After I've sadly felt the absence of my local DVD man posted up outside hair salons and restaurants — as well as the 3 for $5 DVD deal at Walmart — it felt like there was nothing that could properly fill that gap.
Now let's add in my experience of watching not-so-great queer media, hoping for a short burst of dopamine through even just a few minutes of queerness on the screen. Giving hours of my life to see a gifset I saw on Tumblr in real-time, or waiting in anticipation for the queerness promised in the plot only to find it was just a gay glance. Change takes time. It won't happen all at once and it's not Netflix, Hulu, HBO Max, or any of the paid streaming services that are deciding to take a step in the right direction. It's a free service called Tubi Tv.
You may have seen the TikToks lamenting how terrible the movies on Tubi are and I say….they are correct and we should watch as many of them as we can! I also highly recommend them if you're like, "No! I could never make a movie." TUBI is here to tell you that actually yes — yes you can and yes you should. I watch TUBI for many reasons, but the main one? Is because I've seen more Black queer people fall in love with other Black queer people on this platform than I have on all the other streaming services combined.
As of today, there are currently 200 movies and shows under the LGBTQIA+ category. At least eight of those are with Black queer leads falling in love. That number may not seem like shit to many but the Black queer community knows that is unheard of.
Do you know how hard it is to find movies and television where Black queer people fall in love with other Black queer people? This is why Batwoman was so important (and still is). You thought I wouldn't be able to mention Batwoman here but oh how little you know of me. I shake my right titty five times a month in offering for this kind of media and we as a community may be gifted with one movie per blood moon and that's on a good titty shake.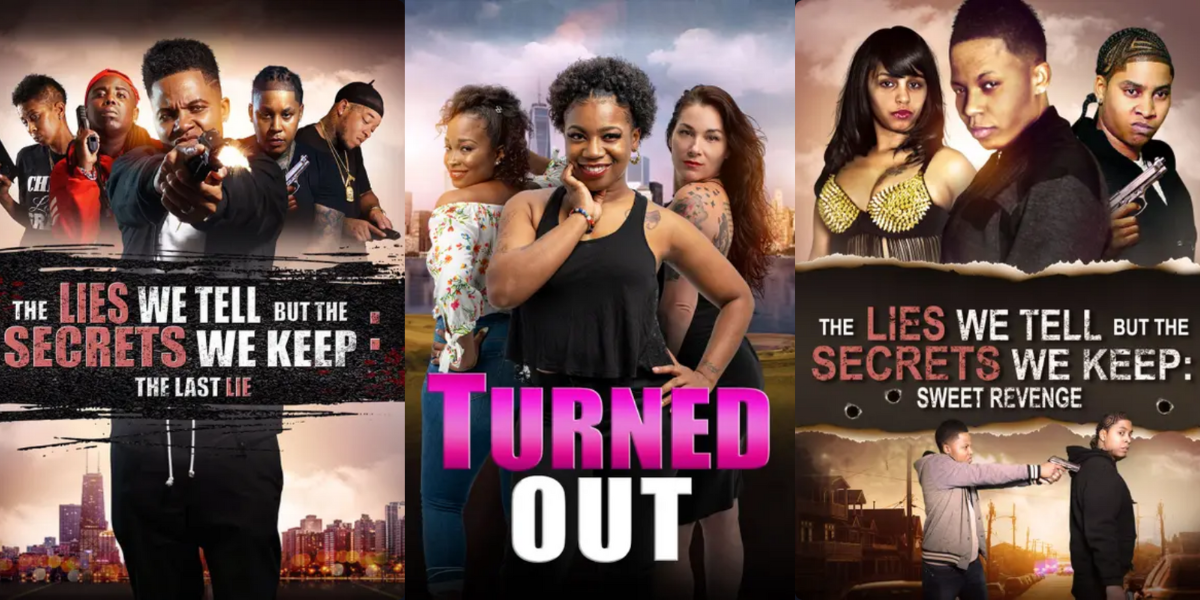 Are these movies going to grace the Oscars stage? No! But why is it so important that Black media always be excellent?
Society allows Ashton Kutcher to keep making movies but we're expected to bring Moonlight every time?  Absolutely not. We are entitled to our Scary Movies, our Soul Planes, and Baby Boys without apology, and Tubi is like, "Y'all should bring your queer selves in here too".
I regularly watch Tubi movies, especially originals because there are Black people. I watch with my friends and I even asked them what they loved about the platform to encourage you to get on board: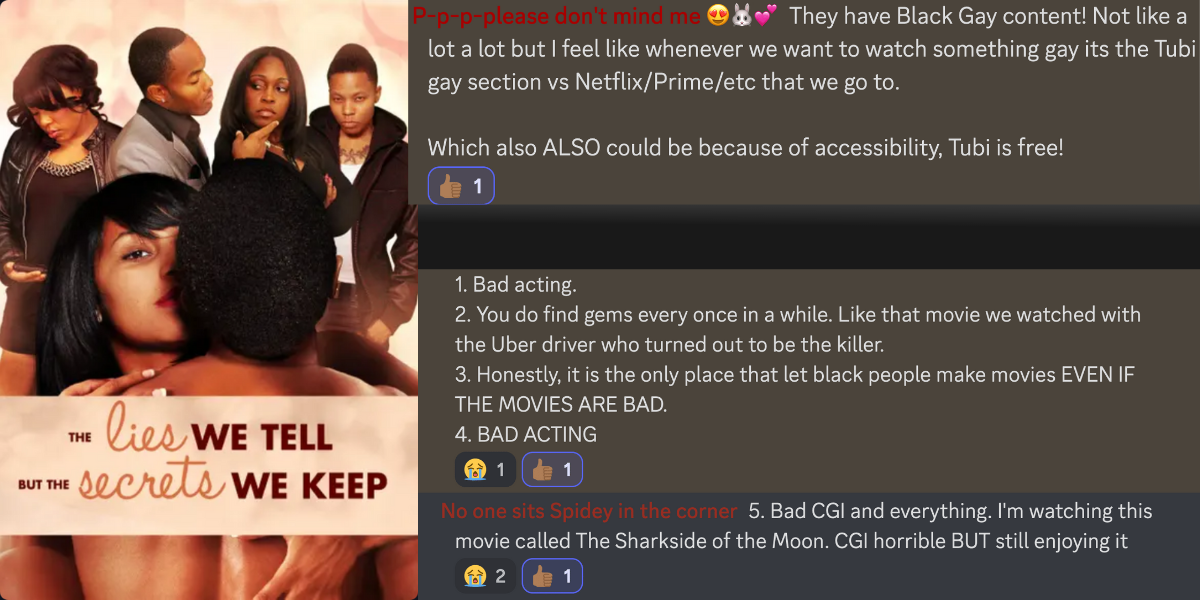 This past Christmas we watched a Black Christmas movie (I think they moved it from the platform) where EVERYONE EXCEPT ONE DAUGHTER WAS GAY! The parents were even queer and one was trans masc! There was only one white person — it was like my real life! 
LIKE WHERE DO YOU EVEN GET THAT?! 
The ending has got to be one of the corniest things I've seen in a while and we finish certain movies and collectively agree to "never speak of this again". But even through that, we are able to talk about the gold-standard lesbian bullshit in queer movies — biphobia, studs, and all kinds of other things — while watching and we don't get to do that in enough places.
It should be said that my movie-choosing privileges have since been revoked by my friends five times within the past month. Picking a Tubi movie for movie night is a Russian Roulette of trust and there are few greater joys than finally finding the one movie that makes them trust in me — all so I can lead them astray two days later.
Make an account today, tell me your favorite movies, and lean into one of the best activities that will help you maintain your sanity while we're in this pandemic! I invite you to indulge in the same game of exhilaration, mild disgust, curiosity, and ain't shitness with me, and find your own little corner of joy while perusing Tubi TV.