This week's episode of Pretty Little Liars had so much lesbosexy content, that I could barely recap. I just wanted to lie around on the couch playing the lezzie parts over and over again on repeat. I just wanted to make animated gifs of Paige and Emily giving each other sex eyes with their shiny shiny hair. So much lesbosexy shiny hair.
That's right, for the first time in a long time, this episode starred this girl:

We open on our Liars where we left them: daftly staring at Maya's website-face proclaiming "PASSWORD BITCHES." But what the hell is the password? Spencer has already tried everything in the Hardy Boys's Website Cracking Handbook including "1234" "Password" and "Passw0rd." Emily takes a crack at the site herself, but unfortunately the password isn't "ShaneMcCutcheonIsSexy" or "AutostraddleLoverXXX."
At this point, the Liars all scurry off to have separate plot lines that, for once, don't really intertwine much at all. Thank fucking God. So let's deal with all this shit.
The Not Gay Stuff
Aria has a rough time of it this week. We open on Byron telling her that his barely legal lady friend (Meredith) has just gotten a job at Rosewood high school.
Remember how Byron set Meredith up with an interview there or something? Since Byron doesn't care about his daughter at all, he plans on continuing to tap that ass while ignoring the truly complicated effects this might have on his daughter's education. May I have a word with you Chad Lowe? Call your agent. You need to renegotiate your contract such that you don't have to play a complete dick.
Aria skips on over to Fitz's house where she expects to get some afternoon delight or at least show off her peplum dress (which I totally promised someone on Formspring would go out of style but then it didn't).
Oops, actually Ezra's Never Mentioned stuffy mom is hanging around! Her name is Diane but we're going to call her Mummy Dearest because that's just how we roll. Mummy Dearest has just created a line of gold plated sea shell jewelry and the launch party is tonight at L.A. Fashion Week.
Just kidding, that broach is hideous. Actually Ezra's mom wants the star-crossed lovers to join her at some endowment for the arts. Oh? Did we mention that Fitz is short for Fitzgerald? Ezra changed it because he was concerned if he and Ella ever really hit it off she'd have to change her name to Ella Fitzgerald and just imagine what the neighbors would say!
Starsweep to Spencer's place where she and Hanna are still trying desperately to crack the Maya Password Code. Spencer has now tried "MAYA" and Maya's dog's name with no luck. Spencer tells Hanna they need to get Caleb involved which approximately everyone saw coming. In fact, if you didn't see this one coming, you should probably quit this show now.
Hanna gets a text from Wren and we can already see what's coming here. Wren and Hanna plus Spencer and Caleb. The girls are going switch squad.
Just to emphasize that Spencer is going to nail Caleb soon, Toby shows up again. He's like that big obnoxious zit I have just to the left of my eyebrow that keeps coming back every time I get rid of it. He's all pissy about Spencer not opening up and Jason leaving town or something.
I think I should take a moment to clarify why I hate Toby and why I don't want to look at his face anymore. It's not really because of his face. It's because his character is my absolutely least favorite type of male characters on TV. He's the Save The Day Super Nice Amazing Guy Who Just Wants to Love You Forever. Gag me. He's the If The Girl Would Only Open Up Everything Would Be Perfect Guy. I hate that bullshit. I hate that we're supposed to feel like Spencer, who by this point is two dead friends deep and has every reason to distrust everyone, is somehow wronging Toby by not telling him every detail of her life. Reality check: your high school boyfriend does not need to know every detail of your life. In fact, he probably shouldn't. I'm also still resenting him for that time Spencer wanted to do it and he didn't because he "knew that she didn't really want it" or some crap.
So Hanna heads out and meets up with Wren at The Cheesecake Factory. Wren informs Hanna that Mona is going to be moved to a different mental hospital in a land far far away. There's concern that Mona has been sneaking out her drugs to someone, probably to sell them on the black market. This, like most thing Wren does, is a complete breach of doctor-patient confidentiality and doesn't shed an ounce of light on to what the fuck Wren's specialty is.
But Wren doesn't care, because he's Super Doctor! The last doctor you'll ever need!

Hanna immediately declares Mona shouldn't be moved. How are they going to get more details out of her? Just then, Caleb conveniently walks in to get a slice of double fudge chocolate chip cheesecake. There's like some tension between the two and Caleb is clearly unimpressed that Hanna is hanging out with an older British guy.
Time flash to the next day at school. So wait… all that shit yesterday took place after school? These girls get so much done before 7:40am and after 2:20pm. I should probably take notes.
Spencer asks Caleb for some help with Cracking The Internets and he says yes. Also the Liars compare notes. Spencer reveals a text she got from A about Mona leaving and Hanna admits that Wren told her about Mona's transfer. Everyone is jealous of everyone.
After school, Aria drops by Spencer's place to find something completely uptight to wear. This isn't a joke, Aria is actually at Spencer's to find something uptight to wear.
Spencer's only purpose in this episode is to just hang around and be A Sleuth so, upon seeing her mother's briefcase, the two go to town. Snoopin' through the briefcase, they find the name Bart Comstock dramatically circled.
But why? Is it because no matter how many times I watch the episode I keep reading his name as Cum-Stock?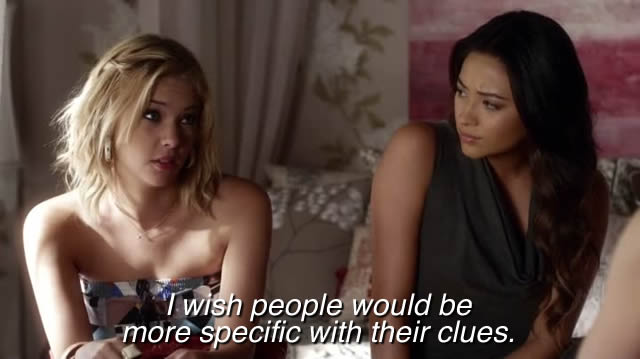 Aria runs over to Cum-Stock's address which turns out to be a movie theater. Why on earth he doesn't have a home address is beyond me, but he's eager to talk. He tells Aria he saw Maya get in to a car with Garret the night she died. On any other TV show this would be a dead giveaway that Garret's the killer, but here this probably just means the two of them were canoodling/conspiring/opening a small used bookstore together.
Back at the home base, Caleb and Spencer do some grunting and eventually crack the code in to Maya's website. And they hug. Guys they hug.
Sorry, I can't pretend to care about this. Maya's website is unusually cool though! Like where do I get one of these?
I will also say that Maya On Film is the most likable version of Maya.
Slipping on a little white dress, Aria sets out on the town to go to the fancy-pants thing with Ezra. Ezra arrives in his fancy pants and the two discuss how Ezra is actually mega-wealthy but currently cut off from his family for having complicated money feelings and possibly also for nailing a teenager. Clearly the writers took a page from Fifty Shades of Grey and learned that there's nothing hotter to young straight chicks than men with a lot of money and a lot of guilt. I suppose if Ezra was a butch silver fox I'd have to agree. L'sigh.
Aria and Erza momentarily separate to look at art or something and Mummy Dearest confronts Aria. She basically tells Aria that she's ruined Ezra's life by preventing him from teaching high school and getting him kicked off the Holis Staff. She also kind of tries to pay Aria off to break up with Ezra. Aria should totes take the money and run. Instead Aria is, understandably, really upset but I can't help but side with Mummy Dearest a bit.
In no uncertain terms, Aria has totally prevented Ezra from doing the work he loves. That being said, Ezra is a fucking adult and if he really wanted to teach high school he probably shouldn't have been with a 17 year-old in the first place. Obviously Aria storms out of the party. But why, really. I mean, Mummy Dearest is totally just a composite of classic stuffy rich brunett mom characters. We've seen this all before.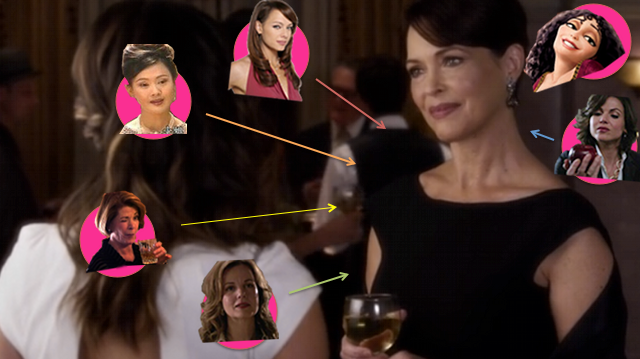 Meanwhile, Hanna has convinced a bunch of The Doctors to give up their Friday night to hang out with her and play Pictionary. Hanna explains to the doctors that Mona shouldn't be transfered because all of her friends and family are in Rosewood. It's sort of sweet.
Hanna goes through this long explanation about friendship and how, even in light of what Mona did, she still wants to be there for her. She knows Mona wouldn't abandon her and she still owes Mona for getting them both popular and stuff. It's one of those scenes where at the beginning you think Hanna is just BSing to keep Mona around for details, but by the end of it you can really see how much Hanna needs/wants/misses Mona and how truly hurt she is. Like I said, sort of sweet.
And The Doctors agree! Wren tells Hanna they've decided to keep Mona right where she is! So Hanna and Wren kiss. Guys they kiss. Meh, like I said. I just can't get excited about this.
We reunite with Aria back at her dad's place where she shows us just how mature she is by flailing and crying in the hallway. Now, I spent many a day flailing and crying, but this still doesn't do anything for me. Aria asks her dad if she has ruined Ezra's life and Byron is like "Erm… No… Not really…" Oh right, and Ezra tells Mummy Dearest to go fuck herself. So there goes any hope for a scene of Ezra and Aria flying a personal jet to Maui.
Aria wipes her tears and meets up with the other Liars to scope out Maya's site a bit. But there's like a terabyte of video footage and it's all so… personal (read: kind of gay).
So the Liars decide they'd better get Emily over there to go through it with them. But where is Emily? She's not picking up her phone. Which, of course, brings us to:
The Gay Parts
After leaving Spencer to unlock the secret website, Emily meets up with Nate to show him Maya's Favorite Spot. Obviously we've never ever seen Maya at this spot, but it's vaguely nautical and Emily puts on a hat for the occasion so it MUST be gay.
Intern Hannah: My favorite part was when Emily wore a fedora and for me everything else kind of pales in comparison to be honest. (I just have a lot of fedora feelings.)
Nate says some stupid shit about Jenna ditching him, but we don't really care about that. We care about this all important moment:
So now we know Paige is gonna show up! The anticipation is killing me!
Nate continues to babble on about wanting to kill Garret, but Emily really doesn't want him to do that. In a town where people actually die, threatening to kill people is a big no-no.
Emily leaves Maya's Favorite Place and heads out to find Paige. Paige is in her backyard fixing a bike because she is a big 'ol trike dyke which I love forever.
Emily wants to talk about the whole Paige Getting Drugged thing but Paige would rather ignore it and stare up Emily's shirt.
But seriously Emily really wants to talk.
Okay okay but seriously seriously Emily wants to talk. So Paige agrees to meet up with her the next day after school.
The next day Emily and Paige go for a run together. While I'm inclined to feel like this is unrealistic, apparently this is something athletic gay girls sometimes do. I on the other hand have the muscle mass of a baby squirrel so I don't let hotties see me run.
Once they're all out of breath and using their tired sexy voices, Emily admits that it was her flask that got Paige drugged. Emily is all up in arms insisting that it wasn't on purpose, and she has no idea who tried to drug her the night Ali's grave was burgled. Instead of seeming angry about the whole drugging thing, Paige is sort of embarrassed and awkward.
Paige admits she figured Emily's flask had the drugs in it from beforehand and, apparently just like everyone else in town, she actually saw Emily during That Night. Around 11pm Paige discovered Emily on her front step, and took her inside to nurse her drunk ass.
Paige sets the scene. Paige was holding Emily and then Emily was holding Paige and then they kissed. Paige sounds so vulnerable and scared and confused as she tells Emily that they kissed that for a moment I expected the story to take a bad turn. A Lack of Consent Sex turn. Though it doesn't, they just kissed, you can hear in Paige's voice the full weight of what happened. The self-disgust she feels for having kissed someone who was drugged. The shame of thinking Emily would only kiss her drunk. And yeah, a tiny bit of romanticized glee thinking back on the whole affair.
Unfortunately when Paige walked away for a minute to get drunk-Emily a glass of water, Emily ran off dramatically in to the night. Paige realized later that Emily didn't remember any of it, and was plagued with guilt about the Lack of Consent Kiss.
Paige explains she didn't tell Emily about the kiss because she convinced herself what she did was A Okay. You can tell by her tone of voice though, that she means that she didn't tell her because she knew it wasn't okay. Emily sort of reacts in disbelief. It's interesting– Emily doesn't act disgusted or seem like she regrets kissing Paige. Instead, she seems to regret most that she doesn't remember.
Here are these two girls who shared this moment that was maybe meaningful or maybe a mistake and yet the two can't get over their own guilt to sort out their feelings. So obviously Paige runs off in to the woods.
As night falls Emily scurries off to Maya's Favorite Place to reflect on All Of The Paige Feelings. But there's someone at the door! Who's at the door? It's Doctor Octopus! Nope, it's Nate! Duh.
I'm going to level with you guys. I think this scene might be important, but I feel asleep twice watching it. The third time I spaced out and got a yogurt. So I'll do my best here.
Nate wants to better understand the intricacies of Having a Dead Girlfriend and why Emily would return to Maya's Favorite Place the previous day. She explains that she wanted to come back to this deeply meaningful spot but just really needed a straight guy with a confusing interest in Maya/Emily to push her in to it. As for coming back at night, well she needed to think some things over.
Because Straight Men know everything, Emily asks Nate if it's possible to do something without knowing you're doing it– even if you're drunk. Nate's all like, "Nah, we're always who we are no matter if we're drunk, stoned, drugged or on the moon." And that's where this episode takes a turn for the scientifically and socially inaccurate. I'm going to go ahead and say that's patently false. Has Nate ever seen a totally drunk high school student? They don't know what the fuck their doing. I once saw a drunk high school guy eat dog food. Seriously. Nate claims being drunk is the same as dreaming, and in both situations you're just blaming the booze/dream for your actions.
Like… does anyone else feel like this makes even less sense? I'm not going to say people never drink to intentionally act without inhibitions, but dream? I'm pretty sure my dreams are just my subconscious fucking with me. Most recently I dreamt that I was baking banana breads with chocolate chips and walnuts. That's ridiculous because I hate nuts in banana bread. That certainly wasn't me.
Oh and then Nate gave Emily his coat because he's obsessed with her or something.
Starsweep to Paige's place where Paige is woefully gazing into the pool. Emily comes up behind her and Paige immediately goes in to reactionary mode. She's all, "I'm sorry again about the kiss. I shouldn't have let it happen."
"I'm a terrible awful person who's going to hell for kissing a drunk girl." Then Paige threatens to kill whoever put the drugs in Emily's flask. And you just know Paige means it. Because Paige is my favorite breed of lesbian. The fucking totally bat-shit psycho crazy lesbian.
Remember this?
So when Emily tells Paige that she shouldn't say things like "I'm gonna go kill that guy" she really means it. Like, "Hey, Paige. Please don't kill anyone because like, um, that's not cool and I know you would." But I digress, because beyond my natural inclination to make fun of everything that feels, this was a fucking amazing scene. I loved this scene. I watched it over and over again and showed it to my mom. I want to go back in time and take this scene to my senior prom and buy it a red boutonniere to match my dress.
Emily explains to Paige that she's had a sort of revelation about her blackout night. For so long Emily was so focused on Maya. Thinking about Maya. Missing Maya. Letting Maya be her whole word. Even before her death, it was the Maya show. And in a lot of ways, part of Emily must have really wanted to move on. Who hasn't ever felt like they don't deserve to move on? Or that the person they loved deserves to be unconditionally loved forever.
But even if Emily doesn't remember it, and Paige feels bad about it, she still came to Paige's house. And (in light of her discussion with Nate) there must have been a part of her that really wanted to go there.
And yeah, I think this idea that people subconsciously do things they want when they're drunk is a little ridiculous. But what's important at this moment is that regardless of the reason Emily went to Paige's that night, she's glad she did. Suddenly something awakens in Emily that isn't overwhelming mourning and sadness. Because there's nothing like the first girl you fall in love with. Or your first heartbreak. There just isn't. But eventually you pull yourself up and find new loves. Stronger ones or more mature ones. Because as wonderful as the Emayas and Britanas and Namoily and Spashleys are, most of us in the real world don't marry our first girlfriend (even if it's not because she gets murdered). And that deserves a moment on TV too.
And then they kiss. Guys, they fucking kiss. Like a big kiss and I was squealing like a baby weasel. This is one satisfying kiss. Like the kiss goes on and on and on. I've taken shits that were shorter than this kiss.


And this is me:


After a million years of kissing, the episode cuts away. When it cuts back Emily's phone is, as previously mentioned, ringing off the hook. But Emily's phone is in her pocked and her clothes are off. And I think you know what that means Emily and Paige are doing.
Now that's what I call scissoring. Or at least scissor kicking. You've got to start somewhere. Tune in next week when Emily will go back to sulking around silently in the background as we hear all about Hanna and Caleb's torrid relationship.